Veganz Organic Clean Protein Bar 30 Coconut
45 g
One bite of our Veganz Organic Clean Protein Bar 30 Coconut and your daily jogging round in the park will turn into a Caribbean beach run. And to make sure that your training goes as smoothly as sand in an hourglass, our vegan protein bar is made with plenty of plant-based protein. After all, proteins can contribute to building and maintaining muscle mass.   
Go on, just one bite, and not even the sands of time can stand between you and your beach run – except maybe a tiny mussel.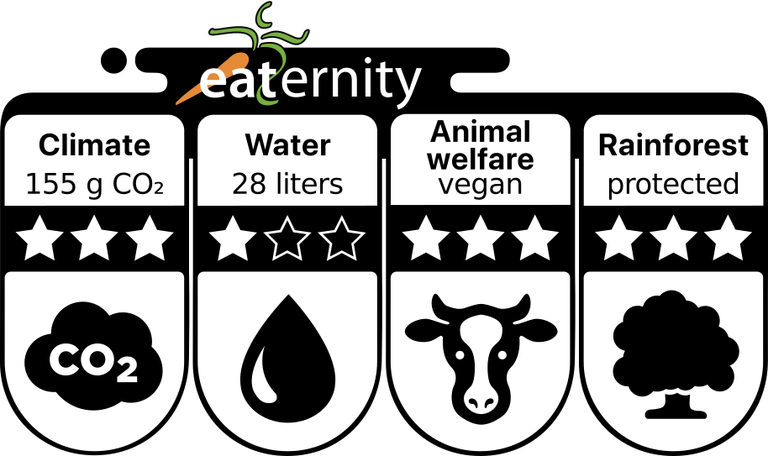 🛈
A sporty breeze of sustainability
When the hard asphalt under your running shoes turns into soft sand and the boring city scenery turns into a beach and the sounds of ocean waves – well, then, you surely must have had our Veganz Organic Clean Protein Bar 30 Coconut for breakfast before your jogging round!
Tropical feeling or not, our vegan protein bar has even more up its sleeve – namely its own Sustainability Score on the packaging! As you can see from the image above, it's been divided into four categories: CO2 emissions, water footprint, animal welfare and rainforest preservation. This way you can clearly see just how environmentally friendly the bar is. The score also helps you choose a bar at the overflowing protein bar counter that's not only Caribbean delicious and effective, but has an eye out for animals, humans and nature.
Why are we doing this? Transparency and environmental protection are very close to our hearts: You get all the facts and we have the chance to make our products more sustainable.
In addition to its Caribbean coconut taste, its 30% protein content as well as the all-natural recipe, you can also do a happy dance for the Veganz Organic Clean Protein Bar 30 Coconut's positive Sustainability Score. After all, our vegan protein bar receives best ratings in the categories of CO2 emissions, animal welfare and rainforest preservation – three stars.
How did we achieve these results? The protein rich coconut bar is made with purely plant-based ingredients. Instead of animal protein – like whey or casein – we use a plant-based protein blend of peas and rice. Thanks to the recipe, we don't touch a hair on a single cow and fewer CO2 emissions are let out into the atmosphere. Even our beautiful rainforest stays in the green, since the recipe is palm oil and soy free.
Although the Veganz Organic Clean Protein Bar 30 Coconut already does a lot for the environment with its vegan recipe and certified organic ingredients, there's still room for improvement in its fresh water consumption: Ingredients like almond butter and almonds have a relatively high water footprint since they need quite a bit of the valuable liquid in order to grow. In addition, it also depends on where the nuts are grown. At the moment, the almonds for our vegan protein bar come from Spain. If we were to obtain these from Italy, for example, 7 times less of the precious water would be used.
Same thing applies to the pea protein, rice syrup and hemp seeds. They should be sourced from different countries in order to improve their water footprint. Just when we can make that change remains to be seen, so we have to be patient a little bit longer. However, we are tireless, full of energy and always open to change. After all, at the end of the day we only want one thing: to develop the best products for our environment.
Ingredients
Protein mix* (33 %) (pea protein*, rice protein*), rice syrup*, agave syrup*, cocoa butter*, almond butter* (6,4 %), desiccated coconut* (3,4 %), natural flavouring, hulled hemp seeds*, roasted almonds* (1,7 %).
*from organic agriculture.
May also contain traces of celery, mustard, peanut, soya, other nuts, lupin, sesame, egg and milk.
As a vegan protein bar, our Veganz Organic Clean Protein Bar 30 Coconut needs pretty much one thing: a whole bunch of plant-based proteins. So, we chose peas and rice, which are both sourced from China. The Caribbean taste is mainly provided by grated coconut. These come from either Sri Lanka or Vietnam.
Nutrition information
Nutrition Information per

100

g
Energy
1881
kJ
448
kcal
Fat
17
g
– of which saturates
6.4
g
Carbohydrate
43
g
– of which sugars
36
g
3
g
Protein
30
g
Salt
50
mg
Before or after sports or as a light snack – with the Veganz Organic Clean Protein Bar 30 Coconut you are well prepared for every situation. Our vegan protein bar has a protein content of at least 30% and relies mainly on a high-quality protein blend of peas and rice. This means that our fitness bar can support you in building and maintaining muscle mass. It also contains all essential amino acids.
What more can our Cocotastic Protein Bar do? The Veganz Organic Clean Protein Bar 30 Coconut is a valuable source of fibre and is characterised by its certified organic, gluten and soy-free recipe. Artificial additives? We're happy to keep our hands off them! And we only use natural sweeteners – without chemical agents or refined sugar.
Packaging
We use these materials in this product.
Synthetic materials
0.5 g
We would love to wrap up our Veganz Organic Clean Protein Bar 30 Coconut as naturally as possible, e.g. in coconut leaves or served on coconut shells. Unfortunately, this would require quite a lot of effort (not to mention being a wee bit unhygienic).
For this reason, we currently have to resort to a metallised film. Metallisation prevents our vegan protein bar from hardening so that it always remains nice, juicy and soft. In addition, the foil offers optimal product protection against bacteria and other external influences.
As you can see, there are certain aspects why this type of packaging can' t be avoided and why it' s difficult to provide the best solution. But yes, as a vegan and sustainable brand we feel an absolute obligation to look for more environmentally friendly alternatives. After all, ingredients and packaging go hand in hand. We're not perfect, but we're always keeping our eyes and ears open.
Don't miss out!
Have you been searching for yet another newsletter to land regularly in your email box? No problem at all. Simply register for ours! Trust us: It will make your collection complete!
Here you can find the product Veganz Organic Clean Protein Bar 30 Coconut at the online shop

Available at
Puroshop | CZ

Rohlik | CZ

Whole Foods | GB

Planet Organic | GB

REWE | DE

EDEKA | DE

Müller | DE

Spar | AT

real | DE

Continente | PT

go natural | PT

Vekoop | DE

Vegasme | BE

Amazon

Muskelmacher | DE

Carrefour | BH

Spar Gran Canaria | ES

The Vegan Kind | GB

Netto | IS

Hagkaup | IS

MPREIS | IT