Veganz Organic Clean Protein Bar 30 Peanut
45 g
We are the champions, my friend… you and the Veganz Organic Clean Protein Bar 30 Peanut are a winning team. Whether bench presses, knee bends or sit-ups – the vegan protein bar gives you the chance to master every training session as easy as 1, 2, 3. And the protein content of 30% can help build and maintain muscle mass. Well, what are you waiting for? Lift the dumbbells and keep on fighting 'til the end!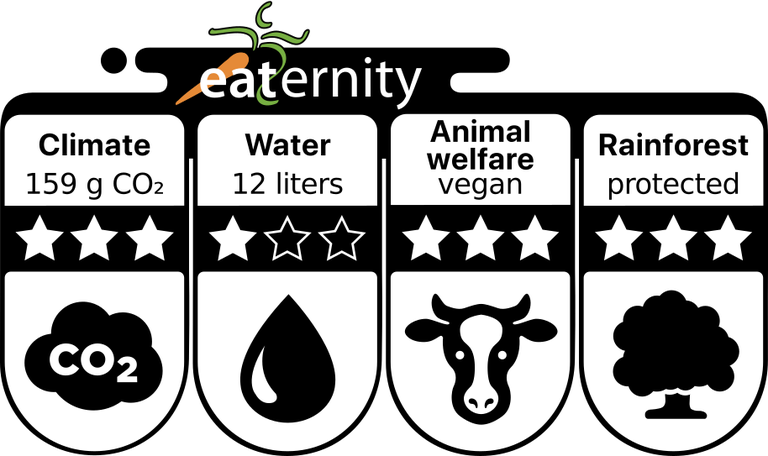 🛈
Supplier of protein, snacking companion, environmentalist – our Veganz Organic Clean Protein Bar 30 Peanut cuts a top figure in so many ways! How did we arrive at the third? Well, that's due to its very own Sustainability Score right on the package! Divided into the four categories of CO2 emissions, water footprint, animal welfare and rainforest preservation, the vegan protein bar shows you very clearly just how environmentally friendly it really is. The score also helps you choose a snack from the overflowing protein bar shelf that's not only tasty but has the climate, animals and humans in mind.
Why are we doing this? Transparency and environmental protection are very close to our hearts: You get all the facts and we have the chance to make our products more sustainable.
Good for the muscles,

even better for the environment!
Support muscle mass preservation? Check! Preserve the rainforest? Check! Love of animals and climate friendly? Check! With the Veganz Clean Protein Bar 30 Peanut, you finally get yummy, protein rich and environmentally friendly all in one package! And if you look its Sustainability Score, you'll immediately see just how environmentally friendly it is. The vegan protein bar cleans up in the categories of CO2 emissions, animal welfare and rainforest preservation.
Why's that? The protein rich bar is made from purely plant-based ingredients. Instead of animal protein – such as whey or casein – we use a plant-based protein mixture made from peas and rice. Thanks to this recipe, we don't hurt a hair on a cow, which sends out fewer CO2 emissions into the atmosphere. Our beautiful rainforest also stays within the green range because the recipe is palm oil and soy free.
The taste of our Veganz Organic Clean Protein Bar 30 Peanut: record breaking. The natural recipe: masterful. The water footprint of our nutty protein bar: expandable.
Why is that? The pea protein and hemp seeds from China and the rice syrup from India – with these ingredients, the consumption of fresh-water is unfortunately very high.
How can our little bar achieve a gold medal in this category? Hm, it's easier said than done since we love the Veganz Organic Clean Protein Bar 30 Peanut just like it is, don't we? Which means: Fingers off the recipe and onto the keyboard or telephone – and the search for new source countries begins! Sadly, this won't happen overnight, so we just have to be a little patient. However, we are tireless, full of energy and always open to change. Because at the end of the day, we only want one thing: to develop the best products for you and our environment.
Ingredients
Protein Mix* (31 %) (pea protein*, rice protein*), rice syrup*, agave syrup*, peanut butter* (9,6 %), roasted peanuts* (6,4 %), cocoa butter*, dates*, hulled hemp seeds*, sea salt, defatted cocoa*, natural flavouring.
*from organic agriculture.
May also contain traces of celery, mustard, soya, other nuts, lupin, sesame, egg and milk.
A vegan protein bar need mainly one thing: plant-based protein. For our Veganz Organic Clean Protein Bar 30 Peanut, we've decided on peas and rice. Both of these proteins come from China.
It's thanks to the velvety peanut puree and roasted peanut chunks that the protein-rich bar gets its wonderfully intense taste. These two ingredients also come from China.
Nutrition information
Nutrition Information per

100

g
Energy
1886
kJ
449
kcal
Fat
17
g
– of which saturates
5.3
g
Carbohydrate
41
g
– of which sugars
34
g
3.5
g
Protein
31
g
Salt
0.64
g
Vegan protein for your work-out success
Our Veganz Organic Clean Protein Bar 30 Peanut is the perfect pre- or post-work out snack. Its 30% protein content is also due to a high-quality blend of peas and rice. This great protein combination can help build and maintain muscle mass and therefore support your training goals. Furthermore, the vegan protein bar provides you with all the essential amino acids.
The Best qualities for you and your goals
A bit for the biceps, a touch for the triceps, and a pea-nutty snack experience for you: Our Veganz Organic Clean Protein Bar 30 Peanut supports not only the building up of your muscles, the vegan protein bar contains the best of the peanut: Velvety peanut butter and roasted peanut chunks.
But the high protein bar is not only in the top league in terms of taste, it also serves as a valuable source of fibre, characterised by its certified organic, gluten and soy-free recipe. Artificial additives? No, thanks! Snacking without feeling guilty? Oh, yes! And the sweetest part? No chemical agents or refined sugar.
Packaging
We use these materials in this product.
Synthetic materials
0.5 g
Packed for your sports bag
Either in your sports bag between dumbbells and towels or your backpack next to a water bottle and dancing shoes – the Veganz Organic Clean Protein Bar 30 Peanut is perfectly protected against external influences with its metallised foil. The metallisation also offers the advantage of preventing the bar from hardening. And so, the vegan protein bar remains juicy and beautifully soft.
We realise this isn't the most sustainable packaging, but as you can see, there are certain factors that make plastic film unavoidable. However, as a vegan and sustainable brand we feel an absolute obligation to look for more environmentally friendly alternatives – after all, ingredients and packaging go hand in hand. We may not be perfect, but we're always keeping our eyes and ears open.
Don't miss out!
Have you been searching for yet another newsletter to land regularly in your email box? No problem at all. Simply register for ours! Trust us: It will make your collection complete!
Here you can find the product Veganz Organic Clean Protein Bar 30 Peanut at the online shop

Available at
Puroshop | CZ

Rohlik | CZ

Whole Foods | GB

Planet Organic | GB

REWE | DE

EDEKA | DE

Müller | DE

Spar | AT

real | DE

Continente | PT

go natural | PT

Vekoop | DE

Vegasme | BE

Amazon

Muskelmacher | DE

Carrefour | BH

Spar Gran Canaria | ES

The Vegan Kind | GB

Netto | IS

Hagkaup | IS

MPREIS | IT