Organic Gingerbread Magic
90 g
What does the most wonderful time of the year actually taste like? Give the Organic Veganz Gingerbread Magic chocolate a try and you'll find out! With the Christmassy flavour of the pieces of roast almond with their gingerbread spice in delicately melting gianduja chocolate made from hazelnuts, you'll be hard pressed to top it for Christmas flair.
It's not just its heavenly flavour that this organic vegan chocolate convinces with, though. It's just as much Santa's little helper when it comes to protecting the climate and the environment since it's free from animal ingredients, artificial additives, and palm oil, and the packaging isn't made of plastic.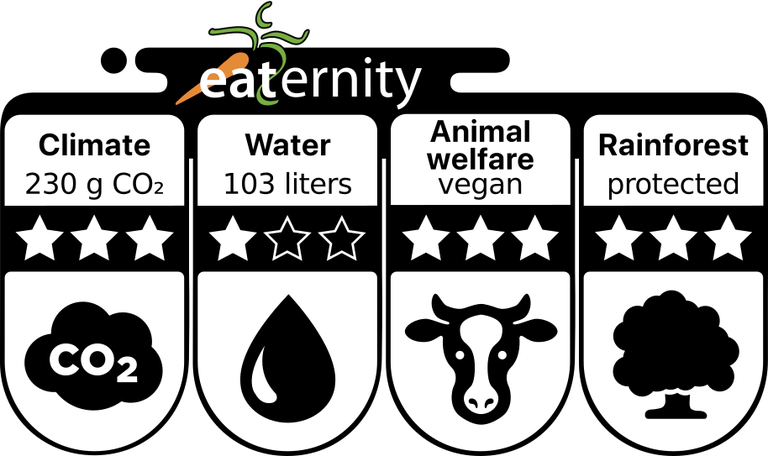 🛈
Snacking for more sustainability
To ensure that you're not just enjoying the flavours, but also keep a clear conscience, the product's individual sustainability score is displayed on the packaging of the Gingerbread Magic chocolate – just like it is on every other Veganz product. It's calculated by the independent Swiss institute Eaternity and shows you how sustainable the product is when compared to more than 100k others in terms of its carbon footprint, water consumption, animal welfare, and rainforest protection. To arrive at the score, the institute takes a close look at the supply chain and manufacturing process for each ingredient to compare them with more than 100k other products.
With 3 points in each category, the Organic Veganz Gingerbread Magic does really well in terms of carbon emissions, animal welfare, and rainforest protection. As such, the Christmassy chocolate is significantly more sustainable than the average bar of chocolate in these areas. Its production, for example, causes just 230 g of carbon emissions – the figure is more than a third higher for a bar of dairy milk chocolate. The water needed to make the Gingerbread chocolate is less sustainable than with other products and has only earnt it one star That's due to the amount of water needed to grow almonds and produce cocoa mass. Just like with all our products, we're always on the lookout for even more sustainable alternatives.
Ingredients
Cane sugar*, cocoa mass*, ground roasted HAZELNUTS* (20 %), roasted ALMOND* pieces (10 %), cocoa butter*, ginger*, cinnamon*, cloves*, cardamon*, nutmeg*.
* from organic agriculture.
May contain traces of milk.
Nutrition information
Nutrition Information per

100

g
Energy
2400
kJ
578
kcal
Fat
42
g
– of which saturates
16
g
Carbohydrate
37
g
– of which sugars
34
g
Protein
9.5
g
Packaging
We use these materials in this product.
Biogenic packaging materials
2 g
Paper/cardboard/carton
3.3 g
Environmentally harmful rubbish? Not with our chocolate! The NatureFlex foil is made from renewable raw materials and is completely compostable, while the FSC-certified paper sleeve is printed with mineral oil-free inks. Enjoy snacking with a completely clear conscience!
Other Christmas goodies
Crunch, snack, feast, and get cosy with some cinnamon, almonds, and baked apples in a winter wonderland? There's no missing out thanks to the Veganz Christmas range. Discover more heavenly Christmas goodies for sharing, gifting, or simply gobbling up yourself: