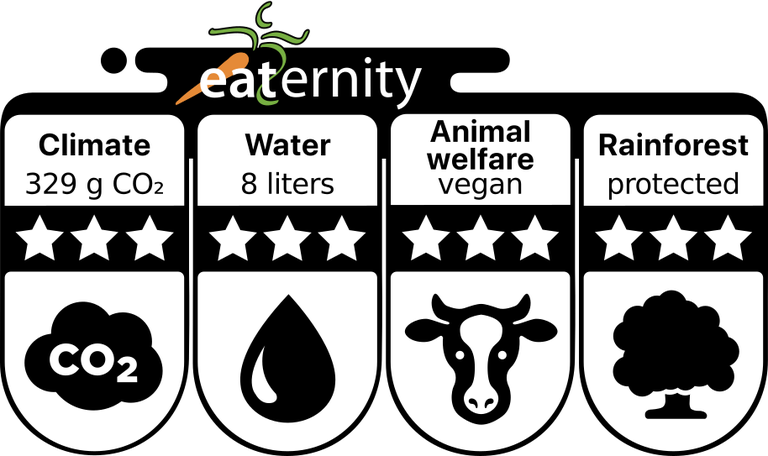 🛈
Our sustainability score for you, your grandma and our planet
Everybody needs somebody! You need our Organic Veganz Cracker Cheese Style, so does grandma, and Werner definitely does. But do you know what else you need? A healthy and thriving earth, in which you and your great-great-great-great-grandchildren can live as well as we have until now. But that's only possible if we all start to consume more sustainably, consciously, and ecologically.
We're here to help! How? With a Sustainability Score on our Veganz product packaging. The score tells you the CO2 footprint, water consumption and whether animals and the rainforest are being protected. The origin of the raw materials, production, packaging, transport – absolutely everything was calculated and compared to 110,000 other food items. The results are rated in stars. With two stars or more, the product is already more sustainable than the average compared product.
How did we come up with this unusual idea? Honestly, all living beings and mother nature are very important to us: You get all the facts and we simultaneously have the opportunity to make our products more sustainable.
No matter whether it's a human or animal. Whether it's water, rainforest or climate – everyone just adores our Organic Veganz Cracker Cheese Style. Why's that? On the one hand, because they're incredibly crispy and have a delicious cheesy taste. On the other hand, our vegan cheese crackers are also incredibly sustainable. As you can see, the snack received three stars in all the categories – the top mark! Find out how we got this score here.
Climate
It's no secret that the production and consumption of animal-based foods are harmful to our climate. To give you some figures, so-called 'livestock farming' is responsible for around 14.5% of global greenhouse gas emissions. This means that every now and then, one or the other ingredient is hidden in yummy snacks, such as chips, crackers, and co, which can have a negative impact on our climate. A few milk ingredients here, a little ham powder there… oh, even eggs are found in snacks and finger foods. Overall: it's not particularly good for the climate.
Why are plant-based foods more climate-friendly? There are a few reasons for this: Direct greenhouse gas emissions arise in livestock farming from methane and nitrous oxide. Methane is an endogenous greenhouse gas that is produced by cows, chickens, and pigs. Nitrous oxide is mainly released during fertilisation. Indirect emissions are emitted due to the fact that more and more land is required for grazing areas and fodder cultivation. For this purpose, forests and grasslands have to be removed or wetlands have to be drained. And that's not good for us or the environment, since forests absorb carbon from the atmosphere. It's also not uncommon for the fodder to have to be imported, which also aggravates the ecological balance caused by non-vegan foods.
The good news: You and your loved ones can enjoy our Organic Veganz Cracker Cheese Style in peace. Because they get by without any animal-based bells and whistles. That's why we only use plant-based ingredients that help reduce greenhouse gas emissions. Pssssst. Another little treat for you: Our vegan cheese cracker are made in an Italian factory that only uses renewable energies.
Wasser
You need water for food cultivation. Obviously. But did you know that agriculture uses up 70% of the existing water? This is a real problem, especially in regions where water is scarce! To resolve this conflict, we need to reduce the global dependency on water. That's why it's important to work in a particularly resource-conserving manner in food production – just like we do with our Organic Veganz Cracker Cheese Style. You won't find any ingredients in there that use a lot of water in their cultivation or production. The vegan snack thus makes a sustainable contribution to reducing the global water footprint.
Animal Welfare
Cheese crackers sans cheese? That's possible? That's possible! We'll leave the animals out of this and instead use plant-based ingredients. Our vegan cheese crackers get their cheesy flavour from the combination of yeast, spices, and a natural olive aroma.
But why are vegan snacks actually more animal-friendly? We'll explain it to you using the example of 'cheese powder'. Cheese is made from cow's milk. It's pretty obvious that you'd need a cow for this. Dairy cows are constantly artificially fertilised and separated from their calves after birth, since humans make the cow's (breast) milk into food products. In addition, dairy cows spend their entire lives in unsuitable dens. These stresses leave behind trauma and harm the animals. In comparison: A free-range, healthy cow can live up to 30 years, while a dairy cow has a life expectancy of just 5 years. That's not fair! You'd rather grab and snack on our vegan cheese crackers, right?
Rainforest
Green light for our rainforests! Our Organic Veganz Cracker Cheese Style don't contain any soy or palm oil. In this way, we guarantee the utmost protection against deforestation and we support the preservation of green forest areas. The rainforest is so important because it has a major impact on our climate. It's the green lung of our earth, so to speak. Plants, bushes, and trees absorb CO2 from the air and they use the carbon contained therein to grow. This creates oxygen. And who needs oxygen to survive? Right on the money… we humans do!
If we destroy our rainforests, large amounts of CO2 are released – which enhances the greenhouse effect and contributes to global warming. Rainforest protection means climate protection! That's why it's of great importance to all of us that tropical rainforests are preserved.
Ingredients
Corn starch*, gluten-free wholemeal oat flour* (16%), chickpea flour*, rice flour*, sunflower oil*, rice syrup*, yeast, raising agents: sodium hydrogen carbonate, ammonium hydrogen carbonate; cane sugar*, salt, psyllium husk*, emulsifier: sunflower lecithins*, thickeners: locust bean gum*, guar gum*; black pepper* (0,1%), natural olive flavouring, antioxidant: rosemary extracts*.
*from organic agriculture.
May contain traces of soya.
Our gluten-free crackers are made with corn starch, wholegrain oat flour, and chickpea flour. We source these three ingredients from Europe. And another ten out of seventeen ingredients, such as rice flour, sunflower oil, and rice syrup, are also of European origin.
Nutrition information
Nutrition Information per

100

g
Energy
1674
kJ
398
kcal
Fat
9.7
g
– of which saturates
1
g
Carbohydrate
66
g
– of which sugars
4.5
g
6.9
g
Protein
8.1
g
Salt
2.5
g
We wanted to find out what makes our Organic Veganz Cracker Cheese Style so popular and asked our Veganz employees about it. Everyone could agree on one thing: "They just taste SO good!" But every employee had their own special reason. And? What's yours?
Felix likes to talk (about) cheese. And, of course, loves the taste of cheese. But only if it's vegan. That's why the Organic Veganz Cracker Cheese Style are perfect for him. The snacks get their cheesy flavour from the combination of yeast, spices, and a natural olive aroma.
Emma only buys organic. So, isn't it great that the crackers come from controlled organic cultivation?
Lisa throws a gluten-free snack party every week! Our gluten-free crackers are a welcome guest.
My name is Fred. The 'F' stands for fibre! Fred's diet is high in fibre thanks to the psyllium husks in our crackers. So, get it in there, and greetings to your metabolism, Fred!
Nutritional Nina compared our products and says: "Our Veganz crackers have a lower fat content and less sugar than comparable crackers on the supermarket shelf." That's great, don't you agree?
Veganz spreads and cheese alternatives are a much-loved cheese flavoured snack. Because they're also super tasty when you dip them or use our Veganz spreads.
Uncle Werner doesn't really care about additives. He says, "As long as it tastes good!". Gluten-free Lise is over the moon that she even found a gluten-free and vegan snack at all. How 'bout you? You're a little hesitant and wondering why there are additives in the crackers at all? We're more than happy to explain why we had to reach into our bag of tricks here: The additives have to do with the gluten-free recipe. The advantage of gluten is that, when mixed with water, it holds the dough together so that rolls or baked goods don't fall apart into thousands of little pieces. With gluten-free products, this is a bit more complex. That's why we've had to use the following additives:
Corn starch is a good binding agent. The starch binds water and holds the cracker mixture together.
Sodium hydrogen carbonate, ammonium hydrogen carbonate: these substances belong to the so-called raising agent family. These agents make the gluten-free cracker dough airy, fluffy, light and, above all, rise well. In principle, it's like a homemade cake. You also add baking powder or baking soda. So, it's not that crazy, right?
Sunflower lecithin is a so-called emulsifier, which allows ingredients to be mixed together that normally wouldn't mix easily. They also optimise the processing and baking properties of dough.
Antioxidants: This additive protects our savoury vegan cheese biscuits from oxidation, which is caused by the reaction to oxygen. Antioxidants increase firmness and shelf life. The colour and taste of the product also stay consistent for longer.
Packaging
We use these materials in this product.
Synthetic materials
4.1 g
Of course, we'd prefer sustainable packaging
When it comes to the sustainable recipe, our Organic Veganz Cracker Cheese can't be beat. For the packaging we've had to use a foil stand-up pouch made of polypropylene. This ensures that the vegan cheese crackers are optimally protected and stay in the right shape. We also guarantee that the savoury snack will always stay crispy and tasty.
But, we're already busy scheming, as a vegan and sustainable brand we see it as an absolute duty to find more environmentally-friendly alternatives – after all, ingredients and packaging go hand in hand. We're not perfect, but we always keep our eyes and ears open.
Available at
shop.veganz.com

Puroshop | CZ

Rohlik | CZ

Lidl | CH

REWE | DE

kokku-online.de | DE

Globus | DE

EDEKA | DE

dm | DE

Müller | DE

Budni | DE

famila | DE

Kaufland | DE

Spar | SI

Combi | DE

Amazon Fresh

Vekoop | DE

Amazon

Carrefour | BH

Vegansupplies | IL

The Vegan Kind | GB

MPREIS | IT
Even more savoury snacks from Veganz
Are you a real cookie monster? Well, then we have an amazing selection of vegan biscuits and delicious savoury snacks for you. Honestly: These delicacies should not be missing from your snack shelf!