The Veganz Organic Gourmet Tomato
125 g
A walk along the Tuscan countryside, a bathing excursion to the Italian Riviera or a stroll through the alleyways of Rome – The Gourmet Tomato from Veganz makes some of your holiday dreams come true. How is that possible? Thanks to the sun-dried tomatoes, oregano and its full-bodied aroma, that's how. Mamma Mia, you've got to try this dairy free cheese!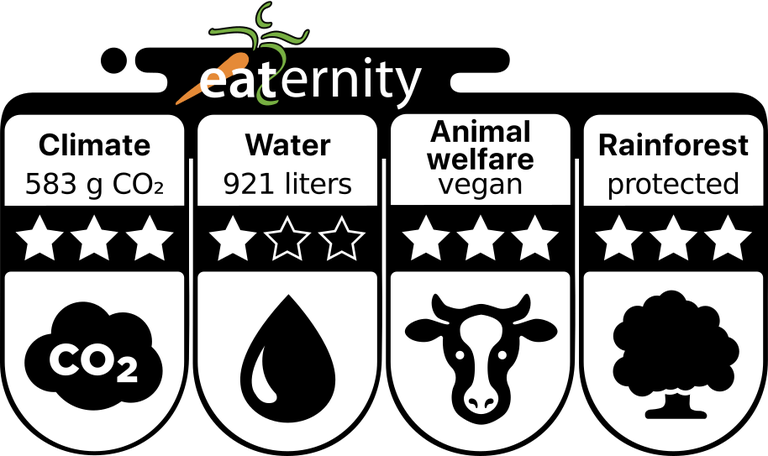 🛈
The Veganz Gourmet Tomato not only lends an Italian flair to your daily life, it also ensures transparency. Okay, you might still be with me on the Bella-Italia-Feeling, but the transparency is still a little unclear, right? It's easy: Our dairy free cheese wears its eco balance on its sleeve. As you can see from the image on top, it's been broken down into four categories. There you can see just how sustainable the Organic Gourmet is. In this way, we make it easy when you're shopping for a product that's delicious but also good for the environment. Why are we doing this? Transparency and environmental protection are important to us. You get all the facts and we have the chance to get the most out of our products.
The best ingredients for La Dolce Vita
Yes, life is sweet! Especially when you can protect a great many animals as well as the environment with a delicious dairy free cheese – like the Veganz Gourmet Tomato, for example. It's vegan so there's no 'ow to the cow' and it protects the rainforest, too, since it contains neither soy nor palm oil. Which is why, in these categories, it gets three stars. What else do we think is "molto bene"? Its raw ingredients have a very low carbon footprint.
What do the Leaning Tower of Pisa and the Gourmet Tomato have in common? Neither of them are perfect, but both of them spark joy. Our delicious dairy free cheese is vegan and organic so it's already doing its part for the environment, but it fresh water usage leaves something to be desired: The cashews it contains have a relatively high water footprint since they require quite a bit of the stuff to grow and the infrastructure of some of their cultivation areas has not yet developed adequately.
 
In addition, their yield is modest, of the 3.3 kilos of cashews irrigated, only 1 kilo of shelled cashews are obtained. What can we do better? Good question! The solution could be in helping on site or in getting the cashews from a different country with a better water footprint. Whatever the answer is – the know-how of today flows into the products of tomorrow.
Ingredients
Cashews* (70%), coconut oil*, tomatoes* sundried (34%), oregano* (0,3%), starter cultures (Lactobacillus bulgaricus, Lactobacillus acidophilus, Streptococcus thermophilus, Lactobacillus casei, Lactobacillus plantarum), pink crystal salt.
*certified organic
May also contain traces of other nuts.
The cashews for the organic Veganz Gourmet Tomato come from India. The coconut oil travels from Indonesia, one of the most important coconut oil distributors in the world. Both ingredients are certified organic.
Nutrition information
Nutrition Information per

100

g
Energy
1773
kJ
430
kcal
Fat
40
g
– of which saturates
22
g
Carbohydrate
4.9
g
– of which sugars
3.2
g
Protein
8.3
g
Salt
1.2
g
That means I love you so much! Why is the Gourmet Tomato so loved? Because of its high-grade quality that you not only taste but see. Taste? Yes, absolutely. But see? Okay, so listen to this: Take a look at the list of ingredients in other vegan dairy free cheese and you'll see that the list is very long. Producers often use additives, thickeners and artificial aromas – but we don't. With the Gourmet Tomato, we've concentrated on the essentials: Very few organic, raw quality ingredients, lovingly made by hand – these are the qualities that make it what it is. Exceptionally delicious.
Maybe not as impressive as the coliseum in Rome or the Cinque Terre, but pretty close. Now I'm sure you're asking yourself: "Those people at Veganz are putting lactic acids cultures in a plant-based product?" Don't worry! These are neither animals nor plants, but their own species called prokaryotes, to be specific. Naturally vegan since we cultivate the micro-organisms without the use of animal substances, we need the lactic acid cultures to ferment the ingredients of the Veganz Gourmet Tomato – somewhat like how cheese or yoghurt is made. The one-of-a-kind, full-bodied and fresh flavour we so love in our dairy free cheese, and makes us dream of southern lands, is due to the special maturing process.
Or ciabatta e risotto — Si, Italian cuisine is bursting with cheeses: No caprese without mozzarella, no carbonara without parmesan! But you know what? All of those dishes are possible with the Gourmet Tomato. You can do a lot with our dairy free cheese: Spread and slice, dunk and dollop, season and splice and, and, and… You can't get any more variety than that!
Packaging
We use these materials in this product.
Synthetic materials
3 g
Paper/cardboard/carton
12 g
Unfortunately, yes. But you have to believe us when we say we don't like it, either. With the Veganz Gourmet Tomato, comprehensive product protection is extremely important, as it is a very sensitive dairy free cheese with a relatively short sell-by date. Which is why we have to use plastic film. We'd love to wrap it in paper like a camembert, but it's too moist for that, and the additional cardboard box prevents the dairy free cheese from being crushed thereby retaining its shape. As you can see, there are certain issues that make it difficult to do away with plastic packaging. But of course, as a vegan and sustainable brand, we see it as our absolute duty to look for more environmentally friendly alternatives – after all, ingredients and packaging go hand in hand. We're not perfect, but we always have our eyes and ears open.
Don't miss out!
Have you been searching for yet another newsletter to land regularly in your email box? No problem at all. Simply register for ours! Trust us: It will make your collection complete!