Veganz Advent Calendar
1.062 kg
How would you make the most of the best time of the year? Easy: start each day with an unbelievably tasty gift! The Veganz Advent Calendar is sure to sweeten December for you with 24 different Veganz snacks and an extra helping of Christmas cheer.
This vegan advent calendar is packed with a selection of 24 Veganz goodies like our Bliss Balls, a variety of bars, biscuits, or wine gums – it's much more than just heaven on earth for the taste buds, but also a real eye-catcher! Opened up in your room or next to the Christmas tree, it's a wonderful vegan winter wonderland where you'll discover something new every day.
Have you already decided whether to keep the Veganz Advent Calendar to yourself, to share it, or even to give it away? No matter who you're looking to delight with the vegan box of Christmas wonders: you'd better be quick because stocks are limited! Secure one of the sought-after calendars right here.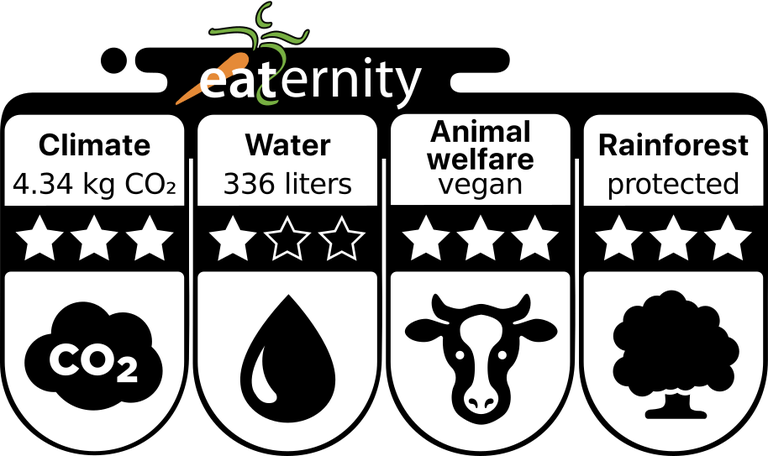 🛈
Sustainability as a snack
You shouldn't be made to feel bad about wanting to give yourself or somebody else an advent calendar. That's why we at Veganz pay so much attention to making our products sustainable and climate-friendly. And just to be sure that you can always see exactly how sustainable your Veganz product is, the Swiss institute Eaternity works out an individual sustainability score for each of our products.
The Eaternity score simply uses 1 to 3 stars to show how well the product does in terms of its carbon footprint, water consumption, animal welfare, and rainforest protection when compared to more than 100k other products. For its carbon footprint, animal welfare, and rainforest protection, our advent calendar shines with 3 stars. It's just its water consumption that's not great with just one star. The main drivers for the water consumption are the nuts that can be found in some of the products like the Bliss Balls as it takes quite a lot of water to grow them. We're already working on a solution to ensure even less water is used in the making of our goodies.
Nutrition information
Nutrition Information per

100

g
Energy
1697
kJ
403
kcal
Fat
12
g
– of which saturates
8.2
g
Packaging
We use these materials in this product.
Synthetic materials
46.3 g
Paper/cardboard/carton
637 g
Other Christmas goodies
Crunch, snack, feast, and get cosy with some cinnamon, almonds, and baked apples in a winter wonderland? There's no missing out thanks to the Veganz Christmas range. Discover more heavenly Christmas goodies for sharing, gifting, or simply gobbling up yourself: