Veganz Sandwich Spread Remoulade Style
250 ml
If you make a sandwich, there's no doing without a spread! After all, your sandwich is sure to be a whole lot tastier if you add some Veganz Sandwich Spread Remoulade Style. Some cold cuts, a few slices of cucumber, and a good dollop of vegan remoulade for the finishing touch — et voilà, you've got the perfect sandwich!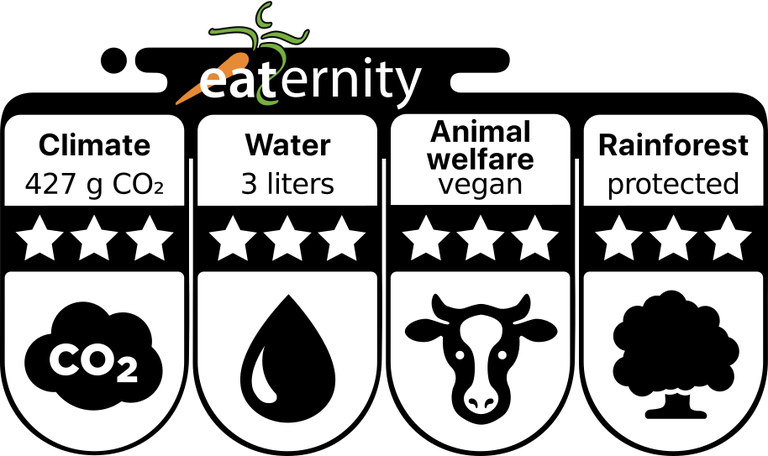 🛈
What does trying to be more sustainable have to do with a scoring system?
Do you want to fill your fridge with more sustainable products? Not a problem! Just go for Veganz products! Nearly our entire range now has a sustainability score printed on the packaging. It shows you the product's CO2 footprint, how much water it uses, and whether it protects animals and the rainforest. To arrive at the score, we've taken into account the origin of the raw materials, production, packaging, and transport, and then compared our figures to 110,000 other food items. We've then given stars to reflect the score. With just two stars, a product is already more sustainable than the average of all products in the comparison.
How did we come up with this unusual idea? Transparency, all living beings, and mother nature are very important to us: you get all the facts, and we have the opportunity to make our products more sustainable at the same time.
Our Veganz Sandwich Spread Remoulade Style isn't only good for your sandwiches – it's also good for the climate, our global water footprint, the animal kingdom, and our rainforests. And, as you can see, our vegan remoulade has top scores in these categories – that is to say three stars. Find out right here how to get your hands on this perfect experience yourself!
Klima
Unlike with conventional remoulade, our Veganz Sandwich Spread Remoulade Style is made entirely without eggs. There's not much difference in taste, but the egg-free remoulade is certainly better for the climate! And here's why: a carton containing six organic free-range eggs generates CO2 emissions of 1.2 kilogrammes. The figure is predominantly due to the fact that chickens are mostly fed soya, which is grown in far-off countries. The emissions are the result of the soya being transported to Germany.
In addition to that, more and more areas are being cleared to cultivate food crops, meaning that the producing countries are frequently losing forests and grasslands, or that wetlands are being drained. This is really bad for the planet, as rainforests in particular are some of the largest CO2 reservoirs in the world. It's what worsens the ecological balance of animal-based products.
Water
Water isn't just used for drinking, showering, or fun water balloon fights, but also for growing the food we eat. Or, to be more precise, farming uses 70% of the world's water supplies. Incredible, isn't it? It's a real problem, especially in regions where water is scarce! And that's precisely why we need to reduce the global dependency on our already scarce water supplies. That's why it's important to work in a particularly resource-conserving way in food production – just like we do with our Veganz Sandwich Spread Remoulade Style. You won't find any ingredients in it that use a lot of water in their cultivation or production. The vegan remoulade thus makes a sustainable contribution to reducing the global water footprint.
Animal Welfare
Our Veganz Sandwich Spread Remoulade Style may taste as if it contains eggs, but – surprise! – it definitely doesn't! And do you know why? Protecting chickens and chicks is extremely important to us! Only a vegan recipe guarantees that no living being is harmed. By the way, here are some facts and figures on how laying hens are kept in industrial settings.
Rainforest
Soya? Palm oil? No, thanks. There's no place for them in our Veganz Sandwich Spread Remoulade Style. By avoiding these ingredients, we guarantee the utmost protection against deforestation, and we support the preservation of green forest areas.
Why is the rainforest so important? It's the green lung of our Earth, and it has an immense influence on our climate. Plants, bushes, and trees absorb CO2 from the air and use the carbon to grow, which, in turn, produces oxygen. And who needs oxygen to survive? Right! We humans!
If we destroy our rainforests, large amounts of CO2 are released — which enhances the greenhouse effect and contributes to global warming. Rainforest protection means climate protection! That's why it's of great importance to all of us that tropical rainforests are preserved.
Ingredients
Rapeseed oil (48 %), water, spirit vinegar, sugar, modified maize starch, gherkins (2,0 %), salt, herbs, onions, thickeners: guar gum, locust bean gum, spices (contain mustard seed), spice extract.
Nutrition information
Nutrition Information per

100

ml
Energy
1865
kJ
453
kcal
Fat
47
g
– of which saturates
3.3
g
Carbohydrate
7
g
– of which sugars
4
g
Salt
0.94
g
Artificial flavouring? Nah! Not at Veganz! And certainly not in our Sandwich Spread Remoulade Style! It really doesn't need any extra flavourings and still tastes just like 'real' remoulade.
A helping of cucumber and some fine herbs – it's just what's needed to make the Veganz Sandwich Spread Remoulade Style taste just the same as its conventional counterpart. Although our vegan remoulade might actually be a bit better if we say so ourselves.
Whether you use it as a sauce or a dip, our Sandwich Spread Remoulade Style will always be a hit! Spread it on your sandwiches or burgers, refine your salads, mix it with grilled vegetables, or use the vegan remoulade as an alternative to butter.
Since our Veganz Sandwich Spread Remoulade Style is completely vegan, i.e. egg-free, we did need to add something else to the list of ingredients. But there's no need to worry! There are just two things that help create the great consistency and bind the ingredients:
Guar gum & locust bean gum are thickeners, and they ensure that all the ingredients stick together, while giving our vegan remoulade a perfectly light consistency.
Packaging
We use these materials in this product.
Synthetic materials
30 g
Paper/cardboard/carton
1.4 g
And how sustainable is the packaging?
The Veganz Sandwich Spread Remoulade Style is already made of sustainable ingredients. Now all it needs is sustainable packaging, right? Great! Although the label is already made of FSC-certified paper, which is printed with mineral oil-free ink, we did opt for a plastic squeeze bottle. That's not actually so bad in itself, since it means we're able to save on CO2 and it also gives you better portion control when you serve your vegan remoulade. The bottle also protects it from external influences, providing optimal protection for the product. You may be wondering: 'Yeah, but why isn't the mayo in a glass jar?' We'll answer your question right here.
But we're already busy scheming, and as a vegan and sustainable brand, we see it as an absolute duty to find more environmentally-friendly alternatives – after all, ingredients and packaging go hand in hand. We're not perfect, but we always keep our eyes and ears open.
Available at
shop.veganz.com

Puroshop | CZ

Rohlik | CZ

Lidl | CH

REWE | DE

kokku-online.de | DE

Globus | DE

EDEKA | DE

Budni | DE

real | DE

famila | DE

Kaufland | DE

Spar | SI

Combi | DE

Vekoop | DE

tegut | DE

Vegansupplies | IL

Spar Gran Canaria | ES

MPREIS | IT
Even more Veganz spreads and dips
What are the things your pantry always needs? Veganz spreads & dips! These products help you add the finishing touches to almost any dish and food and create the most delicious combinations.