Veganz Organic Blueberry Snack Bar
30 g
Fred Flintstone loved his Wilma, Marge Simpson had her Homer and we have the Veganz organic Blueberry Snack Bar. Why are we so in love? Easy: Our beloved date fruit bar is gluten-free and made with just 5 ingredients. This helps to give the fruit bar its distinctive fresh & fruity taste. Love has never been so yummy!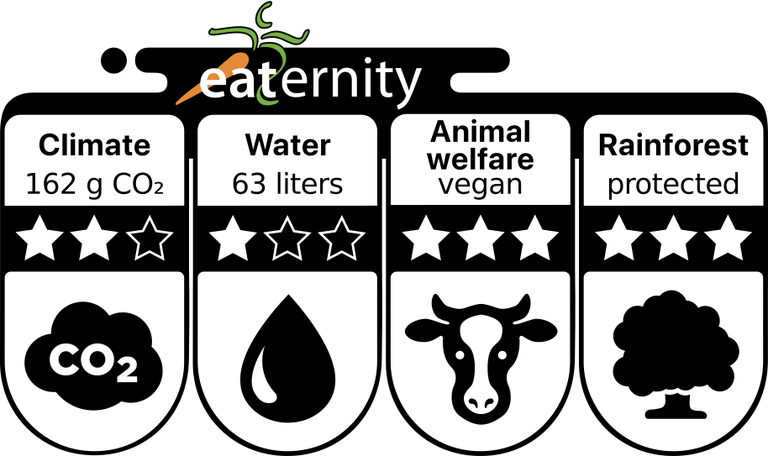 🛈
Oh, and by the way… with its great taste, organic ingredients and reduced recipe – you could get carried away by the Veganz organic Blueberry Snack Bar. But that's not all! The date fruit bar is also pretty self-confident since it wears the eco balance openly and proudly right on the packaging. As you can see from the image on top, the eco balance is broken down into 4 categories. These show just how sustainable our date fruit bar is. Why are we doing this? Because transparency and environmental protection are important to us. You get all the facts and we get the best out of our products.
Not only fools and horses have benefited from the Veganz organic Blueberry Snack Bar, but all other living beings on the Earth as well! Being a vegan product, the date fruit bar promotes the well-being of all animals, which is why it has received 3 stars in this category. Even the rainforest can thank the fruit bar for its ability to breathe freely since the fruit bar contains no soy or palm oil. Not only that, but its ingredients have a very minimal carbon footprint.
Our Veganz organic Blueberry Snack Bar has a lot to offer! Except for the cashews and dates it contains – man-o-man, we're heading for a pretty rocky relationship with those ingredients when it comes its water footprint. Kind of like Miley Cyrus and her Liam. Sure, the date fruit bar does a lot for the environment with its vegan recipe and organic ingredients, but dates and cashews need a lot of water to grow. In addition, the infrastructure at the cultivation areas is not fully developed as well as the fact that the nuts have a fairly low yield. Although 3.3 kilos of cashews are watered, the result is just 1 kilo of shelled cashews. Yeah. Not cool at all that precisely these ingredients are responsible for the crunchy/moist consistency and the lovely sweetness. You see the dilemma, don't you?
How can we save our relationship? First of all, we need to make a list of the pros and cons! No, but seriously: We could help directly on site or get the ingredients from a different place. But the fact is, no matter how we put whatever idea into action, the know-how from today flows into the products of tomorrow.
Ingredients
Dates* (60%), cashew nuts* (33%), agave syrup*, freeze-dried blueberries* (3,0%), natural flavouring.
*certified organic
The dates for our Veganz organic Blueberry Snack Bar come from Tunisia, since there is no better place for dates anywhere in the world. The cashews are from Brazil.
Ron loves Hermine for her razor sharp mind, Yoko Ono swoons for John Lennon's outstanding songwriting, and Kayne West married Kim because she's especially… well, I'm sure he had his reasons. Anyway, we all possess characteristics that our loved ones appreciate. Even the Veganz organic Blueberry Snack Bar has the following 5 charming characteristics: The date fruit bar is gluten-free, sweetened naturally with agave syrup, moist and soft to the bite, the perfect snack for every sized bag and, to top it all off… simply delicious.
Yes, I'm sure you recognize this status not just from Facebook but real life as well – just as it is with our Veganz organic Blueberry Snack Bar and its packaging. There is a sense of crisis in the air: Even though we've kept the date fruit bar recipe as natural as possible, we've had to use polypropylene in the packaging for the following reasons: The inner film is aluminized in order to create a steam barrier so that the date fruit bar can stay nice and soft and won't harden before its sell-by date. That way we can be sure our Veganz Blueberry Snack Bar remains edible day and night and through all kinds of weather.
As you can see, there are certain reasons why a plastic wrapper is unavoidable and problematic when trying to come up with the best solution. But of course, as a vegan product, we see it as our responsibility to look for environmentally friendly solutions – in the end, ingredients and packaging goes hand in hand. We're not perfect, but we are always keeping our eyes and ears open.
Don't miss out!
Have you been searching for yet another newsletter to land regularly in your email box? No problem at all. Simply register for ours! Trust us: It will make your collection complete!