Veganz Organic Cocoa Bliss Ball
42 g
Keep on rollin' rollin' rollin' rollin' – so that you can stay on the ball during those stressful days, we've got the perfect snack for you: The Veganz Organic Bliss Ball Cocoa. Thanks to soft dates, crunchy almonds and delicate cocoa, your day will be well-rounded. Go on, grab yourself a date ball and keep on rollin', baby!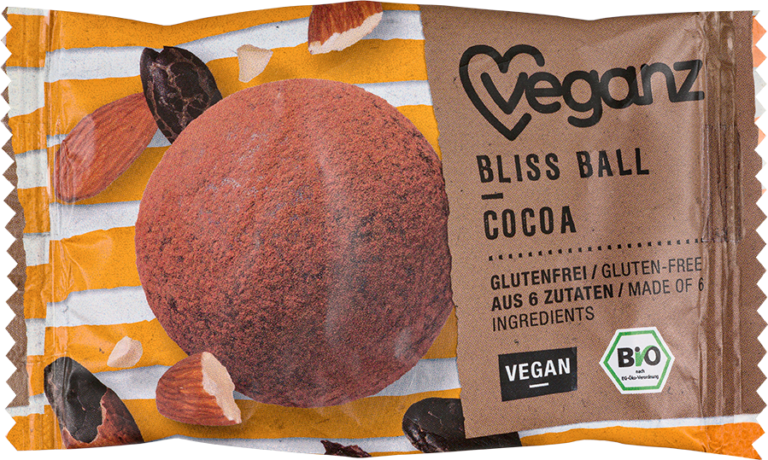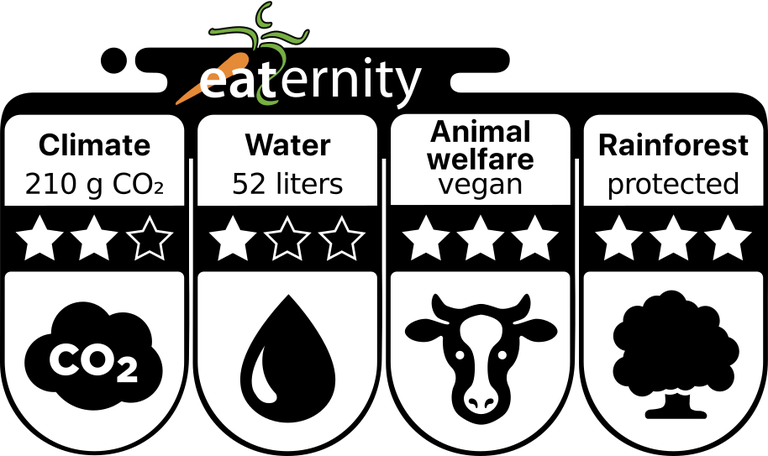 🛈
Seven, certified organic ingredients, no artificial additives and its own Sustainability Score on the package – a nice round little thing, this Veganz Organic Bliss Ball Cocoa. You're probably asking yourself: What the heck is a Sustainability Score? Simple! As you can see from the image, we've broken it down into four categories: CO2 emissions, water footprint, animal welfare and rain forest preservation. And because of the ratings, it's easy to figure out just how environmentally friendly the date ball really is. Pretty clever, especially since now you can easily choose a product that's not only yummy, but also good for the environment.
Why are we making showing you the eco balance? Transparency and environmental protection are very important to us – you get all the facts and at the same time, we have the chance to make our products more sustainable.
Animals & rainforests are happy all-round
Even through big challenges, the Veganz Organic Bliss Ball Cocoa will get you over life's humps. But you are not alone! The energy ball does so much for the animal kingdom and the rainforest – and you can see that in these eco balance categories. In both, the date ball scores the best marks. Being a vegan product, the date ball protects the animal world, since our raw materials are not of animal origin, and that's for ethical reasons. And because of the soy and palm oil free recipe, the rainforest can also continue to breathe a sigh of relief. Phew!
As you can see from the eco balance, our Veganz Organic Bliss Ball Cocoa has received the second-best climate rating –with this result, the energy ball is still considered environmentally friendly.
But why did we receive 2 stars instead of 3? It's because of the dates. Compared to other fruits, the date palm has a rather high emission value, due to intensive fertilisation. And since our energy ball consists of 65% dried dates, this naturally affects the result of our CO2 footprint.
How do we get to 3 stars? Hm, that's not so easy since we all love our Bliss Ball just the way they are, right? That means: Hands off the recipe and over to the keys or the telephone – and the search for a new purchasing source begins! Sadly, these things don't happen from one day to the next, so we need to have a little patience. However, we are tireless, full of drive and always open to change. After all, we only want one thing: to develop the best products for our environment.
Water consumption? Not so well-rounded.
Yeah, and that thing about the water could definitely be better. Or different. And although our Veganz Organic Bliss Ball Cocoa does its part for human, animal and nature with its high quality, organic vegan ingredients, there's still a lot of room for improvement when it comes to water consumption. Who's to blame for that? Why, the dates and almonds, of course. These ingredients need lots and lots of the valuable moisture for their growth. In addition, the countries in which they are cultivated haven't quite developed their water supply systems as yet. And the nut yield is also relatively low, since although 2 kg of almonds are irrigated, they only bring in about 1 kg.
Well, it's a shame that it's exactly these ingredients that are responsible for its special crispy soft consistency and wonderful sweetness – you see the problem, don't you?
So, what can we do? The answer could be in helping out locally or choosing ingredients from another country. Meanwhile, we are working on finding a solution in the near future – today's know-how flows into the products of tomorrow.
Ingredients
Dried dates* (67%), chopped almonds* (20%), hemp protein powder*, fat-reduced cocoa powder* (3,0%), cocoa nibs* (3,0%), ground vanilla beans*.
*certified organic
May also contain traces of peanut, sesame and other nuts.
Nutrition information
Nutrition Information per

100

g
Energy
1572
kJ
375
kcal
Fat
13
g
– of which saturates
2
g
Carbohydrate
50
g
– of which sugars
48
g
Protein
9.9
g
Salt
10
mg
Rolls into your mouth almost by itself
Visiting your beloved mother-in-law, making vital decisions about which Instagram filter to use (dog's nose vs. cat's ears), finding the answer to whether the egg came before the chicken or vice versa – these are all things that play on your nerves. Luckily, there's the right date ball for this, one that rolls into your mouth on its own in precisely these kinds of stressful situations. The reason for this is clear: Our Cocoa Bliss Ball has just 7 ingredients and are all certified organic. In addition, the entire recipe is wonderfully gluten free and without artificial additives. What are you waiting for? Open your mouth and let the good times roll!
Packaging
We use these materials in this product.
Synthetic materials
0.6 g
Sure, if we can manage to do that, then you and I and everyone else can order another round! But, unfortunately our Veganz Organic Bliss Ball Cocoa is still wrapped in a metallised plastic foil. And that has its reasons: The metallisation prevents the energy ball from hardening, so the snack always stays juicy and soft. But psst: We are currently working on a more sustainable material and are already conducting some tests. These tests can last up to 12 months – so you'll have to be patient until we can come up with a more environmentally friendly alternative.
Don't miss out!
Have you been searching for yet another newsletter to land regularly in your email box? No problem at all. Simply register for ours! Trust us: It will make your collection complete!
Available at
shop.veganz.com

Puroshop | CZ

Rohlik | CZ

REWE | DE

kokku-online.de | DE

EDEKA | DE

Müller | DE

coop | CH

Spar | AT

real | DE

Spar | SI

Amazon Fresh

Vekoop | DE

Carrefour | BH

Spar Gran Canaria | ES

OS World of Sweets | DE

Netto | IS

Hagkaup | IS

Amazon

MPREIS | IT