Veganz Organic Cocoa Snack Bar
30 g
With the Veganz organic Cocoa Snack Bar we have finally managed to make humanity happy: The chocoholics, gluten-free fans, those who are anti-refined sugar, and everyone else who is sick of long ingredients lists.Oh, and our date bar does, indeed, taste out of this world good. What could go wrong?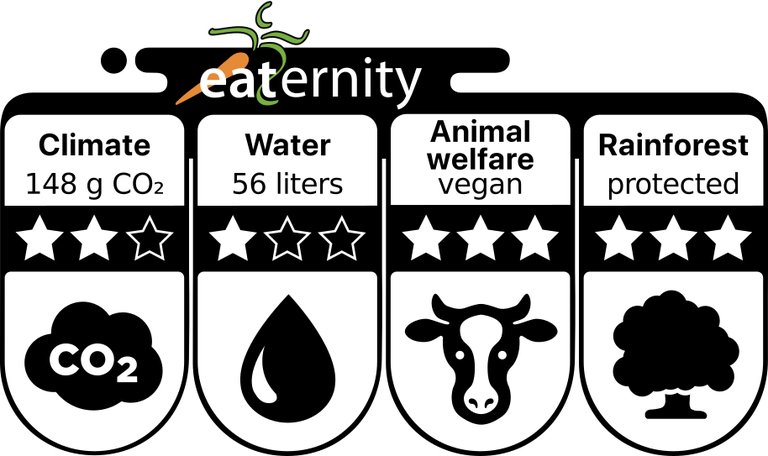 🛈
…because they can now see the eco balance of our products right on the package of the Veganz organic Cocoa Snack Bar. The image is broken down into four categories and lets you see the sustainability of the date bar for yourself. Why are we doing this? Because transparency and environmental protection are important to us. You get all the facts and we get the best out of our products.
Makes not only Humankind Happy…
…but also the animals. As a vegan product, the Veganz Snack Bar Cocoa protects all living beings – whether with fur or feathers. In addition, its ingredients have a good climate rating and everything is in the green zone for the rainforest since contains no soy or palm oil.
Although the Veganz organic Snack Cocoa Bar does what it can for the environment with its vegan recipe and organic ingredients, the water usage is unfortunately immense: Ingredients like dates and cashews have a relatively high water footprint since they need quite a bit of the good stuff for their growth. The infrastructure at the cultivation areas is also not fully developed. In addition, the nuts have a fairly low yield. Although 3.3 kilos of cashews are watered, the result is just 1 kilo of shelled cashews.
What can we do better in the future? That's a very good question. We could help directly on site or get the ingredients from a different place. But the fact is, no matter how we put whatever idea into action, the know-how from today flows into the products of tomorrow.
Ingredients
Dates* (50%), cashew nuts* (29%), agave syrup*, fat-reduced cocoa powder* (6,0%), maca root powder* (4,0%).
*certified organic
The dates for the Veganz organic Cocoa Snack Bar come from Tunisia, since there is no better place anywhere in the world for dates. The cashews are from Brazil.
Would you like to hear the five reasons why our Veganz organic Cocoa Snack Bar is a blessing, even in the most unusual situations and for the most unusual people? Well, here they are: They're gluten-free, which means they are perfect for people with an intolerance. Second: It's naturally sweetened with agave syrup, a benefit for those who turn up their noses at refined sugar. Third: It's the perfect snack for travel bloggers, night clubbers and mommies and daddies because it fits into every sized bag. Fourth: It satisfies with its moist and soft bite, especially for those who don't want to spend a lot of time eating since it can be polished off in no time. Last but not least – the fifth reason is for all you gourmets out there: The date bar is simply delicious.
Maybe we need to revise our statement from before: We can't make everyone happy with the Veganz organic Cocoa Snack Bar – especially when we take its packaging into consideration, because unfortunately, and sadly, we can't do without it. Here's why: outside polypropylene; inside metallised polypropylene. The inside wrapper is aluminized in order to create a steam barrier so that the datebar can stay nice and soft and won't get hard before its sell-by date. That way we can be sure our Veganz Cocoa Snack Bar remains edible day and night and through all kinds of weather. As you can see, there are certain reasons why a plastic wrapper is unavoidable and problematic when trying to come up with the best solution. But of course, as a vegan product, we see it as our responsibility to look for environmentally friendly solutions – in the end, ingredients and packaging go hand in hand. We're not perfect, but we are always keeping our eyes and ears open.
Don't miss out!
Have you been searching for yet another newsletter to land regularly in your email box? No problem at all. Simply register for ours! Trust us: It will make your collection complete!