Organic Veganz Mini Speculaas
150 g
There has been lots of speculation, but now they're finally here – just in time for Christmas: the Organic Veganz Mini Spekulatius. With their delightfully Christmassy spices and baked crisp, they're sure to make the festive season even sweeter.
Look forward to a crispy vegan and organic snack tasting of butter, anise, mace, cardamom, cloves, and cinnamon that absolutely hits the most Christmassy kind of sweet spot. You want even more snacks? Then why not try the Mini Spekulatius crumbled into your muesli, as an ingredient in your baking, or as a topping on your hot chocolate?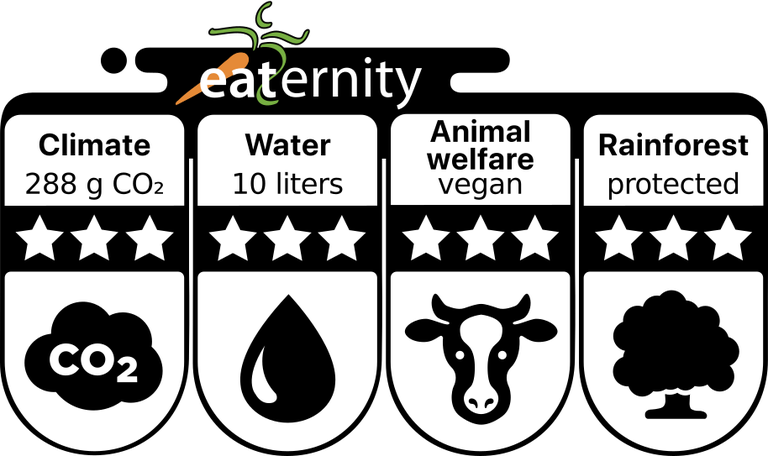 🛈
All facts on the festive table
It's a big 'ho ho ho' to sustainability for these little biscuits! That's because the Veganz Mini Spekulatius aren't just vegan and certified organic – they actually manage to achieve top marks in every one of the Eaternity categories.
Eaternity Score? That's the sustainability indicator for all our products. The score is calculated by an independent Swiss institute that compares every one of our Veganz products to more than 100k others in terms of the effect they have on the rainforest, animal welfare, carbon emissions, and water consumption. They check, for example, whether the manufacturing process, supply chain, and storage of the tasty biscuits uses more or less water than is the case for other biscuits. 1 star means things could be better, 2 stars means the product is comparatively sustainable, and 3 stars means the product is amazing. These little Spekulatius use less water than most comparable products! Also: they're absolute high-flyers in the other categories.
A Christmas miracle? Not quite, we just really believe in sustainability and we try really hard to make every one of our products as kind to the environment and climate as possible.
Ingredients
Wheat flour*, raw cane sugar*, sunflower oil*, sugar beet syrup*, powdered orange zest*, spices* (0,5%) (anise*, macis*, cardamom*, cloves*, cinnamon*), colouring food: concentrated carrot juice*; raising agents: sodium hydrogen carbonate, monopotassium tartrate; natural flavourings, sea salt.
*certified organic
May contain traces of nuts, egg and milk.
May also contain traces of peanut, soya, nuts, sesame, other cereals containing gluten, egg and milk.
Nutrition information
Nutrition Information per

100

g
Energy
1929
kJ
459
kcal
Fat
16
g
– of which saturates
1.9
g
Carbohydrate
71
g
– of which sugars
26
g
Protein
6.4
g
Salt
0.6
g
Packaging
We use these materials in this product.
Admittedly: the packaging that our Organic Mini Spekulatius come in isn't quite as sustainable as we'd like – but it's as sustainable as we can manage right now. For example, we use mineral oil-free inks for the packaging and it can easily be recycled if you put it out in the recycling bag.
Other Christmas goodies
Crunch, snack, feast, and get cosy with some cinnamon, almonds, and baked apples in a winter wonderland? There's no missing out thanks to the Veganz Christmas range. Discover more heavenly Christmas goodies for sharing, gifting, or simply gobbling up yourself: