Veganz Organic Peanut Snack Bar
30 g
The Lord of the Rings trilogy, the Three Musketeers, the ingredients of the Veganz organic Peanut Snack Bar – trios that make the world a better place. Oh, you've never heard of the last one? Let us explain: Our gluten-free bar contains soft dates, roasted peanuts and a pinch of sea salt. As you can see, all good things come in threes!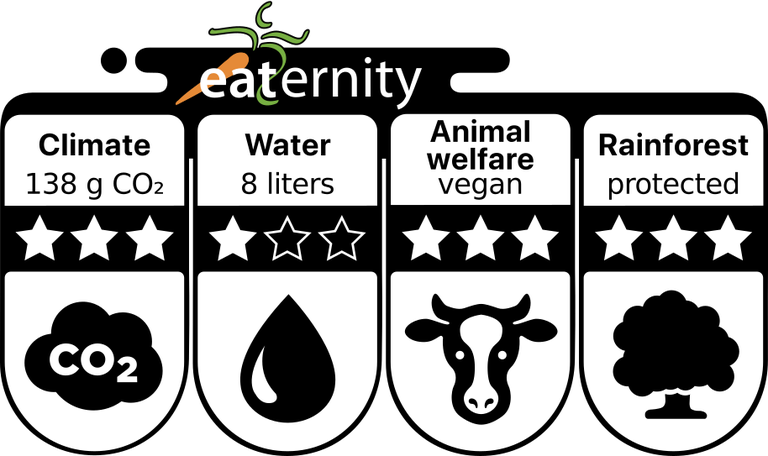 🛈
Hold on… four? Okay, okay, you caught us… we were just telling you about all the wonderful things that come in threes, but when it comes to the eco balance of our products, we couldn't agree on just three categories. What are we talking about? Well, quite simply this: The image on top corresponds to the four categories where you can the sustainability of the Veganz organic Peanut Snack bar. Why are we doing this? Because transparency and environmental protection are important to us. You get all the facts and we get the best out of our products.
What do Charlie's Angels and the three ingredients of the Veganz organic Peanut Snack Bar have in common? They are going to save the world! You don't think so? Think again: As a vegan product, the bar protects several life forms as well as the rain forest since it contains neither soy or palm oil. In addition, the raw materials used have a low CO2 footprint. This is why our little delicacy receives stars in – attention, drum roll – all three categories!
As is often the case with threesomes, someone invariably breaks ranks – I'm sure you've experienced this first hand. Well, with the ingredients of the Veganz organic Peanut Snack Bar are no different and the culprit this time are the dates. Dates need quite a bit of water and the infrastructure of the water supply in the growing areas has not yet been sufficiently developed. We need to find a solution, no question. But for now, we don't know what that could be. For example, we could help directly on site or get the ingredients from a different place. But no matter how we put whatever idea into action, the know-how from today flows into the products of tomorrow.
Ingredients
Dates* (52%), roasted peanuts* (48%), sea salt.
*certified organic
The dates for the Veganz organic Peanut Snack Bar come from Tunisia, since there is no better place for dates anywhere in the world. The peanuts travel from China, the Land of Smiles.
Nutrition information
Nutrition Information per

100

g
Energy
1837
kJ
440
kcal
Fat
23
g
– of which saturates
3.3
g
Carbohydrate
41
g
– of which sugars
36
g
Protein
13
g
Salt
0.32
g
Nope, not with our Veganz organic Peanut Snack Bar. It shines through the synergy of its three ingredients. In addition, the gluten-free bar, moist and soft to the bite, is the perfect snack for any sized bag and, on top of everything else, is super delicious. What could be better?
Packaging
We use these materials in this product.
Synthetic materials
0.6 g
Yes, unfortunately it does. But we can tell you one thing …we're not happy about it. Here is why we chose this particular packaging: The wrapping for the Veganz organic Peanut Snack Bar consists of two layers: outside polypropylene, inside metallised polypropylene. The inside wrapper is aluminized in order to create a steam barrier so that the bar can stay nice and soft and won't get hard before its sell-by date. That way we can be sure our Veganz Peanut Snack Bar remains edible day and night and through all kinds of weather. As you can see, there are certain reasons why a plastic wrapper is unavoidable and problematic when trying to come up with the best solution. But of course, as a vegan product, we see it as our responsibility to look for environmentally friendly solutions – in the end, ingredients and packaging goes hand in hand. We're not perfect, but we are always keeping our eyes and ears open.
Don't miss out!
Have you been searching for yet another newsletter to land regularly in your email box? No problem at all. Simply register for ours! Trust us: It will make your collection complete!