Veganz Organic Wafer Crunch
80 g
Everyday I'm waffeling! And we get it. And how could you not? Especially since the Veganz Organic Wafer Crunch is so wonderfully crispy and fantastically crunchy at the same time: On the outside, the finest chocolate coating, on the inside, delicious waffle pieces – the vegan sweetness for every day!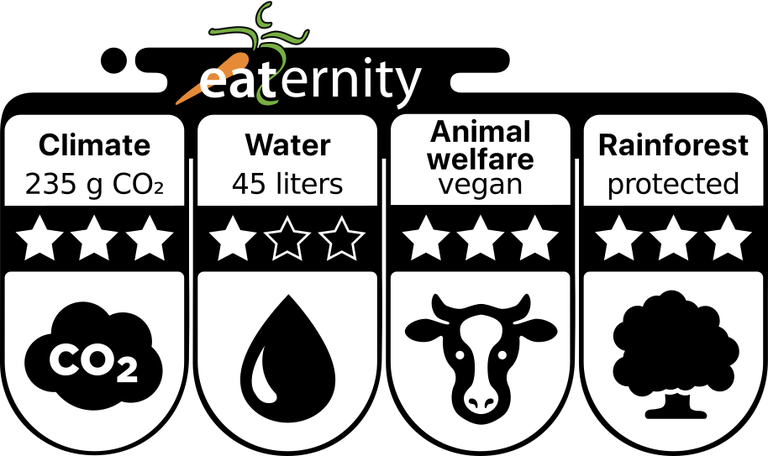 🛈
Each time we buy food, we have an influence on how much CO2 is pumped into the atmosphere or how many litres of water are being consumed. Nobody can actually say for sure how much it really is, though, which is why we've just put the eco-balance of our Veganz Organic Wafer Crunch on the package. As you can see from the image above, it's divided into four categories: CO2 emissions, water footprint, animal welfare and rainforest preservation. With it, you can see right away just how sustainable the product is and choose on a chocolate with a clear conscience can that is not only tasty but good for the environment.
Why all the fuss? Transparency and environmental protection are very important to us: You get all the facts and we have the opportunity to produce a more sustainable product.
As you can see, the Veganz Organic Wafer Crunch has achieved full marks in the categories of animal welfare, rainforest protection and carbon footprint. How? Well, as a vegan product, the crispy-crunchy candy protects all living beings on the planet since we don't use any animal products. And there's really nothing to complain about as far as CO2 goes because with just 235 grams of emissions, it lies well below the average of conventional chocolates. The rainforest is also in the green since we don't use soy or palm oil. Basically, it's a win-win situation: Guilt-free munching!
That's what every person who owns their own cocoa plant says. That's because in order for the little bean to grow up swiftly and stupendously, it needs a whole lot of the valuable liquid. Which is why the Veganz Organic Wafer Crunch received just 1 star in that category. Another reason is that the water supply around the cultivation areas is not yet sufficiently developed. And so, although the little snack does a lot for the environment due to its vegan ingredients, we still have to figure out a way to lower the high water footprint.
How can we do that? That's a very good question. Maybe one answer would be to help out at the location by supplying water treatment plants or procuring our ingredients from other regions. You can be sure that we are making every effort to find a solution – the know-how of today flows into the products of tomorrow.
Ingredients
Raw cane sugar*, cocoa butter*, cocoa mass*, rice syrup powder* (14 %), wafer pieces* (7,0 %) (wheat flour*, emulsifier: sunflower lecithin*; sunflower oil*, sea salt), hazelnut paste*, vanilla extract*.
Couverture chocolate contains: cocoa solids 40 % minimum.
*from organic agriculture
May contain other nuts, barley, oat and milk.
Our high-quality organic cocoa comes from Latin America, or the Dominican Republic to be exact. Next to the organic certification, it also bears the UTZ seal. This means that the farmer and working conditions are monitored and child labour is forbidden on the plantations. Additionally, because of this seal, the rainforest is under special protection. In order to provide us with further security, our Veganz Code of Conduct also regulates social standards that are respected by our suppliers.
Nutrition information
Nutrition Information per

100

g
Energy
2236
kJ
537
kcal
Fat
34
g
– of which saturates
21
g
Carbohydrate
52
g
– of which sugars
42
g
Protein
2.9
g
Salt
20
mg
What's so bad about enjoying a bit of chocolate every day? Which is why we've thought of something really special for the Veganz Organic Wafer Crunch: Crispy waffle pieces inside, a crunchy chocolate coating inside. We're even cheeky enough to proclaim that you won't be able to tell the difference between this vegan sweet and other, conventional milk chocolate candy bars, taste-wise at least. The ingredients are different, too: Instead of cow's milk we've used a combination of the finest cocoa butter and rice syrup powder. Certified organic, no soy, no palm oil or artificial additives. Now nothing can stand between you and your chocolate waffle day!
No need! The sunflower lecithin used serves only to give the wafer pieces a special firmness to the dough – it's the only way to achieve the particularly delicious crispy effect of our Veganz Organic Wafer Crunch!

Packaging
We use these materials in this product.
Synthetic materials
1.6 g
Paper/cardboard/carton
3.8 g
Made from waffles? Wouldn't that be a crispy innovation? Sadly, we haven't gotten there yet, but as far as the environment goes, the Veganz Organic Waffle Crunch still gets points for its eco packaging: The delicious wafer is covered in a foil called Natureflex, which is made from sustainable wood pulp. Just drop it in the compost and it will decompose within 50 days. If you don't have a compost, not a problem. Just toss it into the residual waste bin!  
After the foil it's wrapped in FSC certified paper and printed with non-mineral oil ink. Sound a bit unconventional? Perhaps! But don't worry, the packaging offers optimal protection so that the candy bar remains cocoa-aromatic and crispy.   
We're pretty proud of it, but we also know that there's a whole lot of room for improvement in the wide, wide world of packaging. And so, the search for environmentally friendly alternatives continues…
Don't miss out!
Have you been searching for yet another newsletter to land regularly in your email box? No problem at all. Simply register for ours! Trust us: It will make your collection complete!
Here you can find the product Veganz Organic Wafer Crunch at the online shop

Available at
shop.veganz.com

Puroshop | CZ

Rohlik | CZ

Kaufland | SK

REWE | DE

Globus | DE

EDEKA | DE

Müller | DE

real | DE

Spar | SI

Vekoop | DE

Kaufland | CZ

Carrefour | BH

Vegansupplies | IL

The Vegan Kind | GB

Amazon

MPREIS | IT