Veganz Organic Strawberry Bliss Ball
42 g
It came in like a Bliss Ball. You never hit so hard in love. Oh yes, you'll definitely profess your undying love for this sweet little snack. How could you not? With its moist and soft dates, fruity strawberries and crunchy almonds, the Veganz Organic Bliss Ball Strawberry will hit you right in your heart.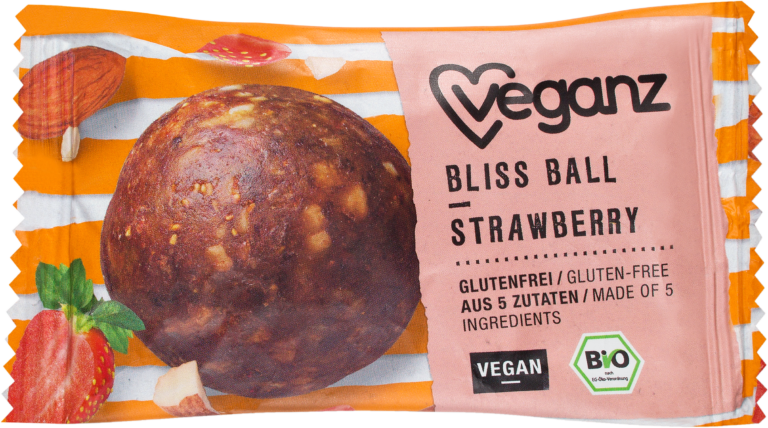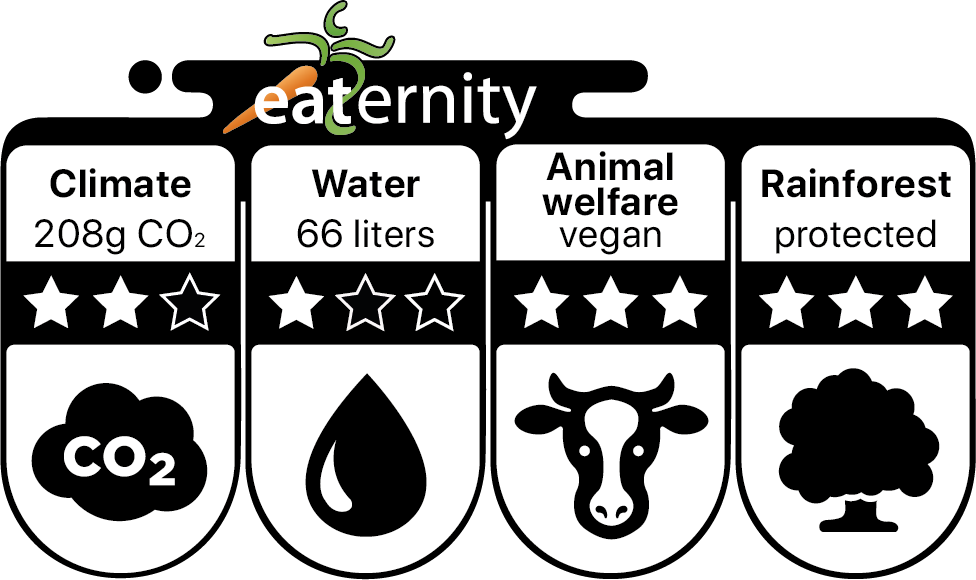 In love with sustainability
With our irresistibly fruity, organic Veganz Organic Bliss Ball Strawberry, you'll definitely be wearing rose-coloured glasses. Keep them on! All the better to see the Sustainability Score of your favourite snack ever with – which we've printed right on the package. What sustainability score? Easy! As you can see from the image, we've broken it down into four categories: CO2 emissions, water footprint, animal welfare and rain forest preservation. Thanks to this super easy classification system, you'll be able to see how sustainable the soft & juicy date ball is as well as making an informed choice in the supermarket about which products are not only tasty but environmentally friendly.
And there are good reasons for us being so open: transparency and environmental protection are very important to us – you get all the facts and at the same time, we have the chance to make our products more sustainable.
By the way, our Veganz Organic Bliss Ball Strawberry is a real sweetheart when it comes to giving endless love. And it makes no distinction between humans, animals and nature. How do we know that? Well, look at the eco-balance! Here you can immediately see that the date ball shines with the best marks in these categories. Being a vegan product, the snack protects the animal kingdom and therefore gets the full score. And it's still in the green zone as far as the rainforest is concerned since neither palm oil nor soy are found in the ingredients. Oh, yes… love is grand!
CO2 footprint? It's complicated.
You see this status update not only on Facebook but in real life too – like with our Veganz Organic Bliss Ball Strawberry and its dates. The soft fruit is responsible for receiving just 2 out of 3 stars in its Sustainability Score. But don't worry – this result means the date ball is still considered environmentally friendly.
So, what's the deal with the dates? Compared to other fruits, the date palm has a rather high emission value due to intensive fertilisation, and since our energy ball consists of 65% dried dates, this naturally affects the result of our CO2 footprint.
How do we get to 3 stars? Well… that's not so easy because we love our Bliss Balls just the way they are, don't we? Which means: Hands off the recipe and over to the phone or the keys – and a search for a new supply country for our dates begins! Unfortunately, though, this can't happen overnight, so we all have to be a little patient. However, we are diligent, full of determination and always open to change. After all, we all want one thing: to develop the best products for our environment.
Yes, well, our relationship with the Veganz Organic Bliss Ball Strawberry and its dates and almonds are on shaky ground, kind of like Miley Cyrus and her guy Liam. On the one hand, they give the fruit candy its wonderfully soft and crunchy texture, but on the other, these ingredients need a lot of water in order to grow. In addition, the water supply infrastructure in the cultivation countries is not yet sufficiently developed and the yield of nuts is relatively low. So, although 2 kg of almonds get plenty of water, only 1 kg are extracted from them.
How we can fix our relationship? Well, first we need to make a pro and con list. No, seriously: The answer could be local help or ingredients from another country. We are trying to find a solution in the near future – today's know-how flows into the products of tomorrow.
Ingredients
Dried dates* (65%), chopped almonds* (15%), dried grapes* (grapes*, sunflower oil*), freeze-dried strawberries* (3,6%).
*certified organic
Nutrition information
Nutrition Information per

100

g
Energy
1477
kJ
351
kcal
Fat
8
g
– of which saturates
0.7
g
Carbohydrate
60
g
– of which sugars
57
g
Protein
5.5
g
Salt
0.01
g
When you meet the love of your life, it isn't just outward appearances that count, but inner values too, right? And with our Veganz Organic Bliss Ball Strawberry you'll feel the same way: Its delicious appearance – with or without packaging. The yummy combination of dates, almonds and strawberries are a true token of love for your taste buds, as well as the handy pocket format for jute bags, belly pouches and mini clutch.
But there's so much more behind the façade: The lovable snack manages to drive you completely crazy with just five ingredients, all certified organic. The entire recipe is gluten-free and contains no refined sugar or artificial additives. Well, if those aren't characteristics to fall in love with.
Packaging
We use these materials in this product.
Synthetic materials
0.6 g
Wouldn't that be nice? At present, however, we have to resort to a metallised plastic film. The reason for that is: Metallisation prevents the Veganz Organic Bliss Ball Strawberry from hardening, i.e. keeping it juicy and soft.
Ssssh, Love Whisperers: We are currently working on a more sustainable material and have already begun conducting tests. These can take up to 12 months, give or take – so you'll just have to be patient until we come up with a more environmentally friendly alternative. But as you can see: A happy end is on the horizon!
Don't miss out!
Have you been searching for yet another newsletter to land regularly in your email box? No problem at all. Simply register for ours! Trust us: It will make your collection complete!