Veganz Pizza Verdura
410 g
Oh, Pizza mia! With this vegan vegetable pizza, you'll be bringing the finest Italian pizza pleasure right to your table. Perfetta: A crispy-thin crust refined with extra virgin olive oil and sea salt. Deliziosa: Baked in a traditional wood burning stove on Sicilian lava stones and topped lavishly by hand. Fantastica: With a tangy tomato sauce, colourful veggie mix and creamy vegan pizza melter. Yum… the Veganz Pizza Verdura – buon appetito!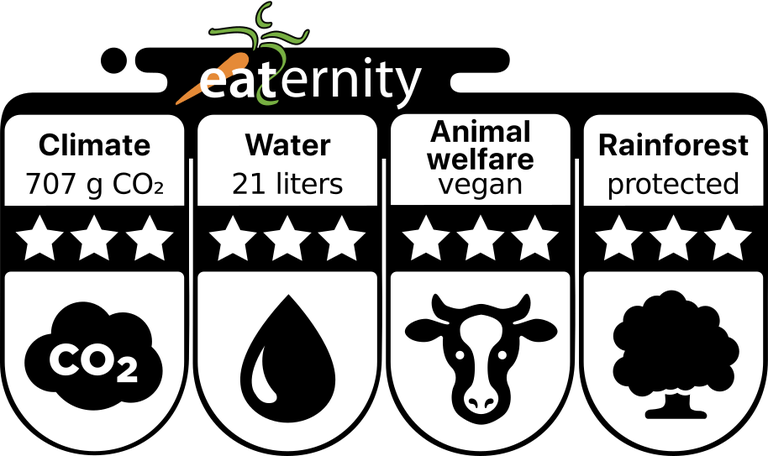 🛈
Ciao, Sustainability Score!
Sustainability Score, huh? Oh, you don't know what we're talking about? Scusa! Let's do a quick catch up: Our pizza features its own Sustainability Score on the package and is broken down into four categories: CO2 emissions, water footprint, animal welfare and rainforest preservation. How it all adds up is plain to see right there on the image. This allows you to see just how sustainable the vegetable pizza is and enables you to choose consciously when at the inundated freezer chest, looking for a pizza that's not only delicious, but also vegan and environmentally friendly.
Why are letting down our guard like this? Transparency and environmental protection are very close to our hearts: You get all the facts while at the same time giving us the chance to make our products more sustainable.
3 stars in all Sustainability Score categories? Si, you got that right! Bit by bit, you're doing something good for the environment with your purchase of the Veganz Pizza Verdura.
We'd like to tell you how we came to this result: All our ingredients are vegan, which means we don't use any cheese made from cow's milk or other animal products. This means it has a very low carbon footprint. In comparison: Our vegetable pizza has a CO₂ emission value of 707 grams, while a non-vegan frozen pizza has about 1,250 grams – almost twice as much!
Water footprint? We're on it! Not one of our raw materials are sourced from a country where water is scarce or requires vast amounts of the valuable liquid for growth and production.
Best marks for animal welfare? Of course! After all, all our products are vegan. And last but not least, our beautiful rainforest can breathe a sigh of relief because we use neither palm oil nor soy for our pizzas.
Ingredients
Wheat flour, water, sieved tomatoes (14 %), grated coconut oil-based pizza topping (9,7 %) (water, coconut oil (25 %), modified starch, salt, acidity regulators: sodium citrate, citric acid; flavouring, colour: beta carotene; potato starch), spinach (7,3 %), mushrooms (4,8 %), cherry tomatoes (4,8 %), red pepper (3,6 %), yellow pepper (3,6 %), durum wheat semolina, extra virgin olive oil, sea salt (0,6 %), sugar, yeast, spices, oregano.
Contains 0,8% extra virgin olive oil.
May contain traces of celery, mustard, soya, cashew nut, sesame, other cereals containing gluten, milk, fish and crustaceans.
Except for the spices, all ingredients of our Veganz Pizza Verdura come from Europe e.g. Germany, Netherlands, Spain and of course Bella Italia!
Nutrition information
Nutrition Information per

100

g
Energy
646
kJ
154
kcal
Fat
3.6
g
– of which saturates
2.3
g
Carbohydrate
25
g
– of which sugars
1.8
g
Protein
4.2
g
Salt
0.9
g
Oh yeah, our Veganz Pizza Verdura is so good that we have to wonder why Eros Ramazotti hasn't dedicated a love song to it yet. Why does our vegan vegetable pizza deserve an Italian aria? For one thing, the dough is made with yeast instead of artificial baking agents and refined with extra virgin olive oil and sea salt. And in order for it to rise fully, we let it rest 24 hours. After that it goes into the wood burning oven where the pizza crust is pre-baked on Sicilian Aetna lava stone. These steps ensure that the crust is beautifully crispy, fluffy and light, all at once.
Afterward, the Verdura is spread with a tangy tomato sauce then topped, by hand of course, with juicy spinach, mushrooms, sundried tomatoes and colourful red pepper. Then we round it all off with hearty, Sicilian highland herbs and our creamy pizza melter made from coconut oil, and … ecco! The vegetable pizza is ready to eat (and afterwards sing its praises).
Yes, but it's no big deal. The additives we use are only in the pizza melter so that it looks like 'real' cheese, adding the colourant beta-carotene – because, as we all know, the eyes eat too. Modified starch is used to ensure that the individual melting components stick together and create that typical grated cheese shape. In addition, a few so-called 'acidity regulators' are needed to adjust the pH value. These ensure that the pizza melter won't clump, remaining stable in itself and retaining its colour.   
Absolute foodie tip right from the start: Our Pizza Verdura can be topped with extra ingredients, such as rocket or other vegetables. And for the die-hard veggie salami or vegan bacon fans: plant based meat toppings are of course also available!
Preparation:
First, get your oven nice and hot: For top and bottom heat, set it at 220 °C, convection 200 °C or gas to level 4.
While the oven is preheating, let the Pizza Verdura thaw and proudly observe this work of art, taking in the beautiful scene for a moment.
All heated up? Eccelente! Take off the plastic film and place the vegan pizza gently on the middle rack.
Bake for 10-12 minutes. Exact baking times depend on oven type.
Whilst anxiously awaiting the Pizza Verdura and watching the delicious pizza melter melt, you're totally allowed to open a bottle of wine. Or soda. Whatever takes your fancy. Cin cin!
When the vegan cheese alternative is melted and the crust baked to a golden brown, the time has come: Take the pizza out of the oven and… buon appetito!
Packaging
We use these materials in this product.
Synthetic materials
7 g
Paper/cardboard/carton
64 g
We would rather deliver our Veganz Pizza Verdura to you personally, sliced and served on a silver platter and with a little digestive grappa on the side. To offer you all that service so we can save on packaging – if only it weren't so time consuming! In order to give you the ultimate vegan vegetable pizza pleasure, you can find our Verdura in the freezer section of various retail partners. This means that the packaging has to meet the current hygiene regulations as well as the necessary transport protection measures.
And so, the packaging of our Pizza Verdura is made up of two components: A plastic film and a cardboard folding box. The former is made of polyethylene, also known as LDPE, necessary so that the ingredients don't bounce around wildly in the box or even fly out. The film also protects our vegetable pizza from bacteria and other external influences. Luckily, LDPE has a good eco-balance and is completely recyclable. The folding cardboard box is made from 86 % recycled paper and is recyclable as well. Mineral oil in the ink? No way! You'll never, ever find that on our packaging!
As you can see: Plastic packaging is often unavoidable, which makes it difficult for us to find a more optimal solution. But yes, as a vegan and sustainable brand we feel an absolute obligation to look for more environmentally friendly alternatives – after all, ingredients and packaging go hand in hand. We may not be perfetto, but we are keeping our eyes and ears open.
Don't miss out!
Have you been searching for yet another newsletter to land regularly in your email box? No problem at all. Simply register for ours! Trust us: It will make your collection complete!
Available at
shop.veganz.com

Puroshop | CZ

Rohlik | CZ

Whole Foods | GB

Planet Organic | GB

Lidl | CH

REWE | DE

Kaufland | SK

EDEKA | DE

Netto | DE

coop | CH

Spar | AT

real | DE

Kaufland | DE

Spar | SI

Amazon Fresh

Kaufland | CZ