Veganz Organic Protein Drink Buttermilk Mango Style
235 ml
One sip of the Veganz Organic Protein Drink Buttermilk Mango Style and the tropical sun will be shining down upon you! Ripe mangoes fall from the trees, you pick yourself a passion fruit and then there's this delicate touch of buttermilk. Another ingredient that is sure to delight: an extra portion plant-based protein. Yum! What exotic protein pleasure!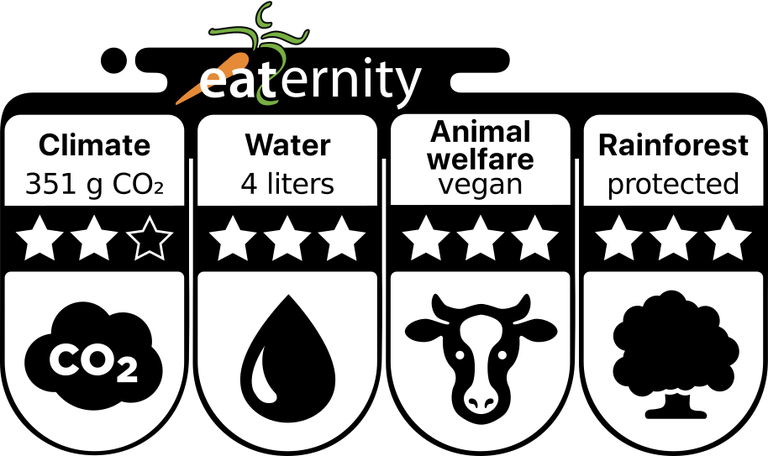 🛈
Would you like to experience that pure tropical feeling with the very first sip? Easy-peasy with our Veganz Organic Protein Drink Buttermilk Mango Style! You'd also like to identify at first sight just how environmentally friendly our drink is? Also possible! That's because our protein-rich exotic taste treat bears its own eco-balance right on the can. We broke the so-called Sustainability Score down into four categories: CO2 emissions, water footprint, animal welfare and rainforest preservation. This way, you can easily see how sustainable our products are. The score also helps you in the overcrowded supermarket jungle to choose a protein drink that's not only the richest and most delicious but also has an eye out for animals, humans and nature.
Why are we doing this? Transparency and environmental protection are close to our hearts: You get all the facts and at the same time, we have the chance to make our products more sustainable.
In the Jungle, the mighty Jungle Sustainability Calls
And the lion sleeps toniiiiiiight! A-weema-weh, a-weema-weh… Oh, yes, thanks to Veganz Organic Protein Drink Buttermilk Mango Style lions, lemurs and all the other life forms can sleep peacefully. As you can see from the Sustainability Score, our protein-rich ready-made drink has earned the highest grades with three stars. That's because our recipe is 100% vegan: Instead of cow's milk we use European oats and water, and instead of animal proteins we use the protein from soy. Speaking of soy! Ours comes from Canada, which means that no trees are destroyed in the deepest jungle so that the rainforest can stay in the green zone. Not only that, but you'll find no palm oil on the ingredients list. As a result, our protein drink receives full scores in this category as well.
Water footprint? Works for us! All the ingredients we use have a good water balance. Except for the mango juice concentrate. But we use it really sparingly; just enough to give the exotic protein drink a super fruity taste, but also enough to contribute to the reduction of the global water footprint.
In reality, we'd like to swing from vine to vine like Tarzan and Jane in order to transport the ingredients of the Veganz Organic Protein Drink Buttermilk Mango Style from A to B as climate friendly as possible. Sadly, however, this would take a very long time and we would have to resort to other means and routes of transport.
Why does the fruity protein drink only get 2 out of 3 stars in the CO2 footprint? Partly because the transport is always refrigerated and partly because the ingredients travel from the Netherlands to Austria. This is where they are processed and filled into cans. The finished drink then begins its journey to Germany, where it will eventually end up on the shelves of our retail partners. As you can see, everything happens with our immediate neighbours, but even that leaves a trace or two of CO2 emissions. But don't worry! Veganz Organic Protein Drink Buttermilk Mango Style is by no means harmful to the climate – on the contrary – it continues to contribute to the reduction of the global CO2 footprint.
Ingredients
Water, oat* (12 %), grape juice concentrate*, soya protein isolate*, mango puree*
(1,5 %), passion fruit juice concentrate* (1,5 %), sunflower oil*, mango juice concentrate* (0,5 %), stabilizer: pectin, natural flavouring, colouring concentrate: safflower.
*from organic agriculture
May contain traces of other cereals containing gluten.
So that our protein drink can be a protein drink, we need, of course, protein, so we decided on soy protein isolate. But don't worry – the soy comes from Canada, which means the rainforest is not at risk.
Our Veganz Organic Protein Drink Buttermilk Mango Style is made with oat milk and the oats we use come from Europe.
Nutrition information
Nutrition Information per

100

ml
Energy
403
kJ
96
kcal
Fat
1.9
g
– of which saturates
0.3
g
Carbohydrate
14
g
– of which sugars
10
g
Protein
5.2
g
Salt
30
mg
Whether on an adventure hike through the Brazilian jungle, after a yoga class in Bali or before your surfing lesson on the beaches of Sri Lanka – our Veganz Organic Protein Drink Buttermilk Mango Style gives you a fruity and exotic protein kick with every sporting activity. With 12.2g of protein per can, the drink can help build and maintain muscle mass. You see yourself more of a couch surfer, sun worshipper, or known as an honorary member of the balcony club? Don't worry, you can enjoy our protein-rich, taste exotic while in repose. Phew!
The Exotic, Certified Organic Ready-Made Drink
The shimmering of densely overgrown wildlife, the rustling of mysterious animals, the gentle rushing of even more distant waterfalls – dive into the depths of the jungle with our Veganz Organic Protein Drink Buttermilk Mango Style. Better yet, its refreshing taste of juicy mangoes and delicious passion fruit that not only make the ready-to-enjoy drink exotically fruity, but also give it a wonderful sweetness and needs no sugar at all.
Yes, we know. Aromas with names like pectin and safflower don't really sound like fruits that grow in the jungle. Or like the favourite foods of monkeys and parrots. We need them anyway, and we're happy to tell you why! In our Veganz Organic Protein Drink Buttermilk Mango Style, we use all-natural, certified organic aromas. The reason for that is this: The raw materials used may vary in aroma depending on the season, as they are natural products. By using natural flavours, the taste always remains the same, exotic, fruity, delicious – no matter whether spring, summer, autumn or winter.
The pectin used serves as a stabiliser and is partly responsible for ensuring that all ingredients stick together and form a nice even texture. Safflower is a plant from which the petal's dyes are extracted – as with our Veganz Organic Protein Drink Buttermilk Mango Style. After all, the eye drinks too, right?
Packaging
We use these materials in this product.
Paper/cardboard/carton
12 g
We'd love nothing more than to serve you our Veganz Organic Protein Drink Buttermilk Mango Style ice-cold in empty coconut shells with a glass straw and paper umbrellas but we're not quite that far yet. Which is why we've decided on the sustainable cardboard wrap can, or so-called Carto Can. This is a composite of FSC-certified cardboard (70%), polymer and aluminium. Compared to other types of packaging such as glass, PET and aluminium cans, the can emits up to 60% less CO2 and has a lower fresh-water consumption. However, the packaging has one minor flaw: Although it can be disposed of in the 'yellow sack' (the aluminium flap must be disposed of in the residual waste first), it's not recyclable and is instead thermally recycled.
We're quite proud of this packaging as it is an important evolutionary step in terms of resource consumption and climate protection. But, as you can see, even more "sustainable" packaging has potential for further improvement, especially when it comes to recycling and waste avoidance. Therefore, we are aware that there is still room for improvement in the big wide world of packaging and that the search for environmentally friendly alternatives continues.
Don't miss out!
Have you been searching for yet another newsletter to land regularly in your email box? No problem at all. Simply register for ours! Trust us: It will make your collection complete!