Veganz Organic Protein Drink Cocoa
235 g
Is your love life going through a little dry spell at the moment? Well, let us help you get the juices flowing with our Veganz Organic Protein Drink Cocoa – a symphony of delicate cocoa, creamy oat milk and vegan proteins. Just one sip and our seductive chocolate drink will have your heart beating a little bit faster!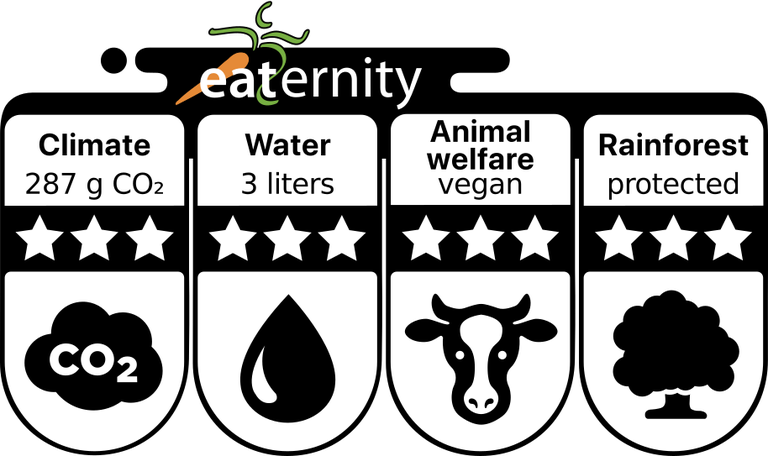 🛈
A Hearty Chocolate Drink with the Sustainability Score
Fall in love, get engaged, simplify your life – our Veganz Organic Protein Drink Cocoa not only turns heads, but makes it easier for you to live more sustainably. Our protein-rich choco drink bears its own so-called Sustainability Score right on the package that we've broken down into four categories: CO2 emissions, water footprint, animal welfare and rainforest preservation. This way you can easily see just how environmentally and animal welfare friendly our products are. They also help you in the supermarket to choose products not only rich and delicious but that keep their eye on animals, humans and nature as well.
Why are we doing this? Transparency and environmental protection are close to our hearts: You get all the facts and at the same time, we have the chance to make our products more sustainable.
Ah yes, the chocolaty taste, plant-based proteins and organic quality ingredients – the Veganz Organic Protein Drink Cocoa can really make you gush. But, oh, it can do so much more – namely protect our environment! As you can see from its Sustainability Score, our vegan chocolate drink has received three stars in all four categories. This excellent result is because: The Veganz organic Cocoa Protein Drink is made strictly with pure, plant-based ingredients. Instead of cow's milk we use European oats and water, and instead of animal protein we use plants. Thanks to the recipe, we have no need to touch a single hair on a cow's head. Not only that, but fewer CO2 emissions are let out into the atmosphere.
Cocoa beans need a lot of water for their growth, but we only use just a touch of cocoa – just enough to make the Veganz Organic Protein Drink Cocoa nice and chocolatey as well as contributing to a reduction in the global water footprint. Even our lovely green rainforest can take a deep sigh of relief since our soy comes from Canada and the recipe contains no palm oil. Consequently, we guarantee optimal protection against deforestation and thus support the preservation of our green forest areas.
Ingredients
Water, oat* (12 %), soy protein isolate*, cane sugar*, fat reduced cocoa* (1,5 %), sunflower oil*, linseed oil*, natural cocoa flavouring, emulsifier: sunflower lecithin*; sea salt, acidity regulator: potassium carbonate.
*from organic agriculture.
In order for a protein drink to become a protein drink, it needs: You got it! Proteins! So, we opted for soy protein isolate. But, hey, don't worry – our soy is sourced from Canada, which means the rainforest is not endangered. 
Our Veganz Organic Protein Drink Cocoa is made with oats. The oats we use come from Europe.
Nutrition information
Nutrition Information per

100

g
Energy
362
kJ
86
kcal
Fat
2.6
g
– of which saturates
0.5
g
Carbohydrate
10
g
– of which sugars
5.9
g
Protein
5.2
g
Salt
0.19
g
Whether before the gym, after yoga or a short break on your jogging circuit (because we know you can't think of anything else) – you and the Veganz Organic Protein Drink Cocoa are an inseparable Dream-Team. After all, it provides you with a chocolaty protein kick during every sporting activity and thanks to the 12.2g of protein per serving, this drink can help build and maintain muscle mass.
Are you the world champion in mental gymnastics? Or do you have a gold medal in imaginary neck lifts? Don't worry, you can worship the high protein chocolate drink from your sofa. Phew!
Organic quality ingredients, the absence of artificial sweeteners, a creamy, full-bodied texture, and an insanely chocolaty taste – as you can see, there are plenty of reasons to fall in love with the Veganz Organic Protein Drink Cocoa. It's also one of a kind and innovative since you will hardly find a comparable, ready-made protein drink like this one anywhere in German stores.
Don't panic. Nothing can separate you from Veganz Organic Protein Drink Cocoa. Not even the additives, since they're not really even worth mentioning. Allow us to tell you why. We use all-natural and organic cocoa aroma in our protein-rich choco drink and with that, the chocolatey taste is refined and rounded off to perfection.
The sunflower oil we use creates the creamy consistency and the acidity regulator, called calcium carbonate, serves to adjust the pH levels. This makes sure the chocolate drink retains its colour and creaminess as well as avoiding any clumps.
Packaging
We use these materials in this product.
Paper/cardboard/carton
12 g
For our Veganz Organic Protein Drink Cocoa we use a sustainable cardboard wrap can, the so-called Carto Can. This is a composite of FSC certified cardboard (70%), polymer and aluminium. Compared to other types of packaging such as glass, PET and aluminium cans, production emits up to 60% less CO2 and uses less fresh water.
We're actually very proud of this packaging because it's a very important developmental step towards resource consumption and climate protection. But, as you can see, there is still more room for improvement in "sustainable" packaging, especially when it comes to recycling and waste avoidance. Therefore, we are well aware that there is still plenty of upward mobility in the big wide world of packaging and the search for environmentally friendly alternatives continues. 
Don't miss out!
Have you been searching for yet another newsletter to land regularly in your email box? No problem at all. Simply register for ours! Trust us: It will make your collection complete!