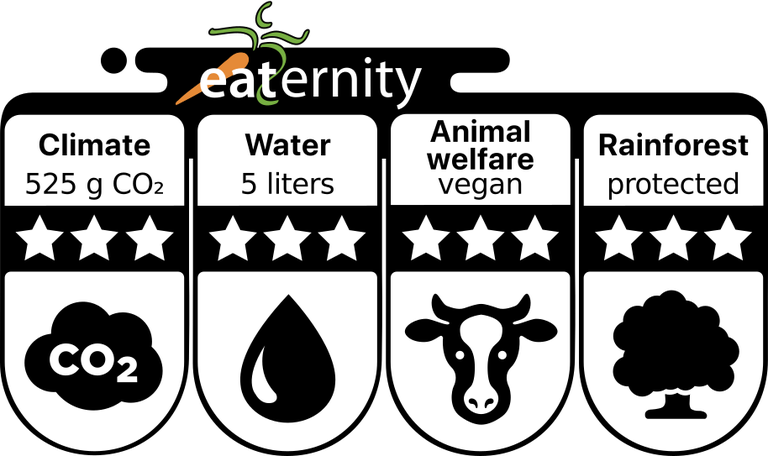 🛈
So that environmental protection isn't just a pipe dream
Has it always been your biggest dream to finally see vegan shortbread in the sweets aisle? And since we love making dreams come true, we created our very special Veganz The Biscuit for you. Okay, hold on, you suddenly have a new dream and want to be an environmental activist? Perfect! We've got you covered! Check out our sustainability score! We printed the info right on our product packaging to make it easy for you to find. The score tells you the CO2 footprint, water consumption, and whether animals and the rainforest are being protected. The origin of the raw materials, production, packaging, transport – absolutely everything was calculated and compared to 110,000 other food items. The results are rated in stars. With two stars or more, the product is already more sustainable than the average compared product.
How did we come up with this unusual idea? Honestly, all living beings and mother nature are very important to us: You get all the facts and we simultaneously have the opportunity to make our products more sustainable.
Please, pinch us! We can't believe our eyes! But it's really true: The Biscuit received the top mark in all four categories! We'll tell you how our vegan shortbread received this three-star rating in the following
Climate
Did you know that butter is the most climate-damaging food? To produce 1 kg of butter, around 24 kg of CO2 are emitted! Crazy, right?! So, when butter is used in biscuits, the effect is roughly as follows: One packet (200 g) of shortbread emits 518 g of CO2 emissions. Our vegan alternative, on the other hand, emits 252 g of CO2 with the same number of grams. That's a huge difference, don't you think?
The reason for the different results: A lot of cow's milk is needed to make butter. There are 4.3 million dairy cows in Germany, and these have to be fed! Most of the fodder, mainly soy, is cultivated in South America. What a loooooong journey for this raw material to get to Germany. Moreover, the demand for soy fodder is increasing, meaning that rainforests and grasslands have to be dug up and wetlands have to be drained to make space for the required area. Through this, important CO2 storage space, e.g. trees, is lost. In addition, dairy cows produce their own greenhouse gases, which are also extremely harmful to the climate.
Water
You need water for food cultivation. Obviously. But did you know that agriculture uses up 70% of the existing water? This is a real problem, especially in regions where water is scarce! To resolve this conflict, we need to reduce the global dependency on water. That's why it's important to work in a particularly resource-conserving manner in food production – just like we do with our The Biscuit. You won't find any ingredients in there that use a lot of water in their cultivation or production. Our vegan snack thus makes a sustainable contribution to reducing the global water footprint.
Animal Welfare
Anyone who says you have to use 'real' butter for shortbread, hasn't tried our The Biscuit yet. And with the buttercream flavour that we use, we've come up with an incredibly animal-friendly alternative. Why you're doing something amazing for the animal world when you eat our vegan shortbread? For cows to even be able to produce milk, they have to regularly birth calves. The fact that a cow can produce milk continuously is a result of regular artificial fertilisation. After the calf is born, the mother and its baby are separated from one another – and that's cruel for both of them! In addition, dairy cows spend most of their entire lives in unsuitable dens. These stresses leave behind trauma and harm the animals. In comparison: A free-range, healthy cow can live up to 30 years, while a dairy cow has a life expectancy of just 5 years. That's not fair! You'd rather grab and snack on our vegan biscuits, right?
Rainforest
Thanks to the vegan recipe, we leave every tree, every bush, and every tiny blade of grass exactly where they belong: in our beautiful rainforests. In doing so, we guarantee the utmost protection against deforestation and we support the preservation of green forest areas. The rainforest is so important because it has a major impact on our climate. It's the green lung of our earth, so to speak. Plants, bushes, and trees absorb CO2 from the air and they use the carbon contained therein to grow. This creates oxygen. And who needs oxygen to survive? Right on the money… humans and animals!
If we destroy our rainforests, large amounts of CO2 are released – which enhances the greenhouse effect and contributes to global warming. Rainforest protection means climate protection! That's why it's of great importance to all of us that tropical rainforests are preserved.
Ingredients
Wheat flour, sugar, sunflower oil, sugar beet syrup, raising agents: sodium hydrogen carbonate, disodium disphosphate; butter-cream flavour, salt, acid: citric acid;
vanillin flavouring.
May also contain traces of peanut, soya, nuts, sesame, other cereals containing gluten, egg and milk.
The Biscuit would only be half as good without the butter flavouring we use. The special vegan butter aroma is made in Germany. We source seven other ingredients from Europe.
Nutrition information
Nutrition Information per

100

g
Energy
1887
kJ
449
kcal
Fat
15
g
– of which saturates
1.8
g
Carbohydrate
71
g
– of which sugars
25
g
Protein
6.2
g
Salt
1.1
g
For our shortbread to taste like actual shortbread and to get the crunchiest consistency, we had to dig deep into our bag of tricks for Veganz The Biscuit. But don't worry! You won't get nightmares from these ingredients. Quite the contrary! They're more likely to help make your vegan shortbread dream come true.
The acidifier, citric acid, is used on the one hand to preserve the biscuit taste, and on the other hand to improve the baking properties of the dough during production.
Sodium hydrogen carbonate and disodium diphosphate: these substances belong to the so-called raising agent family. These agents make the biscuit dough airy, fluffy, light and, above all, rise well. In principle, it's like a homemade cake. You also add baking powder or baking soda to your cakes, don't you?
The biscuit can be munched straight out of the packet, but there's more. It's ideal for desserts and delicious cakes.
Yummy yummy hedgehog slice! After all, melted chocolate meets our vegan butter biscuits here. Just check out our friends Zucker & Jagdwurst! You'll find a delicious recipe there.
Layer by layer – a mind-boggling recipe! Because our Vegans The Biscuit is perfect to be sprinkled over a layer dessert. Whether with berries or fruit, with vegan mascarpone or pudding – our plant-based butter treat adds that crunchy touch to your dessert cup!
As a topping, it's definitely not over the top! Quite the contrary. Our vegan shortbread is the crunchy cherry on top of all your sweet treats.
It'll pull the rug out right from under you! In the mood for cake, but not keen on heating up the oven? So just fashion yourself a biscuit foundation! How about a vegan New York Cheesecake?
Packaging
We use these materials in this product.
Synthetic materials
2 g
Paper/cardboard/carton
21 g
The current packaging of our vegan shortbread is made of two elements:
Transparent foil pouch: This packaging is a composite foil made of polypropylene, which we wrap directly around the biscuits. Unfortunately, it is plastic! But it just happens to be the truth that it's exactly this material that ensures the biscuits always stay fresh, crunchy, and particularly buttery.
Carton: We use a carton to protect the product housed in the foil pouch. This is made of 95 % wastepaper and is FSC certified. In addition, we only work with mineral oil-free printing ink. The carton ensures that the biscuits are protected, keep their shape, and don't crumble into a thousand little pieces. Biscuit crumbs are great for desserts, but they're a bit awkward to eat straight out of your hand, aren't they?
As you can see, there are some reasons for why plastic packaging is unavoidable and why it's difficult to come up with the best solution. But, of course, as a vegan and sustainable brand we see it as an absolute duty to find more environmentally-friendly alternatives – after all, ingredients and packaging go hand in hand. We're not perfect, but we always keep our eyes and ears open.
Available at
shop.veganz.com

Puroshop | CZ

Rohlik | CZ

REWE | DE

kokku-online.de | DE

Globus | DE

EDEKA | DE

dm | AT

Spar | AT

real | DE

Kaufland | DE

Spar | SI

Amazon Fresh

Vekoop | DE

coop | DK

Amazon

Spar Gran Canaria | ES

Lidl | DE

ALDI SÜD | DE

Albert | CZ

MPREIS | IT
MORE BAKED GOODS FROM VEGANZ
Are you a dyed-in-the-wool Cookie Monster? Then we have a fantastic assortment of vegan biscuits and baked goods just right for you. Hand on heart: You mustn't leave any of these treats out of your snack cupboard!