Veganz Vegan Duck Style Bites
350 g
Only the best for your holiday festivities: With aromatic herbs and a delicate touch of maple syrup, the Veganz Vegan Duck Style Bites will magically turn every meal into a distinctively special one. Whether served at your vegan Christmas meal with dumplings and red cabbage, sauteed in a wok between the years, or as a topping on your New Year's Eve salad – our vegan duck is the highlight of every holiday table!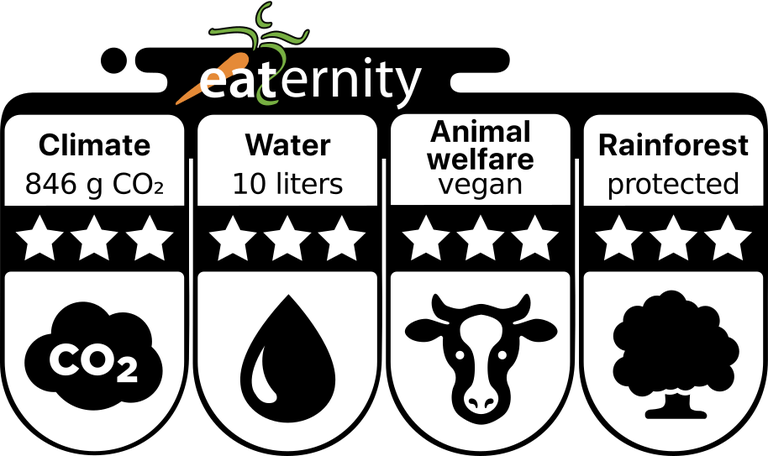 🛈
To Mark the Occasion: Veganz makes Sustainability Visible!
Thanks to its authentic taste, our vegan duck will provide many a conversation piece at your holiday dinner. But do you know what else you can amaze your guests with? Show them just how sustainable the Veganz Vegan Duck Bites are – by means of the Sustainability Score, which we've printed right on the package for your convenience! In four categories, we show you the CO2 footprint and water consumption, as well as animal welfare and rainforest protection. Origin of raw materials, production, packaging and transportation – everything has been calculated and compared to 110,000 other foods. The stars are the results of this comparison. From 2 stars upward, the product is already more sustainable than the average of the compared product.
Why are we doing this? Transparency and environmental protection are very important to us: You get all the facts while at the same time, we have the chance create more sustainable products.
Aromatically seasoned, fried to a crunchy crisp in 5 minutes and the ideal component for delicious festive menus: Oh yeah, with the Veganz Vegan Duck Style Bites, you really have every reason to celebrate! But they taste even better when you know that what's on your plate is sustainable as well, right? Good thing our vegan duck can meet this standard! After all, the delicious bites received the best marks in all categories in the Sustainability Score. Read about how this came about here:
Climate
A climate-friendly diet can be easy and so delicious! The best example for this is our Veganz Vegan Duck Bites: In every package (350 g), our vegan duck has a CO2 footprint of 844g. Poultry on the other hand performs at 1480 g CO2 with the same grammage.
You might be asking yourself why animal products have such a negative climate balance? In Germany, around 16 million ducks are held and they have to be fed. Greenhouse emissions are caused, among other things, by the fact that more and more land is needed, mainly for fodder cultivation. For this purpose, forests and grasslands must give way or wetlands must be drained. And that is not good for us or the environment, because forests absorb carbon from the atmosphere. It is also not uncommon for feed to be imported, which additionally worsens the ecological balance of meat.
Water
Water consumption? We got this! You won't find any ingredients in our vegan duck that consume a lot of water during cultivation or production. Thus, the product contributes sustainably to the reduction of the global water footprint.
Animal Welfare
In 2016, almost 16 million ducks lost their lives in Germany. This number is definitely way too high for us! For you, too? Well, it's a good thing we have the Veganz Vegan Duck Bites up our sleeve. Thanks to the plant-based ingredients, our vegan duck gets the best ranking in this category. Win-win for you and the animals: You save duck lives and don't have to sacrifice anything. Duck good, all good!
Rainforest
Green light for our rainforests! We source the soy and coconut oil contained in our vegan duck from countries where it is absolutely unproblematic for our tropics! Accordingly, we guarantee optimal protection against deforestation and thus support the preservation of green forest areas.
Why are our rainforests so important? They are the green lung of our planet and have a huge influence on our climate. Plants, bushes and trees take the CO2 from the air and use the carbon contained in it for their growth. This produces oxygen. And who needs oxygen to survive? That's right, we humans do!
If we destroy our rainforests, large amounts of CO2 are released – which promotes the greenhouse effect and contributes to global warming. Rainforest protection means climate protection! Therefore, it is of great importance for all of us that tropical rainforests are preserved.
Ingredients
Water, wheat gluten (19 %), rapeseed oil, coconut oil, soya protein (6,0 %), cane sugar, wheat fibre, yeast extract, natural flavouring, salt, dried yeast, barley malt extract, herbs, spices, thickener: methyl cellulose; garlic powder, maltodextrin, onion powder,
preservative: potassium sorbate.
Nutrition information
Nutrition Information per

100

g
Energy
1282
kJ
308
kcal
Fat
20
g
– of which saturates
9
g
Carbohydrate
8.2
g
– of which sugars
4.2
g
Protein
22
g
Salt
1.3
g
In the pan: Stir-fry the Vegan Duck Style Bites in a lightly oiled pan at medium heat for about 5 – 7 minutes until crispy  
In the oven: Preheat the oven to 200 °C (fan oven 180 °C) and bake the vegan duck on a pre-heated baking tray for about 10 minutes turning halfway through baking.  
Packaging
We use these materials in this product.
Synthetic materials
20 g
Paper/cardboard/carton
20 g
Even More Meat Alternatives from Veganz
Can't get enough of aromatic meat substitutes? We understand that very well! Just try other savoury products: Crispy schnitzels and nuggets, as well as grilled sausages in two delicious varieties.
Good for you, better for everyone.