Veganz Vegan Sea Style Sticks
210 g
Your childhood tastes of fish sticks, spinach and mashed potatoes? With our Veganz Vegan Sea Style Sticks, you can easily enjoy your favourite nostalgic dish without having to cast a line. Sticks refined with linseed oil – tender and juicy on the inside, and with a delicious crunchy breading on the outside. So? Ready to dive into our vegan fish sticks?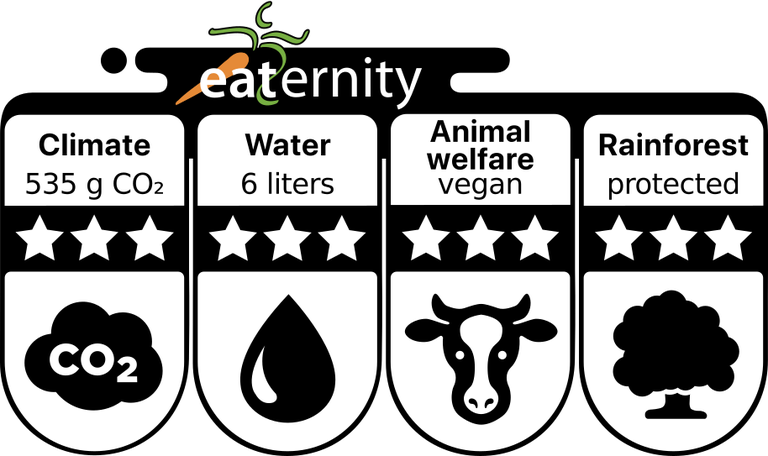 🛈
Ahoy Sustainability Score!
With an authentic taste, a concentrated load of omega-3 fatty acids, iron and vitamin B12 – the Veganz Vegan Sea Style Sticks are a great catch! But our vegan fish sticks are not just tasty – they are also sustainable. You can see their eco-balance with the help of a Sustainability Score directly on the packaging. Based on four categories, this score tells you about the CO2 footprint, water consumption, and animal and rainforest protection. The origin of the raw materials, production, packaging, transport – everything has been calculated and compared with 110,000 other food items. We indicate the results of this comparison in stars. Two or more stars mean that the product is already more sustainable than the average product in our comparison.
Why do we do all this? Transparency and environmental protection are very important to us: you get all the facts, and at the same time it's an opportunity for us to make our products even more sustainable.
There is no fish on our table! Our vegan fish sticks are based on wheat protein and have a delicious crunchy breading – which gives them not only an authentic taste, but also makes them super environmentally friendly! And you can see this for yourself thanks to its Sustainability Score, where we can boast our top scores in all four categories.
Climate
The ingredients in our Veganz Vegan Sea Style Sticks have a far better CO2 footprint than conventional fish sticks owing to the vegan recipe. By comparison: one pack (210 g) of our vegan crispy sticks has a CO2 emission value of 535 g. "Real" fish sticks, on the other hand, have a value of 870 g for the same weight – that's almost twice as much!
Why do animal-based fish sticks have a poorer climate balance? This is due to, among other things, fuel consumption during fishing, the production, processing and transport processes and, of course, the fact that fish sticks are almost always found in the frozen food aisle – all of which unfortunately generates a lot of greenhouse gases.
Water
When it comes to water consumption, we won't rock the boat! You won't find any ingredients in our vegan fish sticks that use a lot of water in their cultivation or production. The crispy sticks thus make a sustainable contribution in reducing the global water footprint.
Animal Welfare
Many fish species are endangered by overfishing in our oceans. Yet, aquacultures also do little to save the world's waters, as wild catch is processed into fishmeal and fed to farmed fish. With our Sea Style Sticks, it's a whole other story. Thanks to their purely plant-based formula, they actively contribute to protecting our oceans. And the best part: they taste just like traditional fish sticks – win-win, isn't it?
Rainforest
Our green rainforests can keep breathing because the Sea Style Sticks recipe is free from palm oil and soy. This way, we guarantee the utmost protection against deforestation and support the preservation of green forest areas.
The rainforest is so important because it has a major impact on our climate. It's the green lung of our earth, so to speak. Plants, bushes, and trees absorb CO2 from the air. They use the carbon in the air to grow. This creates oxygen. And who needs oxygen to survive? Right on the money… we humans do!
If we destroy our rainforests, large amounts of CO2 are released – which enhances the greenhouse effect and contributes to global warming. Rainforest protection means climate protection! That's why it's of great importance to all of us that tropical rainforests are preserved.
Ingredients
Rehydrated wheat protein (50 %), wheat flour, sunflower oil, water, spirit vinegar, salt, thickener: methylcellulose; natural flavourings, wheat starch, wheat fibres, herbs, spices, linseed oil (0,4 %), potato fibres, maltodexrin, maize starch, preservative: sodium dieacetate; onion powder, garlic powder, iron gluconate, cyanocobalamin.
May also contain traces of soya, other cereals containing gluten, egg and milk.
No wheat protein, no Veganz Vegan Sea Style Sticks! This ingredient is the basis of our vegan fish sticks. We source this raw material from Germany or the Netherlands. Wheat flour and wheat starch, among other things, are responsible for the delicious crunchy breading. These ingredients come from Europe e.g., Germany, France or Italy. Thanks to the linseed oil content, our crunchy sticks are a valuable source of omega-3 fatty acids. We source this great vegetable oil from Germany. For that spicy kick, we have thrown in one or two powders and herbs from India – it's not for nothing that it's called the land of spices.
Nutrition information
Nutrition Information per

100

g
Energy
1029
kJ
245
kcal
Fat
9.3
g
– of which saturates
1.1
g
Carbohydrate
26
g
– of which sugars
1.4
g
Protein
13
g
Salt
1.6
g
Vitamins and minerals
Iron
2.1
g
Vitamin B12
0.38
g
* % Reference of daily intake (NRV)
Whether it's vegan fish 'n' chips, fish sticks with spinach and mashed potatoes or a quick sammie with a dollop of Veganz sandwich cream – thanks to our vegan fish sticks, you can bring some sailor classics back to life. And this is how you prepare them:
In the pan: fry the Veganz Vegan Sea Style Sticks over medium heat in oil for approx. 5 minutes, turning them several times, until crispy.
When developing our products, we try to use natural organic ingredients and keep the list of ingredients as short as possible. However, especially in the case of vegan meat and fish alternatives, the state of technology has unfortunately not yet reached the point where it is possible to do without additives altogether – since here it is primarily a matter of creating an authentic taste in order to persuade everyone, even staunch omnivores, to reach for vegan substitute products.
We are happy to explain what these additives are:
Methyl cellulose thickening agent: This additive ensures the desired typical fish stick consistency.
Sodium diacetate preservative: Bacteria in the vegan fish sticks? We wouldn't want that! This substance protects against listeria and additionally increases their shelf life.
Linseed oil: Linseed oil is a vegetable oil with a high omega-3 fatty acid content.
Ferrous gluconate: Iron is an essential trace element. Your body cannot metabolise this itself, which is why you should get it from your diet. It's quite clever we've included it in the recipe, isn't it?
Cyanocobalamin: Also known as vitamin B12! As a vegan or vegetarian, you've probably already heard of this, right? Vitamin B12 is an essential vitamin. Your body cannot produce this itself either, i.e., it must be ingested in the form of food (or tablets).
Packaging
We use these materials in this product.
Synthetic materials
15 g
Paper/cardboard/carton
9 g
Full steam ahead! The packaging of our Sea Style Sticks consists of three parts: A plastic tray, a foil and a paper wrap. Is that actually environmentally friendly? Of course! We love Eco: The black plastic tray is made of 85% recycled PET, while the paper wrap was printed with mineral oil-free inks and is FSC certified. This packaging ensures that this fish alternative is optimally protected, keeps its shape and the crispy breading does not fall apart into a thousand crumbs.
We are quite proud of this packaging, but at the same time we know that there is still room for improvement in the big wide world of packaging. And so the quest for environmentally friendly alternatives continues.
Even More Veganz products for your galley
Craving a smoked salmon sandwich with herb remoulade? Good news: You can have it fully vegan too! With these Veganz products, there's nothing standing in the way of your gourmet snack!