Organic White Baked Apple
80 g
Munch your way towards the Christmas cheer one piece at a time: not a problem thanks to the bar of Organic Veganz White Baked Apple. It tastes deliciously of baked apple, vanilla, and roast almonds, making it a proper little colourful Christmas market for the taste buds.
The delicately melting organic bar is made from almonds and is packed with treasures, heavenly flavours, real vanilla, crunchy pieces of roast almond, and finest cocoa butter. And it's obviously all vegan and doesn't contain any additives!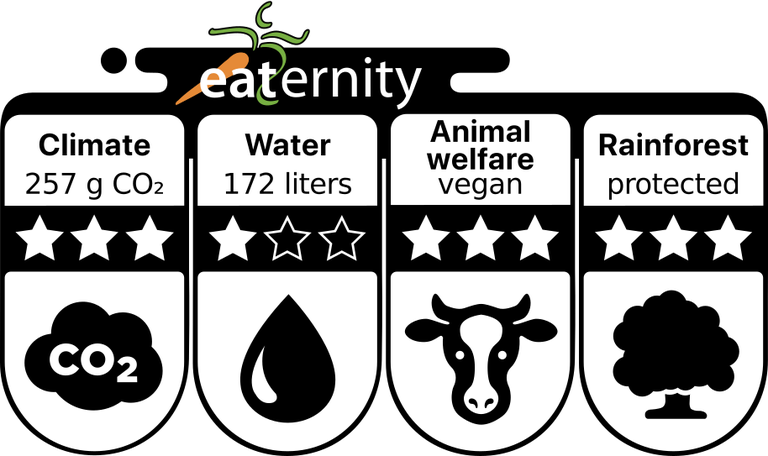 🛈
Sustainability – one piece at a time
At Veganz, we work really hard to make our products sustainable. And just to be sure that you can see exactly how sustainable your Veganz product is, we've teamed up with the Swiss Institute Eaternity to work out an individual sustainability score for each of our products. To arrive at the score, the institute takes a close look at the supply chain and manufacture of each product and compares it to more than 100k other products in terms of its carbon footprint, water consumption, animal welfare, and rainforest protection. The result is then recorded in the form of stars: 3 stars means super sustainable, 2 stars means average or a little above average, and 1 star means there's certainly room for improvement. The Eaternity score can be found on the packaging of every product and you can check out the details here.
With three stars in each category, the Organic Veganz White Baked Apple does very well for its carbon footprint, animal welfare, and rainforest protection. It's just the water consumption where we could do much better – the high water consumption of 172 litres is mostly due to the almonds it contains. That's because growing almonds tends to use a lot of water. We're already working very hard to find a solution that requires less water for this otherwise amazingly sweet snack.
Ingredients
Cane sugar*, cocoa butter* (28 %), inulin*, ground roasted ALMONDS* (11 %), roasted ALMOND* pieces (10 %), natural apple flavouring*, sea salt, ground vanilla*.
*from organic agriculture.
May contain traces of hazelnut and milk.
Nutrition information
Nutrition Information per

100

g
Energy
2261
kJ
545
kcal
Fat
39
g
– of which saturates
18
g
Carbohydrate
35
g
– of which sugars
34
g
Protein
4.6
g
Salt
0.23
g
Packaging
We use these materials in this product.
Biogenic packaging materials
2 g
Paper/cardboard/carton
3.3 g
Environmentally harmful rubbish? Not with our Christmas bars! The NatureFlex foil is made from renewable raw materials and is completely compostable, while the FSC-certified paper sleeve is printed with mineral oil-free inks. Enjoy snacking with a completely clear conscience!
Other Christmas goodies
Crunch, snack, feast, and get cosy with some cinnamon, almonds, and baked apples in a winter wonderland? There's no missing out thanks to the Veganz Christmas range. Discover more heavenly Christmas goodies for sharing, gifting, or simply gobbling up yourself: