Organic Veganz Bliss Balls Peanut Core
40 g
There are three magic words that will wrap you up in bliss: "Peanut Cream Core." And because we love making you happy, we've put a smooth peanut cream in the centre of our cocoa date balls and called them – the Organic Veganz Bliss Balls Peanut Core! So, when are you going to dive into one of our little lucky charms?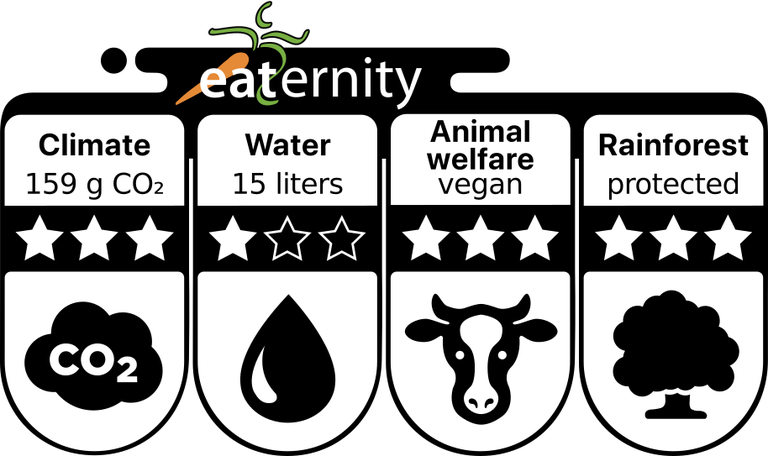 🛈
Two More Magic Words: Visible Sustainability
We get it. The smooth peanut cream is THE highlight of the Organic Veganz Bliss Balls Peanut Core. But wait! There's more! Another astounding sensation is awaiting you! And it isn't INSIDE the gluten-free energy ball, it's OUTSIDE, on the packaging – our super awesome Sustainability Score! The score lets you know what the product's CO2 footprint and water consumption are, as well as if animals and rain forest have been protected. Origin of raw materials, production, packaging and transport – everything has been calculated and compared to 110,000 other foodstuffs and the results of this comparison are given in stars. With 2 stars, the product is already more sustainable than the average of the compared product. Why are we doing this? Transparency and environmental protection are very close to our hearts: You get all of the facts, and we have the chance to make our products more sustainable.
Our Organic Veganz Bliss Balls Peanut Core have the perfect qualities for protecting the climate, animals and the rainforest: quality organic ingredients that are not only natural, but also totally plant-based. Thanks to its sustainable recipe, the soft and moist date balls get full marks in the categories of climate, animal welfare and rainforest preservation, and that means three stars! Find out how we arrived at this result below.
Climate
It's no secret that the production and consumption of animal-based food is harmful to our climate. To be precise, so-called "livestock farming" is responsible for around 14.5 % of the world's greenhouse gas emissions. This means that one or two climate bombs are hidden away in sweets made with animal by-products.
Why are plant-based foods more climate friendly? Cows, chickens, pigs and goats, etc. emit methane and nitrous oxide. These emissions are harmful to the climate. Not only that, but these animals need to be fed. Among other factors, further greenhouse gas emissions are caused by the increasing need for more land, especially for fodder cultivation. For that, forests and grasslands or wetlands have to be drained and this is neither beneficial to us nor the environment, since forests absorb carbon from the atmosphere. It is also not uncommon for the food to be imported.
But hey, don't let it get you down! With our Organic Veganz Bliss Balls Peanut Core, you get snacking pleasure, as well as climate protection all in one – after all, we rely on purely plant-based ingredients that help reduce greenhouse gas emissions. Because of this, the peanut Bliss Balls also receive the best mark in the climate category.
Tierwohl
Our delicious Bliss Balls are made with just nine naturally organic ingredients – and vegan as well! Consequently, no living creature, far and wide, has been harmed.
Rainforest
It's a green light for our wonderful rainforests: Neither soy nor palm oil are included in the ingredients list of our Bliss Balls, which guarantees optimal protection against deforestation and so supports the preservation of green forest areas.
Why are the rainforests so important? They are the green lungs of our planet and have a huge influence on our climate. Plants, bushes and trees take in CO2 from the air and use the carbon contained in it for their growth, which produces oxygen. And who needs oxygen to survive? That's right! We humans do!
If we destroy our rainforests, large amounts of CO2 are released – which promotes the greenhouse gas effect and contributes to global warming. Rainforest protection means climate protection! Therefore, it is paramount for all of us to preserve our tropical rainforests.
Somehow, we thought it was going to be easier to make the Bliss Balls mostly water-efficient. But, as you can see from the Sustainability Score, the gluten-free energy balls only get one star in the water category.
Man-oh-man. So, who's to blame? The cashews and the dates. On the one hand, they make this gluten-free snack wonderfully soft, as well as crunchy. But on the other, these ingredients need a lot of the precious liquid for their growth. In addition, the water supply infrastructure in the countries where they are grown is not yet sufficiently developed. Not only that, but the nut yield is also relatively low, i.e., 3.3 kg of cashews are irrigated, but only 1 kg of shelled kernels are extracted.
We must find a solution – no question. But unfortunately, at this time, we still don't know what this solution will look like. Maybe we could help directly on site or get the ingredients from another area. No matter what the outcome, today's know-how will surely flow into tomorrow's products.
Ingredients
Dried dates* (25%), rice syrup*, rice protein powder*, peanut butter*(15%), chopped roasted peanuts* (8,0%), cashew nuts*, fat reduced cocoa powder* (3,3%), tiger nut flour*, sea salt.
* from organic agriculture.
May contain traces of celery, mustard, soya, other nuts, lupin, sesame, egg and milk.
Nutrition information
Nutrition Information per

100

g
Energy
1834
kJ
437
kcal
Fat
16
g
– of which saturates
2.8
g
Carbohydrate
46
g
– of which sugars
35
g
Protein
25
g
Salt
0.44
g
You'd like to know all of the things our Organic Veganz Bliss Balls Peanut Core can do, besides tasting delicious? Okay, here goes:
Outside wow, inside wowzah-wow: What's so special about our Bliss Balls Peanut Core? The yummy core made with smooth peanut cream. But what it's encased in isn't bad either! Dates, cashews, peanuts and cocoa make the little spheres soft, crunchy and slightly chocolaty at the same time. Well, who could possibly resist that?
Less is more: That's why our Bliss Balls consist of just nine ingredients. All vegan and in organic quality. Sounds good!
Pretty darn sweet: And all this without any refined sugar or artificial sweeteners. We rely on the natural sweetness of dates and the finest rice syrup.
Gluten-free recipe: Oats, wheat and spelt? They have no business here! That means, if you're on a gluten-free diet or have an allergy, you can safely consume our Bliss Balls.
Hello protein source: Our filled date balls are not only delicious, but also rich in protein. 10 g per pack (40 g) to be precise. This is mainly due to the rice protein powder and the use of cashew nuts and peanuts.
Two is better than one: Shared happiness is twice the happiness! Which is why you will find two Bliss Balls in each pack!
Packaging
We use these materials in this product.
Synthetic materials
0.5 g
Available at
shop.veganz.com

Puroshop | CZ

Rohlik | CZ

windeln.de | DE

REWE | DE

kokku-online.de | DE

EDEKA | DE

dm | DE

Müller | DE

dm | AT

Spar | AT

real | DE

Spar | SI

Amazon Fresh

Vekoop | DE

Carrefour | BH

OS World of Sweets | DE

Netto | IS

Hagkaup | IS

Amazon

MPREIS | IT