Veganz Chocolate Chip Muffins
150 g
Are you in the mood for vegan muffins, but your baking skills leave something to be desired? Never fear! Our Veganz Chocolate Chip Muffins are here! You don't have to be a master pastry chef or pâtissier to enjoy them: Fluffy, moist, crunchy chocolate chips and ready to eat any time. Oh yes, sweet delights have never been this easy!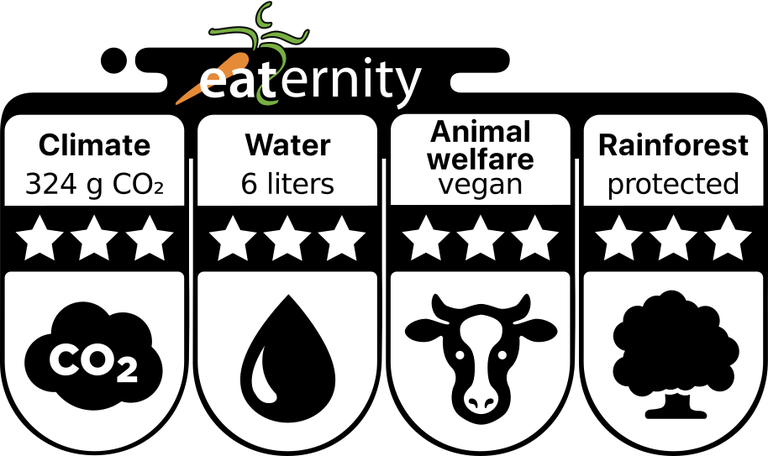 🛈
Would you like to ensure more sustainability in your candy cupboard in the future? No problem! You don't need to be a climate researcher, install 27 different apps or search for crazy formula calculators – all you need to do is rely on the Sustainability Score of our products! That's because the Veganz Chocolate Chip Muffins, and other Veganz baked goods, now carry their own eco-balance on the packaging. Divided up into CO2 emissions, water footprint, animal welfare and rainforest preservation, we make it easy to see how environmentally friendly our products are.
Why are we doing this? Transparency and environmental protection are very dear to our hearts: You get all the facts while giving us the chance to make our products more sustainable.
And… How environmentally friendly are the vegan muffins now?
When you take a closer look at the Sustainability Score of our Veganz Chocolate Chip Muffins, you'll see that you can't get any more sustainable. After all, we earned three stars in all 4 categories. How did this excellent result come about? Vegan muffins are made from purely plant-based ingredients, so you won't find any eggs or cow's milk in the recipe. This not only benefits the climate, i.e. CO2 emissions, but also animal welfare.
Cocoa beans need a lot of water for their growth, but we only need about a handful of the brown beans in order to make a yummy cocoa paste from which we conjure up the crunchy chocolate pieces. Minimum input, maximum output, so to speak, because the vegan muffins are not only delicious, but contribute actively to reducing the global water footprint.
For the rainforest, too, everything is still in the green zone, since we don't use palm oil or soy, thus protecting against deforestation is guaranteed.
Ingredients
Sugar, wheat flour, rapeseed oil, chocolate chips (11%) (sugar, cocoa mass, cocoa butter, strongly de-oiled cocoa, emulsifier: sunflower lecithin), wheat starch, humectant: glycerine; raising agents: diphosphates, sodium carbonates; natural flavouring, wheat gluten, salt, potato protein, emulsifier: sunflower lecithin; thickener: sodium alginate. Cocoa: 40% min. chocolate.
Nutrition information
Nutrition Information per

100

g
Energy
1694
kJ
405
kcal
Fat
19
g
– of which saturates
3
g
Carbohydrate
55
g
– of which sugars
27
g
Protein
4.5
g
Salt
1.7
g
Packaging
We use these materials in this product.
Synthetic materials
7.2 g
Paper/cardboard/carton
1.4 g
Other composites
4 g
Don't miss out!
Have you been searching for yet another newsletter to land regularly in your email box? No problem at all. Simply register for ours! Trust us: It will make your collection complete!
Available at
shop.veganz.com

Puroshop | CZ

Rohlik | CZ

Lidl | CH

REWE | DE

kokku-online.de | DE

Globus | DE

EDEKA | DE

Markant | DE

real | DE

Jumbo | NL

Vegan Mission | NL

Albert Heijn | NL

Spar | SI

Amazon Fresh

Vekoop | DE

Vegasme | BE

Amazon

Lidl | DE

ALDI SÜD | DE

Netto | IS

Hagkaup | IS

MPREIS | IT