Veganz Organic Chocolate Spread
400 g
Whether you start your day with freshly baked rolls, fluffy pancakes or the beloved porridge – from now on your breakfast will only show its most beautiful chocolate side. How can this be? With our Veganz Organic Chocolate Spread! Lots of cocoa, plenty of chocolate and a touch of bourbon vanilla. Yum… the morning can taste so chocolatey!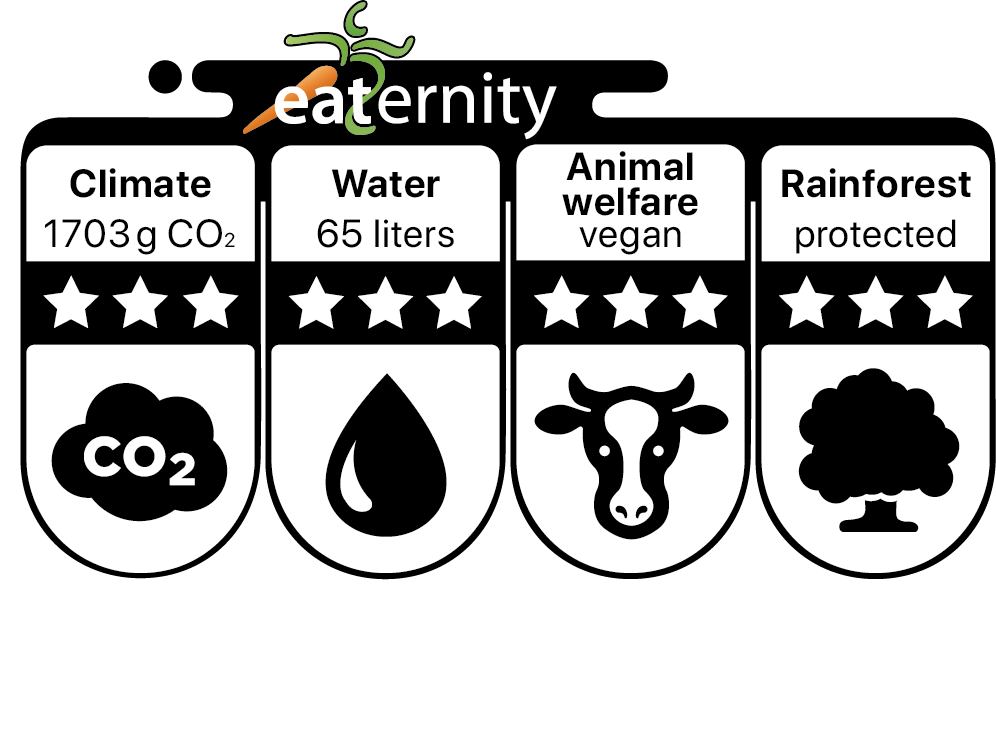 Yep, thanks to our Veganz Organic Chocolate Spread, your breakfast table is already pretty darn delicious. But our chocolatey spread can do so much more than just sweeten your mornings – it can also show you how environmentally friendly it is! We've printed our so-called Sustainability Score on the package and as you can see on the image, it's been broken down into four categories: CO2 emissions, water footprint, animal welfare and rainforest preservation. That way, you are able to see right away just what our vegan chocolate spread does for people, animal and environment and put an extra helping of the delicious spread on your toast in good conscience. Why are we doing this? Transparency and environmental protection are very close to our hearts: You get all the facts while at the same time, we have the chance to make our products more sustainable.    
Our Veganz Organic Chocolate Spread, is not just chocolatey on your bread, but also very sustainable. As you can see from the Sustainability Score, our little sweet spread received full marks, meaning three stars in all four categories.
Climate and Animal Welfare
This is how that excellent result was achieved: In many conventional chocolate spreads, they add whey powder, whole milk powder or other milk products – which are neither particularly good for the environment nor the animals. In contrast, our chocolate spread consists of purely plant-based ingredients. Thanks to this recipe, we don't hurt a single hair on any cow's head, therefore setting less CO2 emissions out into the atmosphere.
Water
Water footprint? We got this! Our Veganz Organic Chocolate Spread uses an average of 21% less of the precious liquid than other chocolate spreads on the market. Consequently, our vegan chocolate spread contributes sustainably to the reduction of the global water footprint. 
Rainforest
Our lushly green rainforests can also continue to breathe a sigh of relief, since the countries where soy flour, soya lecithin and our palm oil come from are non-critical. Speaking of palm oil: ours is RSPO-certified and comes from Colombia, the only country where palm oil cultivation has a positive effect. This means that we guarantee optimum protection against deforestation and thus support the preservation of green forest areas.
Ingredients
Cane sugar*, sunflower oil*, fat-reduced cocoa powder* (9,2 %), chocolate* (5,0 %) (cane sugar*, fat-reduced cocoa powder*, cocoa butter*), palm oil*, dried glucose syrup*, soy flour*, emulsifier: soy lecithin*; ground bourbon vanilla*.
*certified organic
May contain traces of lupin, nuts and milk.
Nutrition information
Nutrition Information per

100

g
Energy
2428
kJ
583
kcal
Fat
40
g
– of which saturates
7.9
g
Carbohydrate
50
g
– of which sugars
48
g
Protein
3.9
g
Salt
10
mg
Don't Like the Taste of Palm Oil?
As a vegan food brand, topics such as sustainability and environmental protection are very much in our focus. Accordingly, we are fully aware that conventional palm oil cultivation has negative consequences for nature, people and animals. Since we are also critical of this type of cultivation method, we work exclusively with RSPO-certified palm oil. The palm oil contained in our Veganz Organic Chocolate Spread is sourced from Colombia. Good news: Palm oil plantations there are mainly cultivated on already existing agricultural land, meaning that no deforestation takes place specifically for the purpose of palm oil plantations.   
As an additional and important piece of information for you: Palm oil is contained in just 11 of our over 120 Veganz products. So, as you can see, we handle this ingredient very carefully. We also give you our word of honour that we never stand still when searching for suitable alternatives. Therefore, we welcome replacement ingredients with open arms, as long as the exchange has positive effects on you, the product and the environment.  
Packaging
We use these materials in this product.
Glass
195 g
Synthetic materials
7.1 g
Paper/cardboard/carton
2.5 g
Available at
shop.veganz.com

Puroshop | CZ

Rohlik | CZ

REWE | DE

kokku-online.de | DE

Globus | DE

EDEKA | DE

Müller | DE

coop | CH

Spar | AT

real | DE

famila | DE

Kaufland | DE

Spar | SI

Combi | DE

Amazon Fresh

Vekoop | DE

Carrefour | BH

Vegansupplies | IL

Spar Gran Canaria | ES

The Vegan Kind | GB

Amazon

MPREIS | IT