Veganz Organic Coconut Choc Bar
40 g
Do you long for a never-ending summer? Are you dreaming of white sandy beaches, turquoise blue water and bountiful palm trees? Then you are definitely ready for a holiday and the organic Veganz Coconut Choc Bar – our crunchy chocolate bar with a creamy coconut filling. Take a bite, close your eyes and get comfy in the hammock!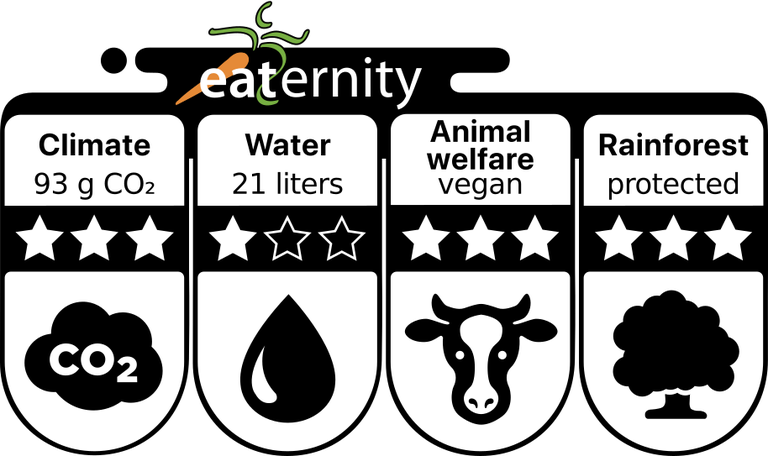 🛈
One bite of the organic Veganz Coconut Choc Bar and already you can see a crystal clear view of the ocean. But there's even more to see with our vegan chocolate bar, namely the eco balance that can be found right on the package. As you see from the image on top, there are four categories. In this way, you can see just how sustainable our vegan candy bar actually is. Why are we going to all this effort? Transparency and environmental protection are very important to us. You have all the facts you need and at the same time, we have the chance to get the most out of our products.
More than just an exotic treat
The organic Veganz Coconut Choc Bar tastes just like a three star holiday in the Caribbean. However, it's not just the taste that allows it to fulfil this criteria, but also in terms of its eco balance. Being a vegan product, the chocolate bar protects the animal world and gets three stars in this category. In addition, its ingredients have a low carbon footprint and its impact on the rainforests continues to be in the green zone.
It was important to us that the organic Veganz Coconut Choc Bar not only send you on a short jaunt to the South Pacific, but that it's also certified organic – after all, that feature is already doing a lot for the environment. Even so, the fresh water usage is something we still need to fine tune: Unfortunately, ingredients like coconut flakes, cocoa paste or cocoa butter have a relatively high water footprint, as they require a lot of the precious water for their growth and in the developing areas, the water supply infrastructure is not yet sufficiently advanced.
How do we get back to more summer, sun and sunshine? That is a very good question. The answer could be with assistance on site – for example in providing water treatment plants – or ingredients from a different country. No matter what solution it is – the know-how from today flows into the products of tomorrow.
Ingredients
Shredded coconut* (35%), cane sugar*, cocoa butter*, inulin*, dried rice glucose syrup*, cocoa mass*, roasted hazelnuts*, emulsifier: sunflower lecithin*; sea salt, ground vanillabeans*. Cocoa solids: 38% minimum in the couverture chocolate.
*certified organic
May contain traces of almond and milk.
Nutrition information
Nutrition Information per

100

g
Energy
2399
kJ
578
kcal
Fat
42
g
– of which saturates
31
g
Carbohydrate
41
g
– of which sugars
37
g
Protein
3.5
g
Salt
0.13
g
…but like milk chocolate, too. Only… the joke's on you – the organic Veganz Coconut Choc Bar's chocolate coating hasn't got a drop of milk in it. We choose to leave the cow alone and use a yummy cocoa paste instead.
The answer is easy. Almost as easy as spending the whole day lying on the beach: Our vegan chocolate bar is made with natural, organic ingredients, contains no artificial additives, palm oil or soy.
What? Did you say the organic Veganz Coconut Choc Bar reminds you of another exotic chocolate bar on the sweets shelf? What a coincidence. Die-hard fans say our best seller tastes just like a traditional chocolate bar, if not better – that probably has to do with the delicate coconut flakes, crunchy chocolate and that it's vegan.
Packaging
We use these materials in this product.
Synthetic materials
0.7 g
Or even coconut shells? Oh, yeah, that would be something. But for now we have to rely on polypropylene film, which ensures that our bars are optimally protected, retain their aroma as well as shape and stay fresh for you.
As you can see, there are a few issues that makes plastic wrapping unavoidable and why it's difficult to find the best solution. But indeed, as a sustainable and vegan brand, we see it as our duty to look for the most environmentally friendly alternatives – because in reality, ingredients and packaging go hand in hand. We're not perfect, but we are always keeping our eyes and ears open.
Don't miss out!
Have you been searching for yet another newsletter to land regularly in your email box? No problem at all. Simply register for ours! Trust us: It will make your collection complete!
Available at
shop.veganz.com

Puroshop | CZ

Rohlik | CZ

Lidl | CH

Kaufland | SK

REWE | DE

kokku-online.de | DE

Globus | DE

EDEKA | DE

Müller | DE

dm | AT

coop | CH

Spar | AT

Rossmann | DE

Budni | DE

real | DE

Jumbo | NL

Vegan Mission | NL

Albert Heijn | NL

famila | DE

Kaufland | DE

Spar | SI

Combi | DE

Amazon Fresh

Vekoop | DE

coop | DK

Vegasme | BE

Kaufland | CZ

tegut | DE

Amazon

Vegansupplies | IL

Spar Gran Canaria | ES

Lidl | DE

OS World of Sweets | DE

Netto | IS

Hagkaup | IS

Albert | CZ

MPREIS | IT