Veganz Organic White Strawberry Crisp
80 g
Whoever said cornflakes were only for breakfast was a bit bonkers. Which is why we have taken the liberty of transforming the crispy flakes with a hint of strawberry into a white chocolate bar – the Veganz Organic White Strawberry Crisp. Fruity, crunchy and simply delicious – 24 hours a day!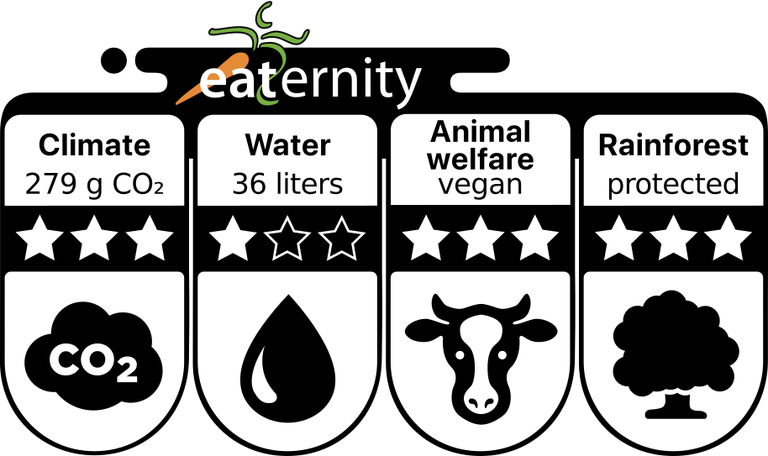 🛈
Visible sustainability? Now available 24/7!
Just as you can enjoy the Veganz Organic White Strawberry Crisp morning, noon and night, from now on you'll be able to see its eco-balance right there on its packaging. Eco-balance, hm? Simple: As you can see on the image above, the eco-balance is divided into four categories: CO2 emissions, water footprint, animal welfare and rainforest preservation. This way, you can see just how sustainable the vegan bar actually is. We also make it super easy for you to decide which chocolate to buy that's not only delicious but also good for the environment.
Why are we doing this? Transparency and environmental protection are very important to us: You get all the facts and we have the chance to make our products as sustainable as possible.
Another little bit for the animals at noon, and a smidgen more in the evening for the rainforest. Did you know that every bite you take of the Veganz Organic White Strawberry Crisp turns you into an animal and environment bodyguard? You didn't? Well, take a look at this: Our fruity bar has the best ratings in the categories of animal welfare, rainforest protection and CO2 emissions. That's because we don't put any animal products in our little snack. A mere 279 grams CO2 emissions are released, well under that of other chocolates. Even the rainforest stays in the green since neither soy nor palm oil is used. Snacking without regret? Oh, yeah!
As you can see from the eco-balance on the Veganz Organic White Strawberry Crisp, while you're munching away, you're also protecting animals, climate and rainforest. However, there is still plenty of room for improvement as far as water consumption goes. How come it only gets one star? That's due to the cocoa butter content: Cocoa beans need a lot of the valuable liquid in order to grow, not to mention the water supply around the cultivation areas is not yet sufficiently developed.
A solution to the problem has got to be found – no question. Unfortunately, we don't know what it will look like at this point. Maybe we could help out on site or procure our ingredients from another region. You can be sure that we are making every effort to find a solution – the know-how from today flows into the products of tomorrow.
Ingredients
Cocoa butter* (35%), raw cane sugar*, rice syrup powder* (17%), roasted tiger nuts*, cornflakes* (4%) (corn*, cane sugar*, salt), strawberry powder* (2%), salt, vanilla extract*, natural strawberry flavouring*.
*certified organic
May contain traces of nuts, cereals containing gluten and milk.
Our high-quality organic cocoa comes from Latin America, or the Dominican Republic to be exact. Next to the organic certification, it also bears the UTZ seal. This means that the farmer and working conditions are monitored and child labour is forbidden on the plantations. Additionally, because of this seal, the rainforest is under special protection. In order to provide us with further security, our Veganz Code of Conduct also regulates social standards that are respected by our suppliers.
Nutrition information
Nutrition Information per

100

g
Energy
2368
kJ
565
kcal
Fat
35
g
– of which saturates
21
g
Carbohydrate
62
g
– of which sugars
47
g
Protein
0.6
g
Salt
0.21
g
Whether in the morning on top of your hot porridge, a little reward for after lunch or in the evening while watching the latest blockbuster – the Veganz Organic White Strawberry Crisp fits perfectly with every day and night-time. What are the reasons for this uninterrupted craving for chocolate? The taste of our White Strawberry Crisp is reminiscent of white chocolate – but not to worry, we don't use cow's milk, of course, just cocoa butter and rice syrup powder. And since we're always open to the exceptional, to the treat we've added a fruity strawberry touch and crunchy cornflakes – so you can have everything in one: chocolate fun, a crunchy experience and wonderful fruit enjoyment!
Oh, and by the way, the ingredients are organic. We don't use soy, palm oil or artificial additives. Well, with this information, you can jump right into the candy fun, right?
Packaging
We use these materials in this product.
Biogenic packaging materials
2 g
Paper/cardboard/carton
3.8 g
Yep, you read that right. The Veganz Organic White Strawberry Crisp comes in an eco-pack, made from 2 components: First the vegan bar is covered in a so-called Natureflex foil that's made out of sustainable wood pulp. You can even dispose of the inner foil in the compost where it will decompose within 50 days. If you haven't got a compost, just toss it into the residual waste bin!   
Once the foil is on, it's wrapped in paper. This is FSC certified and printed with mineral oil free ink. Seem a little unusual to you? Perhaps! But don't worry, the packaging offers optimum protection to keep the bar crunchy, crispy and delicious.   
We're pretty proud of this, although at the same time we are very much aware that in the wide world of packaging, there's still a long way to go. Which is why the search for environmentally friendly alternatives continues…
Don't miss out!
Have you been searching for yet another newsletter to land regularly in your email box? No problem at all. Simply register for ours! Trust us: It will make your collection complete!
Available at
shop.veganz.com

Puroshop | CZ

Rohlik | CZ

Kaufland | SK

REWE | DE

kokku-online.de | DE

EDEKA | DE

Müller | DE

coop | CH

Spar | AT

Rossmann | DE

real | DE

famila | DE

Kaufland | DE

Spar | SI

Combi | DE

Amazon Fresh

Vekoop | DE

Vegasme | BE

Kaufland | CZ

Amazon

Carrefour | BH

Vegansupplies | IL

Spar Gran Canaria | ES

The Vegan Kind | GB

OS World of Sweets | DE

Netto | IS

Hagkaup | IS

Albert | CZ

MPREIS | IT