It's time to go 'fishing'… for some vegan tuna! Veganz Thnfsh, to be precise. Come on and catch yourself some pea protein-based vegan tuna straight from the can. It saves fish and protects the oceans. And it's not lacking flavour either — thanks to Ascophyllum, a kind of brown algae. The result: a real taste of ocean. Hands down: our Thnfsh is sure to be the tastiest catch of your life!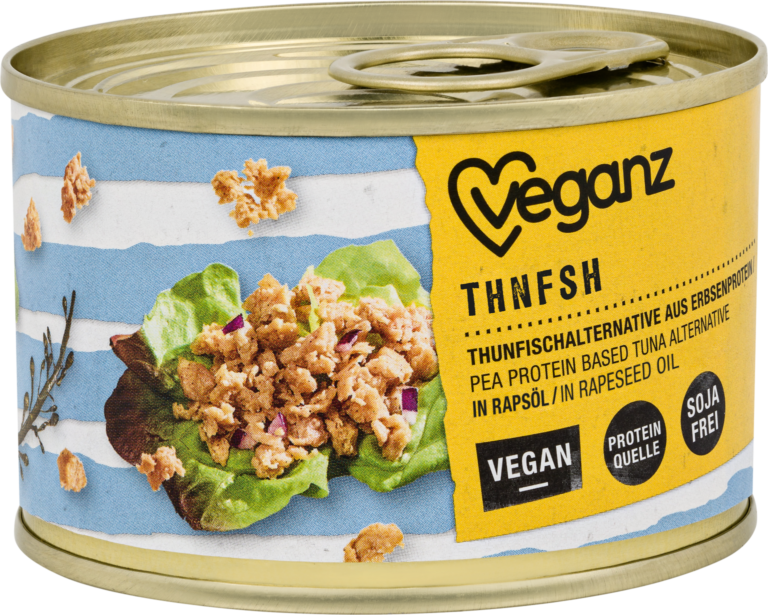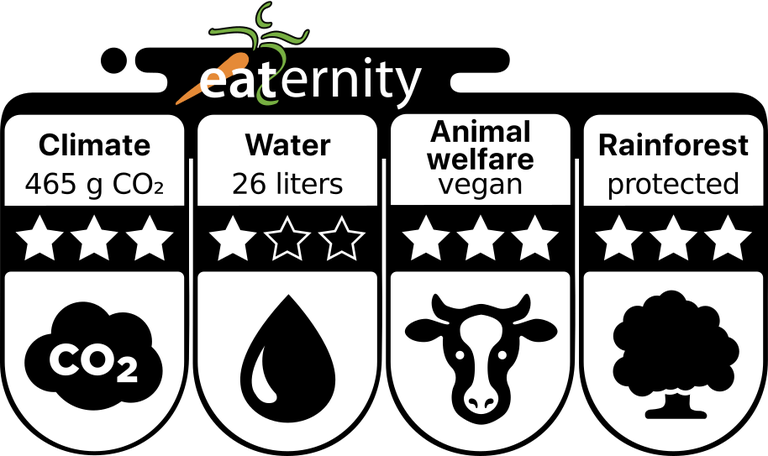 🛈
Our sustainability score is also on board!
Check out our sustainability score to see just how well our Thnfsh does in terms of environmental and animal protection. We've printed it straight on the product packaging to make it handy and easy to see. With four categories, our score shows you the carbon footprint, water consumption, and whether the product protects animals and rainforests. To reach the score, the origin of the raw materials, production, packaging, and transport are all added up and compared to 110,000 other food items. We then use stars to show the results of this comparison. Two or more stars mean that the product is already more sustainable than the average product in our comparison.
Why do we do all this? Transparency and environmental protection are very important to us: you get all the facts, and at the same time it's an opportunity for us to make our products even more sustainable.
Let's set sail and embark on our journey towards greater sustainability! As you can see, our vegan tuna received top marks in three categories. Here's how we arrived at the results:
Climate
Our alternative to tuna shines when it comes to its environmental footprint and has earned itself three stars. Among other factors, that's thanks to its plant-based ingredients and the environmentally friendly way it's manufactured.
What makes vegan fish more climate friendly? March 2021 saw the publication of a study that looked into the global impact of trawling on the climate. The result: on average, this way of fishing produces more emissions than Germany as a whole or all air traffic. Unbelievable, isn't it? Take a look at PETA to find out why. More greenhouse gases are then produced as a result of fuel consumption, while the trawlers are working as well as manufacturing, processing, and transport processes, and the constant need to keep the catch refrigerated.
Animal Welfare
There's no need to feel guilty about enjoying some of our Veganz Thnfsh. It's not 'real' tuna after all, and you'll be protecting sea creatures. Its animal equivalent, on the other hand, is sadly an endangered species — a result of overfishing. It's not just that: countless other sea animals end up being caught in the nets as well. And aquacultures are doing little to save the variety of species found in the oceans since wild catch is processed into fishmeal to be fed to farmed fish.
Rainforest
And what about the rainforest? That's all shipshape! After all, there's no soya or palm oil in Veganz Thnfsh. As such, we guarantee the utmost protection against deforestation and we support the preservation of green forest areas. After all: it's the rainforests that really protect our climate! They absorb the carbon dioxide (CO2) that's in the air, use carbon (C) to grow, and release oxygen (O2) into the air again. In other words: trees are excellent at storing CO2! That's really handy since it stops the greenhouse gas getting into the atmosphere and prevents it from heating Earth even more. And that's the reason why protecting tropical rainforests is so important to us.
As you can see, our Veganz Thnfsh doesn't do quite so well when it comes to water and only earned one star. That's because we're currently getting the sunflower oil and pea protein from an area where the infrastructure for the water supplies isn't yet sufficiently developed.
Therefore, we're keeping a serious lookout for suppliers in other regions so that we can improve our water footprint. Sadly, that doesn't always happen overnight and we'll all have to be a little patient. All the same, we're tireless in our pursuit, bursting with energy, and always open to change. Ultimately, we have just one goal: to develop the best products for you and our environment.
Ingredients
Water, rapeseed oil (20%), pea protein (18%), salt, Ascophyllum nodosum (0.3%), spirit vinegar, yeast extract, flavourings, antioxidant: citric acid; spices, lemon juice powder, citrus fibre, gelling agent: processed euchema seaweed; thickener: guar gum; dextrose.
Our Veganz Thnfsh is made from pea protein and rapeseed oil. Both ingredients are grown in Europe.
Nutrition information
Nutrition Information per

100

g
Energy
971
kJ
234
kcal
Fat
19
g
– of which saturates
2.8
g
Carbohydrate
3.2
g
– of which sugars
<
0.5
g
Protein
11
g
Salt
1.8
g
Only the best for your galley
Looks like tuna, but it's not: our alternative to tuna is made from pea protein and canned in high-quality rapeseed oil.
Say hello to the flavour of the sea! Thanks to brown algae (Ascophyllum), our Veganz Thnfsh really tastes authentic.
Catch yourself some plant protein! Pea protein, to be precise.
Got it! Our vegan tuna is free from soya, wheat, and palm oil.
Let's do it! The vegan way. Tuna pizza, tuna salad, or tuna sandwich — all these tasty foods won't only work with our vegan alternative, they'll taste great, too.
Packaging
We use these materials in this product.
Paper/cardboard/carton
0.7 g
Tin plate
34.8 g
Tastes like tuna, looks like tuna, and is even packaged like tuna. After all, we want it to be as authentic as possible. And we're hoping to get the omnis on board, too. Back to the packaging, though. It's made of:
The steel and tin plate can is made from up to 57% recycled materials and is recyclable.
The label is made with FSC-certified paper and printed with inks that don't contain mineral oil. They are based on renewable raw materials. Since the ink doesn't contain any mineral oil, no traces of mineral oil can end up in the product either.
ring-pull tab to make it easy to open
Available at
Lidl | CH

REWE | DE

Rossmann | DE

kokku-online.de | DE

EDEKA | DE

Müller | DE

Spar | AT

Budni | DE

Kaufland | DE

Spar | SI

Amazon Fresh

Vekoop | DE

Carrefour | BH

MPREIS | IT