The social side of our business activities is important to us, too. This is why we want to describe transparently, how we ensure employee satisfaction and well-being, and how we make sure that our food products comply with highest quality and safety standards:
Better satisfaction figures
The needs and wishes of our employees are of particular importance to us. We therefore conduct regular surveys in which employee satisfaction is expressed by the so-called 'Employee Net Promoter Score' (eNPS) as our key performance indicator. This figure can range from -100 to a maximum of 100 points.
In 2021, we conducted a total of three surveys within Veganz Group AG, in which more than half of our employees participated, and achieved a very good eNPS of 32.7 points – significantly above the average for companies from selected European countries across various industries (13 points) [1]. We were particularly encouraged that the score was significantly above the prior-year figure – in 2020, the average eNPS from two surveys conducted during the year was 14.5 points.
In addition to the eNPS, numerous sub-aspects were also rated more positively in 2021: for example, employees were more satisfied with their own work and with their superiors – both of which were rated highly. There was also a significant increase in staff loyalty to Veganz: for example, the fluctuation rate within Veganz Group AG fell to 15% in 2021 (prior year: 24%).
Satisfaction of our Employees
Satisfaction Dimension
2020
(scale of 0-10 pts.)
2021
(scale of 0-10 pts. )
Δ 2020-2021
(in pts.)
Satisfaction with own field of activity
8.2
8.4
+0.2
Satisfaction with direct superiors
8.0
8.7
+0.7
Satisfaction with management
7.7
8.1
+0.4
Loyalty to Veganz
7.7
8.2
+0.5
Information on corporate strategy
6.9
7.1
+0.2
Work processes at Veganz
6.4
6.6
+0.2
However, we do not intend to rest on our laurels and still see room for improvement, for example, in the ratings for our internal communication. In 2021, we therefore introduced a company-wide Intranet, a regular internal newsletter with video messages from the CEO and quarterly lunch talks to inform staff about the latest Company developments.
Our surveys also indicated potential for improvement with regard to internal work processes. In the following, we will therefore describe in detail what we already did for our employees in 2021 – and what we would like to do in future.
Better Opportunities for Employees
In particular, our employees wanted more team events to get to know each other better. In recent years, we therefore introduced a variety of formats – such as going out for meals together and bowling evenings. Highly popular event during the COVID-19 lockdowns were our 'online social hangouts', where employees could chat about things other than work.
Even before the COVID-19 pandemic, many employees wanted to be able to work more from home. We therefore quickly enabled a large number of them to work completely remotely during the lockdowns. Encouraged by the positive experience, we want to continue to give staff the opportunity to work from home – also after Corona restrictions have been lifted. Permission to do so will be granted by the respective supervisors – after a brief consultation within the team of course – in a generally simple process.
And remote work is not the only area where we want to help our staff improve their work-life balance. This aspect is becoming increasingly important for our younger employees in particular – and with an average age of 34.5 in 2021 (prior year: 34.0), we are pretty young!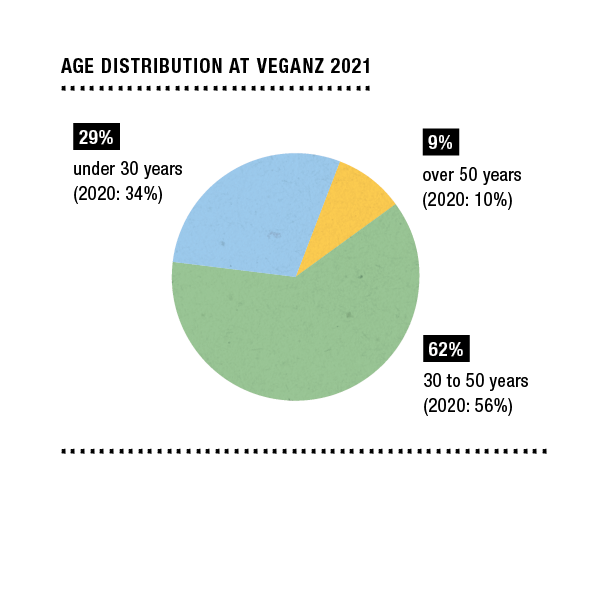 To ensure that all our employees – regardless of age – are able to reconcile their professional and private lives, all staff are free to work their contractually agreed working hours within the framework of our 'trust-based working hours' scheme. In addition, we offer everyone the opportunity to work part-time
– which 40 of our 99 employees utilised in 2021. And if the respective life situation changes again, this is also no problem for us: every part-time job can be converted back to a full-time position on request. For us, flexibility is not synonymous with insecurity: with the exception of working student contracts, all employment contracts at Veganz are open-ended. As of 31 December 2021, we employed one working student (prior year: three). At Veganz Retail Berlin GmbH & Co. KG, which comprises our self-operated supermarkets, employment contracts are initially limited to one year when joining the Company – this applied to ten colleagues as of 31 December 2021 (prior year: 14). The ratio of fixed-term contracts across the entire Company was therefore 11.1% as of 31 December 2021 (prior year: 17.9%).
We also want to make it easier for our employees to handle important private matters. We therefore offer paid days off for moving home, birthdays, weddings and the birth of a child, and grant employees paid vacation days if a child is ill. The success of our measures to promote equal opportunities for women and men is reflected in the high proportion of women working for Veganz, which stood at 66% across the Company in 2021 (prior year: 60%) – almost 25 percentage points above the industry average in Germany [2].
We are also proud of our high proportion of women in managerial roles – 44% at the top two management levels (prior year: 50%). Here, too, we were well above the industry average of just under 20% [3].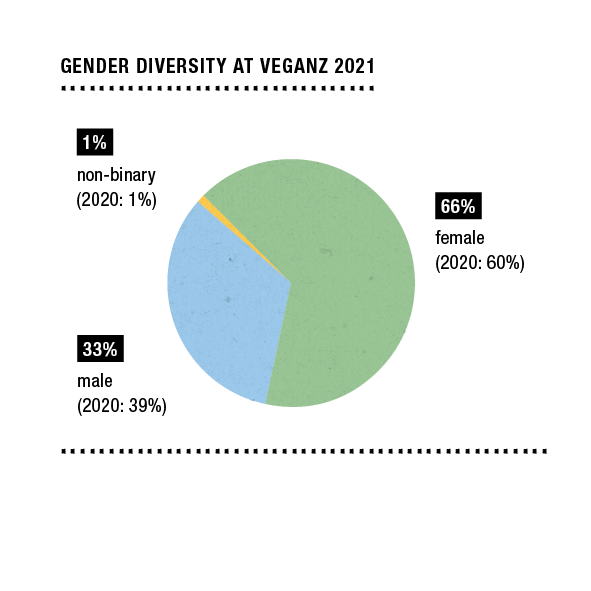 This makes it correspondingly easy for us to convince new talents to join Veganz: in 2021, we hired a total of 18 new employees (prior year: 22) at Veganz Group AG, of which 83% were female (prior year: 55%), 44% were under 30 (prior year: 27%), 50% were aged 30 to 50 (prior year: 73%) and 6% were over 50 (prior year: 0%). We offer both new and existing colleagues additional benefits on top of our industry-standard remuneration.
Better Career Prospects with Veganz
In addition to the (career) opportunities we offer our employees,it is also important to us that they are paid appropriately – and this is of course independent of personal characteristics, such as gender or origin. To ensure that this happens, we also monitor the difference in salaries between female and male employees throughout the Company ('gender pay gap').
As of 31 December 2021, we had 99 employees in total (prior year: 95). Since many of them take advantage of the opportunity to work part-time, we had a total of 80.6 so-called Full Time Equivalents (FTE) in 2021 (after converting part-time to fulltime positions). As headcount at Veganz is still comparatively low, individual salary differences can already have a major impact – even when due to non-gender-related factors such as greater work experience. Within Veganz Group AG [4], we had a minor salary difference of -0.1% (prior year: -3.6%) for women compared to men in 2021, unadjusted for such factors. Adjusted for the position factor, the salary difference in 2021 was 1.2% (prior year: -1.5%). At Veganz Retail Berlin GmbH & Co. KG, the salary difference was slightly higher due to a higher fluctuation rate and the associated non-gender-specific duration of the respective company affiliation. We will continue to monitor our company's gender pay gap in future and aim to keep it in the low single-digit percentage range.
To ensure that all employees can earn a decent living, we initially set a minimum wage of €12.50 per hour in 2021 for all positions held by Veganz Group AG employees [4].This is to be extended to all employees of Veganz Retail Berlin GmbH & Co. KG in 2022. Overall, the average hourly pay at Veganz was €12.39, which is about 30% higher than the minimum wage of €9.50 per hour applicable in Germany in 2021 (prior year: €13.18, 41% higher than €9.35).
Once a year, all employees attend performance review meetings with their supervisors at which they discuss the achievement of individual targets, reflect on cooperation and discuss the outlook for the next twelve months.
In addition to a salary commensurate with market conditions and performance, we also offer our employees various benefits: for example, we promote sustainable mobility by subsidizing (e-)bike leasing, providing local public transport tickets or offering a needs-based mobility budget. We also take the health of all team members very seriously and therefore offer – in addition to our in-house courses, such as hot yoga and joint fitness training – an Urban Sports Club membership, as one option of our so-called 'Cafeteria model'. This allows our employees to choose from thousands of sports offerings from various providers worldwide and select the one that suits them best.
Besides fitness, we also invest in personal and professional development. For example, we regularly train our Quality Assurance staff on food legislation and safety topics as well as HACCP (Hazard Analysis Critical Control Points) requirements. In addition to our in-house training, we invested a total of approximately €6.3 thousand, or €102 per FTE (only employees of Veganz Group AG), for external educational and training measures in 2021. We intend to systematically increase this amount in future and, starting in 2023, to record all internal and external education and training hours so that we can monitor and steer the professional development of our employees more effectively.
Better Health, Better Safety
Only a small part of our team is currently employed in food production, which means that the risk of occupational accidents is comparatively low. As a responsible employer, the health and safety of our employees is very important to us. In addition to our free sports programmes, we therefore provide first aid courses, company doctors as a permanent point of contact and detailed documentation procedures should accidents or injuries occur during working hours.
There were no work-related fatalities at Veganz in 2021 (prior year: none) and no serious injuries with an absence of more than six months (prior year: none). Due to an accident on the way to work, there was one reportable incident in 2021, which led to a total of 27 lost days (prior year: none), corresponding to a Lost Time Injury Frequency Rate (LTIFR) of 6.3 (prior year: –). As there were no other accidents resulting in restricted working capacity and/or medical treatment, the Total Recordable Injury Frequency Rate (TRIFR) in 2021 was also 6.3 (prior year: –).
We also want to avoid work-related accidents wherever possible in future. At the same time, we know that our further growth and the planned new production site in Werder (Havel) will increase the purely statistical probability of work-related injuries. For this reason, we provide regular staff training on occupational safety and continuously monitor the appropriateness of our health and safety measures in the workplace.
Better Product Quality
Our products stand for top quality. We want to promote a plant-based diet and make it as easy and tasty as possible for our consumers to try and switch to plant-based alternatives.
The positive properties of many of our food products help us in these efforts: meat substitute products such as our vegan schnitzel alternatives or 'Crispy Nuggets' are rich in protein, iron and vitamin B12, our 'Räucherlaxs' smoked salmon is rich in omega-3 fatty acids and our honey alternative 'Ohnig' is particularly high in fibre but has up to 40% fewer calories than conventional honey. In 2021, we emphasised the beneficial properties of these and other products with a positive impact on the nutrition of our consumers more strongly in our marketing, so that together they accounted for almost 16.6% of
Veganz sales in 2021 (prior year: 6.5%).
The organic seal ('bio') is also a quality feature of many of our products: as of 31 December 2021, a total of 55% of our product range was certified organic. And what about genetic engineering? No thanks! All the products we sell under the Veganz brand are guaranteed free of genetic manipulation. In 2021, sales of our own products accounted for 95.0% (prior year: 95.5%) of total sales at Group level. The remaining 5.0% in 2021 were from third-party products that we sell in our three supermarkets in Berlin – we cannot guarantee the (non-)use of genetic engineering for these products.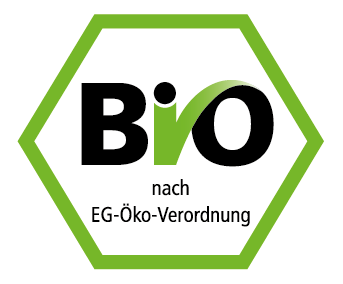 But not only our products themselves are top quality – Veganz also meets the highest standards as a Company, especially with regard to food safety: in 2021, we received the top rating once again according to IFS Broker (International Featured Standards Broker), Version 3.1. [5], with a 'Higher Level' rating and a compliance rate of 95.7% (prior year: 97.2%). The few remaining non-conformities from the audits are rectified promptly each year.
We also want to have our first in-house production site, the cheese factory in the heart of Berlin, certified in 2022 and are aiming for IFS Global Markets Food certification. We are planning an IFS Food certification for our new, large production site in Werder (Havel) as soon as it is completed.
In 2021, as in the previous year, there were no recalls of Veganz products. However, there was one violation of officially valid food safety regulations (prior year: 0): During official inspections in Slovakia, a total of five articles of a production batch were found to be missing the printed best-before date (BBD). Based on the official complaint protocol, our investigations revealed that the reason had been a printing machine error at one of our suppliers.
And we also pay attention to fair play in our marketing: we want to attract attention to our products and at the same time make people smile – but not at any (controversial) price. When it comes to marketing, we are aware of our responsibility and always communicate openly and honestly: in 2021 and 2020, we did not breach any statutory labelling and marketing regulations – and thus did not incur any legal costs for marketing violations.
Better Supply Chains
Our responsibility does not stop at the boundaries of our Company premises. With the exception of 'Cashewbert', all our products are currently manufactured by contractors – and here too we pay particular attention to suitable quality standards.
In 2021, we had a total of 37 suppliers who produced our products for Veganz according to our precise recipe specifications. Of these, 35 had official certification according to IFS Food or an equivalent standard – and the remaining two had an adequate food safety concept according to HACCP.
We conduct our own random audits of suppliers at irregular intervals. Among other things, we check the existing quality standards, whether hygiene regulations are being adhered to and whether the temperature controls are effective.
In our Code of Conduct for Business Partners, which all our suppliers must sign before they can do business with us, we set out further detailed requirements. These range from dealing with inappropriate behaviour and sexual harassment, to expectations of compliance with minimum legal requirements on remuneration and working hours, to our zero-tolerance policy on child and forced labour.
If violations of the minimum requirements set out in our Code of Conduct for Business Partners are not remedied, we have the right to terminate the partnership. Fortunately, we have not yet had to exercise this right, as we are not aware of any explicit violations. Almost all of our direct suppliers are based in the EU, which means that the risk of problematic business practices is relatively low due to the standards that apply here. For this reason, we do not currently see any significant risk of child or forced labour in our supply chain.
CLICK HERE FOR MORE SUSTAINABILITY TOPICS:
Better for the Environment
Better Corporate Governance
[1] Netigate Deutschland GmbH (2022). 2022 Update: 'Wie hat sich die Mitarbeiterbindung gegenuber dem Arbeitgeber seit 2019 entwickelt?' Accessed via https://www.netigate.net/de/reports/mitarbeiterbindung-im-wandel/ on 19.4.2022.
[2] Source: German Federal Employment Agency (2022). 'Beschäftigte nach Berufen (Klassifikation der Berufe 2010) – Deutschland, West/Ost und Länder (Zeitreihe Quartalszahlen)'. Retrieved from: https://statistik.arbeitsagentur.de/SiteGlobals/Forms/Suche/Einzelheftsuche_Formular.html;jsessionid=F70757E6DE980428957F8A88846C150C?nn=1523064&topic_f=beschaeftigung-sozbe-kldb2010-zeitreihe on 18.04.2022
[3] Proportion of women in the Food and Beverage Distribution industry in the USA 2021. Source: McKinsey & Lean In (2022). Women in the Workplace. Retrieved from: https://wiw-report.s3.amazonaws.com/Women_in_the_Workplace_2021.pdf on 18.04.2022
[4] Excluding apprentices and interns
[5] The International Featured Standard (IFS) Broker is an auditing standard for food intermediaries recognised by the Global Food Safety Initiative (GFSI). The requirements relate to the quality management system, the HACCP (Hazard Analysis & Critical Control Points) system and other prescribed programmes such as Good Manufacturing Practice (GMP), Good Laboratory Practice (GLP) and Good Hygiene Practice (GHP).