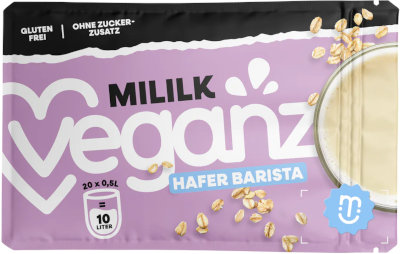 Hello, we are Veganz!
The food brand from the Berlin Metropolitan Area with an innovative variety of products and pure vegan pleasure.
RESULTS OF THE CURRENT VEGANZ NUTRITION STUDY
Why are we vegan, vegetarian, or flexitarian in Germany? Do food innovations such as in-vitro meat, lab-grown cheese, or insects actually appeal to anyone? And is the greater number of climate and political crises contributing to changes in the way people consume? 
For the fourth year in a row, our study examined the dietary and purchasing behaviour of everybody from omnivores to vegans.
Meat-free enjoyment made easy
"So, no meat at all? I couldn't do that!" You don't even have to. At least, not quite. You can still enjoy your beloved burger patties, steaks, & grilled skewers with Veganz – & they are completely meat-free! How is that possible? With soy & seitan.
Vegan baked goods from Veganz at bakery counters all over Germany!
Have you been secretly dreaming of savoury sausage in a roll or of a sweet pastry fresh from the bakery? Well, you're in luck! Starting right now, you can get hold of Veganz baked goods at Bake-Off stations across Germany – all vegan (of course!), super tasty, and at least as good as the conventional varieties. Find out more about the baked goods and where to find them HERE.
Good for you, better for everyone.
Something new for you!
Enjoy the vegan version of a truly traditional bar and you'll even benefit from an extra helping of protein: the Choc Bar Peanut Caramel. Get more information here.
We make sustainability visible
We did it! Together with the Swiss Eaternity Institute! Thanks to our collaborative effort, for the past few months now, several of our Veganz products have, openly and transparently, begun to carry their own eco-balance on the package. You can read about how, where, what and why we are doing this in our blog entry.
Don't miss out!
Have you been searching for yet another newsletter to land regularly in your email box? No problem at all. Simply register for ours! Trust us: It will make your collection complete!