The Veganz Organic Gourmet Herbs
125 g
Whether it's cream cheese or feta, both benefit in aroma from delicate herbs. Ha! Wouldn't it be a joke if a vegan dairy free cheese couldn't do that, too? We tried. And came up with the full-bodied Veganz Organic Gourmet Herbs, with its unique character achieved through the wonderful mixture of lovage, rosemary and oregano. Our conclusion: A fine-herb treat that can do simply everything!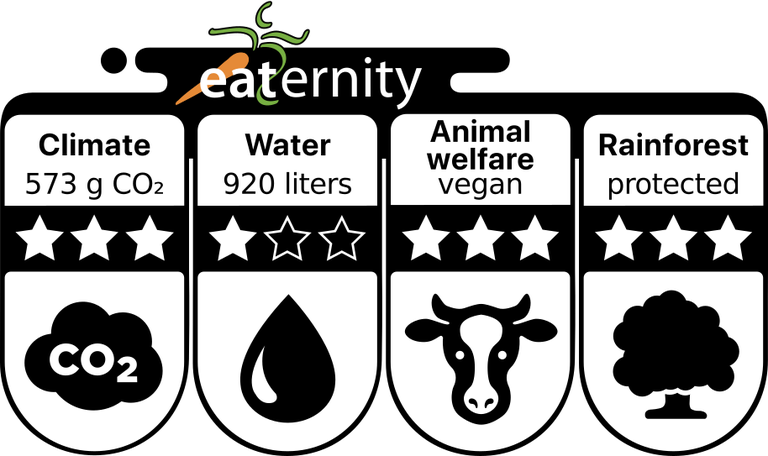 🛈
And that's not just because of all the herbs, it's also because of its eco balance that our vegan dairy free cheese wears on its sleeve. As you can see from the image on top, the eco balance is broken down into four categories so that you can see just how sustainable our Gourmet Herbs is. Why are we doing this? Transparency and environmental protection are important to us. You get all the facts and we have the chance to get the most out of our products.
Okay, we might be exaggerating a little bit, but The Organic Gourmet does make the Earth a safer and more beautiful place. Being a vegan, dairy free cheese, it protects the animals, for one, and the rainforest for another since it doesn't use any palm oil or soy in its ingredients. In addition, all raw materials have a good climate rating – which is why it gets three stars in these categories.
Making it a true all-rounder
Great taste, great for the environment, great for animals and the rainforest, great carbon footprint and then… our Gourmet Herbs gets one star for water. How come? Because our vegan, dairy free cheese is made with cashews and the rest you can imagine: It takes a whole bunch of the yummy kernels to make it and unfortunately they have a relatively high water footprint as they require much of the valuable liquid for their growth. The water supply infrastructure where they are cultivated is not yet sufficiently developed. In addition, the yield of the nuts is relatively low, 3.3 kg of cashew nuts are irrigated, but only 1 kg of the peeled cashew kernels are obtained.

How will our all-rounder become completely round? We don't have an answer for that right now. The solution could be in helping on site or bringing the cashews in from a different country with a better water footprint. Whatever the answer is – the know-how of today flows into the products of tomorrow.
Ingredients
Cashews* (70%), coconut oil*, starter cultures (Lactobacillus bulgaricus, Lactobacillus acidophilus, Streptococcus thermophilus, Lactobacillus casei, Lactobacillus plantarum), lovage* (0,2%), rosemary* (0,1%), oregano*, pink crystal salt.
*certified organic
May also contain traces of other nuts.
The cashews for the organic Veganz Gourmet Herbs come from India. The coconut oil is from Indonesia, one of the most important coconut oil distributors in the world. Both ingredients are certified organic.
Nutrition information
Nutrition Information per

100

g
Energy
1999
kJ
484
kcal
Fat
47
g
– of which saturates
31
g
Carbohydrate
7.1
g
– of which sugars
4
g
Protein
8.2
g
Salt
1.1
g
Did you know that most of the vegan cheese alternatives out there are made with soy or oil and contain a bunch additives, thickeners and artificial aromas? Yikes! Added together, that's a pretty long list of ingredients, isn't it? But since our Gourmet Herbs doesn't want to be like the others, we decided to focus on the essentials: A few choice ingredients in organic and raw quality, made lovingly by hand. That's all, folks!
Huh? What the…? Lactic acid cultures in a plant-based product? Don't worry, that's just what they're called. They are actually prokaryotes to be exact – an own species from neither animal nor plant. Naturally vegan, since we cultivate the micro-organisms without the use of animal substances. What's so special about them? The lactic acid cultures are used to ferment the ingredients of the Veganz Gourmet Herbs giving it that one-of-a-kind, full-bodied and fresh aroma.
As far as the ingredients of Veganz Gourmet Herbs are concerned, we thought: It doesn't need a lot of bells and whistles. The uses of our vegan dairy free cheese made with cashews would be fanfare enough: Spread it on bread, dice it over pasta and pizza or refine salads, sauces and soups.
Packaging
We use these materials in this product.
Synthetic materials
3 g
Paper/cardboard/carton
12 g
Yeah, well, a vegan dairy free cheese should be able to do a lot, like wear a super-hero cape made of herbs. But it can't and there's a reason for that: The Veganz Organic Gourmet Herbs is a sensitive little soul and has a relatively short sell-by date. That means, it requires comprehensive product protection and so, unfortunately, instead of a cape made of herbs, we have to use plastic film. But you can believe us when we say, we don't like it either. We'd love to be able to wrap it in paper, like a camembert, but it's too moist for that, and the additional cardboard box prevents the dairy free cheese from being crushed thereby retaining its shape. As you can see, there are certain issues that make it difficult to do away with plastic packaging. But of course, as a vegan and sustainable brand, we see it as our absolute duty to look for more environmentally friendly alternatives – after all, ingredients and packaging go hand in hand. We're not perfect, but we always have our eyes and ears open.
Don't miss out!
Have you been searching for yet another newsletter to land regularly in your email box? No problem at all. Simply register for ours! Trust us: It will make your collection complete!