Veganz Double Choc Muffins
150 g
Luke and Leia, Fred and George Weasley, the Veganz Double Choc Muffins – Twins that have that special something. Some are exceptionally powerful, others magically cheeky, while our two vegan chocolate muffins are extra fluffy, moist and chocolaty. Where do they get their double-chocolate power from? Crunchy chocolate pieces and lots of cocoa in the batter. What a dreamteam!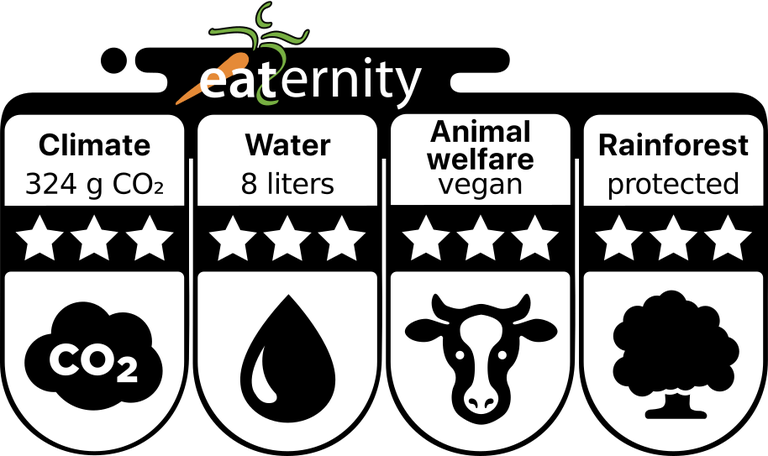 🛈
Vegan chocolate muffins that have their own eco-balance printed on the package? Where can you find something like that? With the Veganz Double Choc Muffins, of course!
As you can see on the image, the so-called Sustainability Score is divided into four categories: CO2 emissions, water footprint, animal welfare and rainforest conservation. That way you can clearly see how environmental and animal friendly our products are. With this score, we help you choose a snack in the supermarket that's not only delicious, but has an eye for animals, people and nature as well.
Why are we doing this? Transparency and environmental protection are very dear to our hearts: You get all the facts while giving us the chance to make our products more sustainable.
So much environmental protection in twice as much chocolate
Our Veganz Double Choc Muffins stand for great taste as well as sustainable snacking. That's because, as you can see on the Sustainability Score, our vegan chocolate muffins get best marks in all four categories: 3 stars!
How did this very excellent result come about? First of all, the Vegan Double Choc Muffins are made from purely vegan ingredients, which means you won't find eggs nor cow's milk in the recipe. This not only benefits the climate, i.e. CO2 emissions, but also animal welfare.
And although cocoa beans need a lot of water to grow, we only use a touch of the beautiful bean – just enough to make the vegan muffins super chocolatey and contribute to water preservation.
The rainforest also stays in the green zone, since we don't use palm oil or soy, thus protection against deforestation is guaranteed.
Ingredients
Sugar, rapeseed oil, wheat flour, chocolate chips (11%) (sugar, cocoa mass, cocoa butter, strongly deoiled cocoa, emulsifier: sunflower lecithin), wheat starch, humectant: glycerine; cocoa strongly defatted (3,5%), raising agents: diphosphates, sodium carbonates; natural flavouring, wheat gluten, salt, potato protein, emulsifier: sunflower lecithin; thickener: sodium alginate. Cocoa: at least 40%.
May contain traces of nuts, egg and milk.
Nutrition information
Nutrition Information per

100

g
Energy
1688
kJ
404
kcal
Fat
20
g
– of which saturates
3.1
g
Carbohydrate
52
g
– of which sugars
27
g
Protein
4.7
g
Salt
1.5
g
Packaging
We use these materials in this product.
Synthetic materials
7.2 g
Paper/cardboard/carton
1.4 g
Other composites
4 g
Don't miss out!
Have you been searching for yet another newsletter to land regularly in your email box? No problem at all. Simply register for ours! Trust us: It will make your collection complete!
Available at
shop.veganz.com

Puroshop | CZ

Rohlik | CZ

Lidl | CH

REWE | DE

kokku-online.de | DE

EDEKA | DE

Markant | DE

coop | CH

real | DE

Jumbo | NL

Vegan Mission | NL

Albert Heijn | NL

Spar | SI

Amazon Fresh

Vekoop | DE

Vegasme | BE

Amazon

Lidl | DE

ALDI SÜD | DE

Netto | IS

Hagkaup | IS

MPREIS | IT