Veganz Organic Coconut Bliss Ball
42 g
Does everything feel like Groundhog Day and your life is going by in slow motion? Then it's high time for an energy ball! Go for it! – and try one of our Veganz Organic Bliss Ball Coconut: super-soft dates, crunchy almonds and delicate coconut flakes. Tchaka, you got this!!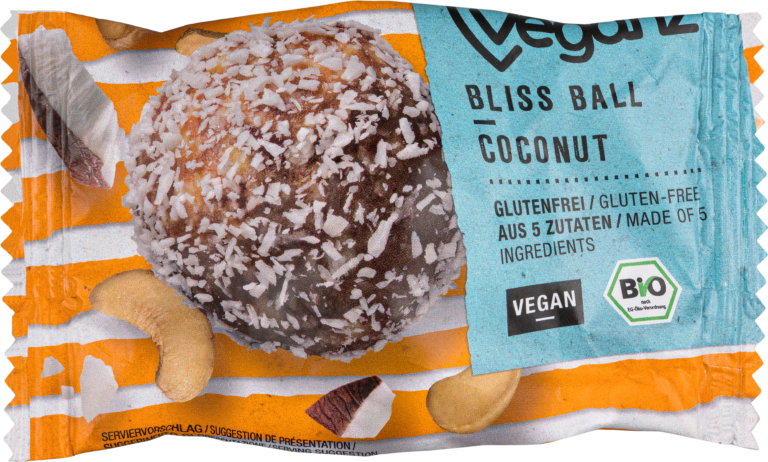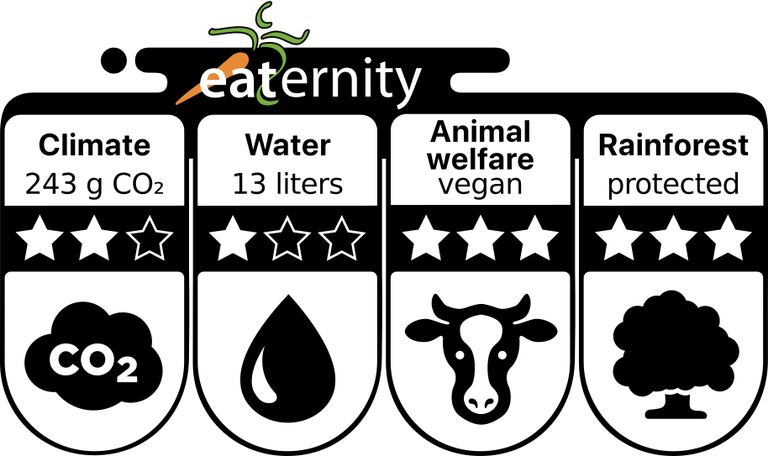 🛈
Even if your life seems to be somewhat monotonous these days, the world is still on the move. Here's a hint: Climate change. Luckily the ball is in your court and you can still make a real difference to global warming – by choosing food that's not only tasty but good for the environment as well. And to make it child's play when deciding which energy ball to toss into your cart and which one not to, we've printed a Sustainability Score right on the package of our Veganz Organic Bliss Ball Coconut. As you can see from the image, we've broken it down into four categories: CO2 emissions, water footprint, animal welfare and rain forest preservation. Don't you think this is a super easy way to classify sustainability?
And there are good reasons for us being so open: transparency and environmental protection are very important to us – you get all the facts and at the same time, we have the chance to make our products more sustainable.
It could be that our coco-tastic energy ball will change your life in an instant, but don't worry, everything stays the same for the animals and the rainforest – which is a very good thing! As you can see, our delicious Veganz Organic Bliss Ball Coconut gets the best marks in these eco balance categories. That means, we harm neither fur nor feather on our fellow animals and use only raw, plant-based materials for the date ball. And, due to the soy and palm oil free recipe, everything is still in the green range for the rainforest.
Here we go again: CO2 footprint
Uh oh, busted… Here we are, encouraging you to spice up your everyday life a little with our Veganz Organic Bliss Ball Coconut, while we only get 2 stars instead of 3 for our CO2 footprint. But don't worry – even with two stars, the gluten-free snack is already considered environmentally friendly.
We'll be happy to explain to you why we don't get full marks: Compared with other fruits, the date palm has a rather high emission value, which is due to intensive fertilization. And since our Energy Ball consists of 65% dried dates, this naturally affects the results of our CO2 footprint.
So, what do we have to do to get a better score? Well, it's not that simple because we love our Bliss Balls just the way they are, right? That means: Hands off the recipe and over to the phone or the keys – and a search for a new supply country for our dates begins! Sadly, this won't happen overnight, so we all have to be a little patient. But we're tireless, full of energy and always open to change. After all, we all want one thing: to develop the best products for our environment.
Our battle cry over water consumption!
1 star for water footprint – bam! That hit us where it hurts. We don't need to sugar coat it because we know it's something we have to change. But please believe us – it's pretty darn hard.
Here's why: Although our energy ball does its share for the environment, dates and cashews need a lot of that valuable moisture for their growth and as of now, the water supply infrastructure isn't quite up to standard just yet. In addition, the nut yield is relatively low, i.e. of the 3.3 kg of cashews irrigated, only 1 kg of shelled kernels are obtained.
Three guesses which ingredients are responsible for that special soft and crunchy consistency as well as the wonderfully natural sweetness… you see the problem…
So, what can we do? We too need to leave our comfort zone, put our heads together and search for answers. These might be found in helping directly on site or using ingredients from another country. One thing is for sure: we are trying our best to find a solution in the very near future – because today's know-how flows into the products of tomorrow.
Ingredients
Dried dates* (65%), desiccated coconut* (15%), chopped cashew nuts* (10%), rice protein powder*, agave syrup*.
*certified organic
May also contain traces of peanut, other nuts and sesame.
Nutrition information
Nutrition Information per

100

g
Energy
1629
kJ
388
kcal
Fat
14
g
– of which saturates
9
g
Carbohydrate
53
g
– of which sugars
50
g
Protein
8.5
g
Salt
50
mg
You, your mom, your Uncle Erwin, the friendly bus driver on Route 171 – we're all creatures of habit. We always order number 43 at our local Asian, holiday in Tenerife every year or go for a drink after work at our favourite bar. Super relaxed but pretty boring after a while, right? So, don't do what you normally do and go for a different snack, like our Coconut Bliss Ball, and bring a little variety into your daily life. Its superior qualities make it something very special: consisting of only five ingredients, our Bliss Ball Coconut is organic, gluten-free, without refined sugar or artificial additives. And? Ready to leave your comfort zone? 
Packaging
We use these materials in this product.
Synthetic materials
0.6 g
Yep, such a thing would just about round off the energy ball, wouldn't it? At present, however, we sadly have to resort to a metallised plastic film. The metallisation prevents our Veganz Organic Bliss Ball Coconut from hardening, i.e. keeping it soft and juicy.
But pssst, spoiler alert: We are currently working on a more sustainable material and have already begun conducting tests. These can take up to 12 months, give or take – so you'll just have to be patient until we come up with a more environmentally friendly alternative. But as you can see: We're on the ball!
Don't miss out!
Have you been searching for yet another newsletter to land regularly in your email box? No problem at all. Simply register for ours! Trust us: It will make your collection complete!
Available at
shop.veganz.com

Puroshop | CZ

Rohlik | CZ

REWE | DE

kokku-online.de | DE

Globus | DE

EDEKA | DE

Müller | DE

coop | CH

Spar | AT

real | DE

Spar | SI

Amazon Fresh

Vekoop | DE

Amazon

Carrefour | BH

Vegansupplies | IL

Spar Gran Canaria | ES

OS World of Sweets | DE

Netto | IS

Hagkaup | IS

MPREIS | IT