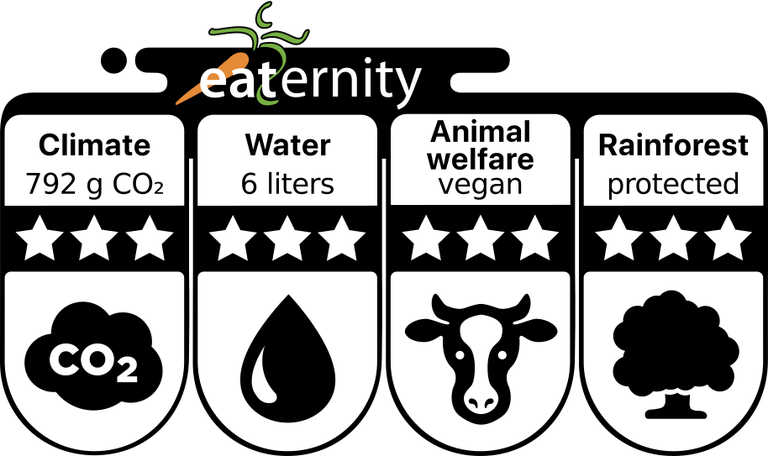 🛈
Totally vegan ingredients, organic quality and amazing taste – all characteristics that make you smile. What else do the Veganz Organic Sandwich Biscuits Original. have that put you in a joyful mood? The clearly visible eco-balance! You'll find it right there on the package. As you can see from the easily detectible image above, it's divided into four categories. There you can see just how sustainable the vegan biscuit really is. This way, we are making it super easy for you to choose a biscuit that's not only tasty but good for the environment as well.
Why all the bruhaha? Transparency and environmental protection are very important to us: You get all the facts and we have the chance to make our products more sustainable.
After all, our sandwich biscuit has achieved the highest marks in every sustainability category – great for all living beings, great for woods and waters, and great for your carbon footprint.
How is that possible? Well, because it's a completely vegan product our Veganz Organic Sandwich Biscuits Original protect the animal world and therefore receive full marks. We use only a small amount of cocoa for the filling and that's good for water consumption since the cultivation of the bean uses quite a bit of the valuable fluid. Even the carbon footprint is award-winning: 659g of the CO2 it emits is well under the average of other food products. Even the rainforest is in the green since the palm oil we use is RSPO-certified and thus guarantees protection against any new deforestation.
Ingredients
Biscuit* (70%) (wheat flour*, raw cane sugar*, palm fat*, glucose syrup*, quinoa flour* (1,1%), natural bourbon vanilla flavouring*, raising agent: sodium hydrogen carbonate; salt), cocoa filling* (30%) (raw cane sugar*, palm fat*, reduced-fat cocoa powder* (17%), emulsifier: sunflower lecithin*; natural bourbon vanilla flavouring*).
*certified organic
May contain traces of soya, nuts, other cereals containing gluten, egg and milk.
Our high-quality organic cocoa comes from the one of the most important countries for cocoa production, the Ivory Coast. In addition to being certified organic, our cocoa bears the UTZ certification. This means that the farmers and working conditions are monitored and child labour is forbidden on the plantations. The rainforest is also protected by this certificate. To ensure additional security, our Veganz Code of Conduct also regulates social standards and are respected by our suppliers.
Nutrition information
Nutrition Information per

100

g
Energy
2122
kJ
507
kcal
Fat
24
g
– of which saturates
12
g
Carbohydrate
65
g
– of which sugars
31
g
Protein
6
g
Salt
0.23
g
Crunch, crunch. Well, what classic biscuit could possibly be the role model for the Veganz Organic Sandwich Biscuits Original? Hint: Its idol comes from a good home, royalty in fact. They might not be related but they've certainly got a lot in common. All right, maybe our sweet cookies are a little crunchier, the cocoa filling a little bit creamier and the taste a tick more chocolatey, but we'll let you be the judge of that. Anyway, we're tickled about its organic certification and next to its excellent taste, that's what's most important, isn't it?
This is why: Being a vegan product, topics such as sustainability and environmental protection are our main focus. Which is why we are completely aware of the fact that conventional palm oil has negative effects on nature, humans and animals. And since we are critical of its cultivation methods, we only work with RSPO certified palm oil. That means the plantations are monitored and therefore forests, plants, animals, farmers and children are protected.
Why don't we use another type of oil? If we exchanged the palm oil in our Veganz Organic Sandwich Biscuits Original with sunflower oil, the filling would be clumpy and have a distinctive sunflower oil taste. And so: The crunchy cookies wouldn't be anywhere near what you now know and love. In addition, palm oil yield is four times higher than that of a sunflower and if we were to use the same amount of oil from sunflowers, much larger areas would be required.
A small, but nice little info for you: Palm oil is used in just 11 of over 120 Veganz products. So, as you can see, we are very careful with the substance. We also make the 'crispy pledge' that we will never stand still in the search for suitable alternatives. For this reason, we will always welcome adequate replacement ingredients with open arms, as long as the exchange has positive effects on you, the product and the environment.
No need! Here's why we use emulsifiers and baking agents in our Veganz Organic Sandwich Biscuits Original: The emulsifiers prevent the ingredients from separating and, for example, the fat from leaking out from the cream and building a white film on the product. That wouldn't be so bad, but it wouldn't look very appetising either, would it? We think so, too, since we also eat with our eyes.
The baking agent makes the cookie dough loose, fluffy and gives it volume. Just like when you bake a cake at home. You add baking powder or baking soda so it's really not that big of a deal!
Packaging
We use these materials in this product.
Oh, yes, that would be some crunchy fun, wouldn't it? Unfortunately, at the present time we still have to resort to a laminated film or, more precisely, polypropylene. This ensures that the Veganz Organic Sandwich Biscuits Original are optimally protected, retain their shape, remain crunchy and that the cocoa filling stays particularly aromatic.
However, we are already busy developing and creating and as a vegan and sustainable brand we see it as our absolute duty to look for more environmentally friendly alternatives – after all, ingredients and packaging go hand in hand. We may not be perfect, but we are keeping our eyes and ears open.
Don't miss out!
Have you been searching for yet another newsletter to land regularly in your email box? No problem at all. Simply register for ours! Trust us: It will make your collection complete!
Available at
shop.veganz.com

Puroshop | CZ

Rohlik | CZ

Lidl | CH

Kaufland | SK

REWE | DE

EDEKA | DE

coop | CH

Budni | DE

Jumbo | NL

Vegan Mission | NL

Albert Heijn | NL

Kaufland | DE

Amazon Fresh

coop | DK

Vegasme | BE

Kaufland | CZ

tegut | DE

Amazon

Spar Gran Canaria | ES

Lidl | DE

The Vegan Kind | GB

kokku-online.de | DE

Globus | DE

Müller | DE

Spar | AT

Rossmann | DE

Spar | SI

MPREIS | IT