Veganz Organic Strawberry Choc Bar
35 g
We can't say it any other way – our organic Veganz Strawberry Choc Bar is pure love: Drift away with a fruity strawberry-almond creme filling on a fluffy pink cloud and let yourself be seduced by the full-bodied, dark chocolate coating. Oh, yes, a chocolate bar can hardly be sweeter and smoother than this one.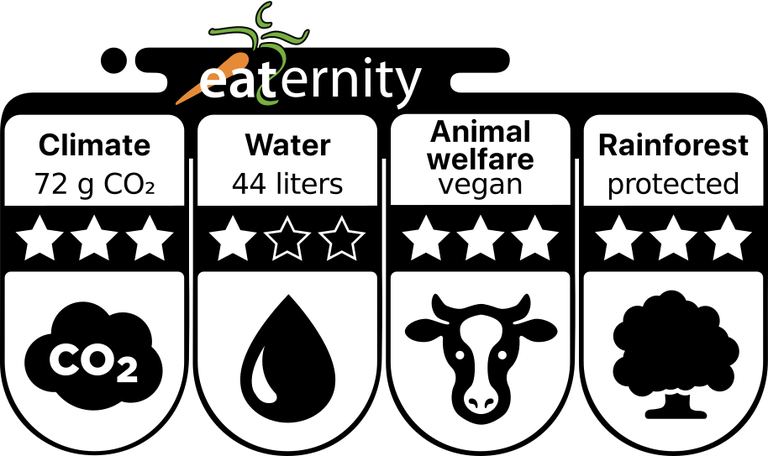 🛈
With our irresistibley fruity chocolate bar it might look like you're wearing rose coloured glasses. But keep them on! Better to see the eco balance of our organic Veganz Strawberry Choc Bar with – which we've printed right onto the package. As you can see from the image, the eco balance is broken down into four categories and will show you the candy bar's sustainability. Why are we going through all this effort? Transparency and environmental protection are very important to us. You have all the facts you need and at the same time, we have the chance to get the most out of our products.
When you choose the organic Veganz Strawberry Choc Bar, you choose love, compassion and participation. Sounds pretty (non-dairy)-cheesy at first, but it's true. Because the chocolate bar is purely plant-based, it protects all living beings – whether in fur or in feathers. In addition, its ingredients create a very low carbon footprint and the rainforest can continue breathing, since it uses neither soy nor palm oil. For this category it means: three stars! – yes!
Love isn't perfect, it has two sides and calls for compromises – and it's no different for our organic Veganz Strawberry Choc Bar. Although the vegan recipe and organic ingredients do a lot for the environment, unfortunately the fresh water usage is relatively high: Ingredients like cocoa paste, cocoa butter and almonds have a fairly high water footprint since they require quite a bit from the valuable liquid and the water supply infrastructure in growing areas is not yet sufficiently developed.
What can we do to help out our candy bar? That's a good question: The answer could be with assistance on site – for example in providing water treatment plants – or ingredients from a different country. No matter what solution it is – the know-how from today flows into the products of tomorrow.
Ingredients
Cane sugar*, almonds* (26%), cocoa butter*, inulin*, cocoa mass*, freeze-dried strawberry pieces* (3,5%), lemon powder*, emulsifier: sunflower lecithin*; natural
flavourings. Cocoa solids: 55% minimum in the couverture chocolate.
*certified organic
May contain traces of hazelnut and milk.
Nutrition information
Nutrition Information per

100

g
Energy
2142
kJ
516
kcal
Fat
35
g
– of which saturates
14
g
Carbohydrate
35
g
– of which sugars
34
g
Protein
7.2
g
Salt
20
mg
Some people love strawberries and cream, but we love our organic Veganz Strawberry Choc Bar. That's all we'll let into our bed. Or the bag. And, our sweetheart is so, so yummy: A delicate creme filling made from almonds that cavort with fruity & fresh strawberry pieces, covered in a delicious, dark chocolate coating made with 55% cocoa. Something else to love: The chocolate bar is completely natural and organic and made without any artificial additives, palm oil or soy. Sweet!
What you've always loved, you will love in the future. Which is why we've based the flavour of our organic Veganz Strawberry Choc Bar on that of the beloved Classic Chocolate Bar. That's right, the one that turned your head and made you run to the refrigerator constantly. Some people say our chocolate bar tastes just as good as conventional chocolate bars, if not better – which most likely has to do with the fact that its bigger, fluffier and vegan.
Packaging
We use these materials in this product.
Synthetic materials
0.7 g
That'd be nice. Unfortunately, we have to rely on polypropylene film, which makes sure that our candy bars are optimally protected, retain their aroma and shape and stay fresh for you.
As you can see, there are a few issues making plastic wrapping unavoidable and why it's difficult to find the best solution. But indeed, as a sustainable and vegan brand, we see it as our duty to look for the most environmentally friendly alternatives – because in reality, ingredients and packaging go hand in hand. We're not perfect, but we are always keeping our eyes and ears open.
Don't miss out!
Have you been searching for yet another newsletter to land regularly in your email box? No problem at all. Simply register for ours! Trust us: It will make your collection complete!
Available at
shop.veganz.com

Puroshop | CZ

Rohlik | CZ

Kaufland | SK

REWE | DE

kokku-online.de | DE

EDEKA | DE

Müller | DE

coop | CH

Spar | AT

Rossmann | DE

Budni | DE

real | DE

Jumbo | NL

Vegan Mission | NL

Albert Heijn | NL

Kaufland | DE

Amazon Fresh

Vekoop | DE

Vegasme | BE

Kaufland | CZ

tegut | DE

Amazon

Vegansupplies | IL

Netto | IS

Hagkaup | IS

MPREIS | IT