Veganz Organic White Coconut Flakes
80 g
Love holidays? Love white chocolate? How wonderful that you can now have both with the Veganz Organic White Coconut Flakes: Beautiful beaches where coconut flakes are roasted right in the Caribbean. Thanks to a white vanilla chocolate coating, you, too can discover how sweet the South Sea sun can taste. Oh yes, a delightful little getaway for the taste buds.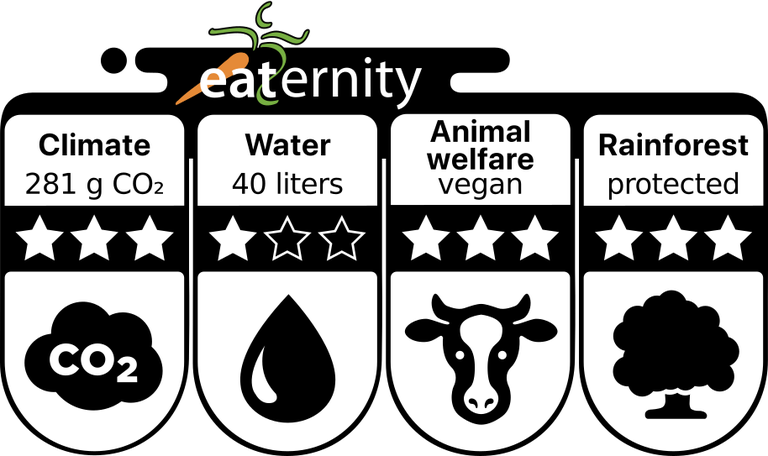 🛈
One bite of the Veganz Organic White Coconut Flakes and whoosh – you have a clear view of the wide-open expanse of the ocean. But there's something else you can see clearly on the crunchy candy bar besides the infinite blue, namely its eco-balance that we've cleverly printed right onto the package. As you can see from the image above, it's divided into 4 categories. This lets you see exactly just how sustainable our products are. In this way, we make it easy for you to choose a white chocolate that's not only delicious but also good for the environment.
Why are we doing this? Transparency and environmental protection are very important to us: You get all the facts and we have the opportunity to make our products more sustainable.
More than just a heavenly snack
Our White Coconut Flakes taste just like 5 Star Holiday in the Dominican Republic. The organic snack bar not only meets these criteria in terms of taste, its eco-balance is also across the board convincing: as a vegan product, the snack bar protects the animal world and therefore receives the highest mark in this category. Moreover, with a CO2 footprint of 281 grams, we can hardly complain, especially since it's below the average of other chocolates. The rainforest is also happy because we use neither soy nor palm oil as ingredients.
It's not only important to us that the Veganz Organic White Coconut Flakes tastes like white chocolate but that it's vegan and certified organic – having these features does a lot for the environment. However, there is still room for improvement in terms of water consumption. The cocoa butter especially has a relatively high water footprint since it needs so much of the precious liquid for its growth. In addition, the infrastructure of the water supply in the cultivation areas is not yet sufficiently developed.
So how do we get more summer, sun and sunshine? That's a good question: The answer could be to provide assistance directly at the location – e.g. through the provision of water treatment plants – or use ingredients from different regions. Whichever solution we choose – today's know-how flows into tomorrow's products.
Ingredients
Cocoa butter* (34%), raw cane sugar*, rice syrup powder* (17%) roasted tiger nuts*, coconut flakes* (8%), salt, vanilla extract*.
*certified organic
May contain traces of nuts, cereals containing gluten and milk.
Our high-quality organic cocoa comes from Latin America, or the Dominican Republic to be exact. Next to the organic certification, it also bears the UTZ seal. This means that the farmer and working conditions are monitored and child labour is forbidden on the plantations. Additionally, because of this seal, the rainforest is under special protection. In order to provide us with further security, our Veganz Code of Conduct also regulates social standards that are respected by our suppliers. 
Nutrition information
Nutrition Information per

100

g
Energy
2448
kJ
585
kcal
Fat
39
g
– of which saturates
25
g
Carbohydrate
57
g
– of which sugars
45
g
Protein
0.7
g
Salt
0.15
g
…but like white chocolate as well! Oh, don't worry – the chocolate coating on our the Veganz Organic White Coconut Flakes contains no milk! We let the cow be a cow and instead use a combination of cocoa butter and rice syrup powder. A touch of vanilla rounds the candy bar off to perfection. So, let's get packing, shall we?
How wonderful that our Veganz Organic White Coconut Flakes fills that criteria! What's as awesome as lying on the beach all day sipping coconuts? The fact that the ingredients of our white delicacy are certified organic. That ought to make the sun come up!
Packaging
We use these materials in this product.
Biogenic packaging materials
2 g
Paper/cardboard/carton
3.8 g
Or how about palm leaves? Yeah, that would be awesome. With the Veganz Organic White Coconut Flakes we decided on foil and paper. What's so special about that? The co-called Natureflex foil, that's what! Made from sustainable wood pulp, it can go into the compost and will decompose within 50 days. And if you don't have a compost, no worries! Just toss it into the residual waste bin!  
Our paper wrapper is nothing to sneeze at since it's FSC certified and printed with mineral oil-free ink! And although the packaging might seem a bit unconventional, it offers optimal protection so that the bar remains coco-tastic and wonderfully crunchy.   
We're pretty proud of it, but we also know there's a whole lot of room for improvement in the wide, wide world of packaging. And so, the search for environmentally friendly alternatives continues…
Don't miss out!
Have you been searching for yet another newsletter to land regularly in your email box? No problem at all. Simply register for ours! Trust us: It will make your collection complete!
Available at
shop.veganz.com

Puroshop | CZ

Rohlik | CZ

Kaufland | SK

REWE | DE

kokku-online.de | DE

Globus | DE

EDEKA | DE

Müller | DE

coop | CH

Spar | AT

real | DE

famila | DE

Kaufland | DE

Spar | SI

Combi | DE

Amazon Fresh

Vekoop | DE

Vegasme | BE

Kaufland | CZ

Carrefour | BH

Spar Gran Canaria | ES

Lidl | DE

The Vegan Kind | GB

OS World of Sweets | DE

Albert | CZ

Amazon

MPREIS | IT