Veganz Sausage Roll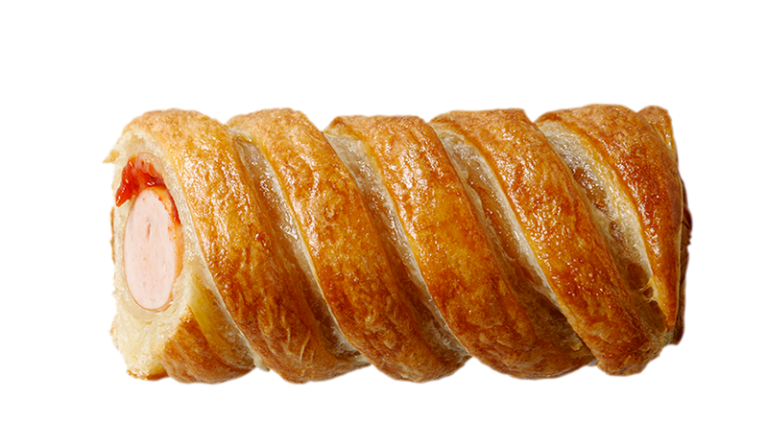 How about a tasty sausage in your roll just the way you used to enjoy it? No mess, vegan,
and with fruity ketchup — still your personal highlight! Simply take a bite without ever
noticing a difference. Crispy on the outside, juicy on the inside: perfect for on the go!
Ingredients
Vegan sausage-style pea protein product (38 %) (water, sunflower oil, pea protein, thickeners: carrageenan, konjac, methylcellulose; salt, rapeseed oil, flavouring, dextrose, spices, maltodextrin, smoke flavouring, spice extract, colourant: iron oxide and hydroxides), wheat flour (26 %), margarine (palm oil, water, rapeseed oil, coconut oil, emulsifier: mono- and diglycerides of fatty acids; acidifier: citric acid), water, ketchup (4,0 %) (tomato puree, sugar, vinegar, modified maize starch, modified potato starch, salt, spices, rapeseed oil, thickener: xanthan gum; natural flavour), yeast, salt, bean flour, sugar, pea protein isolate, dextrose, wheat protein, emulsifiers: mono- and diacetyl tartaric acid esters of mono- and diglycerides of fatty acids, wheat lecithins), pea protein, glucose-fructose syrup, rice flour, wheat enzyme, antioxidant: ascorbic acid; flour treatment agent: L-cysteine
May contain traces of celery, mustard, soya, nuts, sesame, egg and milk.
Nutrition information
Nutrition Information per

100

g
Energy
1147
kJ
275
kcal
Fat
17
g
– of which saturates
6.4
g
Carbohydrate
22
g
– of which sugars
2.9
g
Protein
8.1
g
Salt
1.3
g