Veganz Vegan Cold Cuts Natural
100 g
You used to get a mortadella roll right on the hand? Or put it on a slice of bread and see its happy little veggie face smiling up at you? Well, no matter how you slice them, with our Veganz Vegan Cold Cuts Original, you can drift back to your childhood – and completely plant-based at that! So, grab a piece of our vegan bologna and stay young at heart!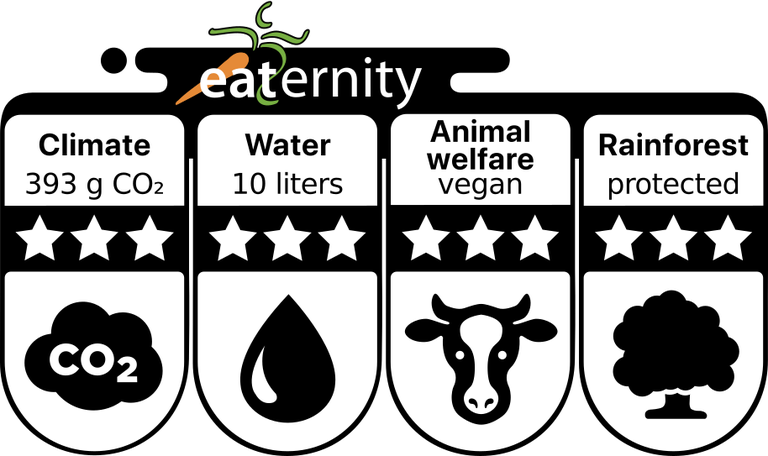 🛈
Once Upon a Time it was a Bologna Sandwich, now it's Visible Sustainability
When mummy made your favourite sandwich for the lunch break, topics such as sustainability, climate change, animal protection or the CO2 footprint of food were not yet on everyone's lips. Not today. These days, terms like this are no longer foreign words as more and more people are questioning how they can make their food more environmentally friendly. And we are helping them do so – with the Sustainability Score you'll find on the package of our Veganz Vegan Cold Cuts Original. As you can see from the image above, we've broken it down into four categories: CO2 emissions, water footprint, animal welfare and rain forest preservation. This way, you can see right away what the vegan bologna does for people, animals and the environment and you can roll up an extra slice with a good conscience!
Why are we doing this? Transparency and environmental protection are very important to us: You get all the facts and we have the chance to make our products more sustainable
Our Veganz Vegan Cold Cuts Original tastes just like your beloved childhood ham sausage, only this one is much more environmentally friendly than the original. That's because, as you can see by its Sustainability Score,our vegan sausage alternative gets full marks in all four categories, and that's three stars.
This positive result comes about as follows: As you are aware, conventional bologna doesn't just fall from the sky but is made with animals. Even vegetarian ham sausage often has eggs in the recipe, which is everything BUT animal friendly! It's different with our Veganz Vegan Cold Cuts Original. Not a living being can argue with that since our product is purely plant-based. Thanks to this formula, we don't hurt a hair or feather on a living soul and less CO2 emissions are released into the atmosphere. Water footprint? We got this! With our vegan bologna, you won't find a single ingredient that consumes a lot of water during their cultivation or production. This means that the product makes a sustainable contribution to reducing the global water footprint. Our green rainforest can also continue breathing a sigh of relief, as the soy protein isolate it contains comes from China. Ergo: No rainforest has to give way for soy cultivation, which means we can guarantee optimal protection against deforestation and thus support the preservation of our green forest areas.
Ingredients
Water, rapeseed oil, protein isolates (11 %) (soya (73 %), pea (27 %)), thickeners: carrageenan, konjac, guar gum, locust bean gum; modified starch, spice extracts, colouring: concentrated beetroot juice, concentrated currant juice; salt, antioxidant: ascorbic acid; sugar, flavouring, spices, onion spice extract.
More than half of the ingredients come from Europe: Germany, Switzerland, Italian or Belgium. We obtain the basic ingredients of our vegan bologna, i.e. soy and pea protein isolate, from China. For the spicy flavour, we've imported one or two spices from India – after all, it isn't called the Land of Spices for nothing.
Nutrition information
Nutrition Information per

100

g
Energy
652
kJ
157
kcal
Fat
12
g
– of which saturates
0.9
g
Carbohydrate
4.8
g
– of which sugars
3
g
Protein
7.4
g
Salt
1.9
g
You'd like to enjoy a sandwich with your favourite cold cuts from the good old days, but think that pigs and chickens far too cute? Then our Veganz Vegan Cold Cuts Original are just the food for you! Oh, you're also gluten-free? No problem! Our vegan bologna is made from soy and peas.
Recreate Your Favourite Childhood Sandwich!
Revel all you want in your childhood memories with our Veganz Vegan Cold Cuts Original. Now it's possible to easily recreate your favourite sandwiches from the good old school days with our vegan bologna: Try a vegan sandwich made with two pieces of crunchy toast, tomatoes, lettuce and a dab of our Veganz Sandwich Spread Classic. Prefer to go Back-to-Basics? No Problem! Our meatless cold cuts also taste great with vegan bread and our mild Gourmet Slices.
Packaging
We use these materials in this product.
Synthetic materials
2.9 g
Paper/cardboard/carton
9.6 g
Unpacked, rolled up and in the hand – that's exactly how we'd like to serve you our Veganz Vegan Cold Cuts Original, just like the lady behind the meat counter way back when. After all, that would be the most sustainable packaging ever and we could personally deliver your very own culinary flashback. You probably realise, however, that this would take quite a bit of effort. But hey, don't despair! We've got good news: Our vegan bologna wrapper is sustainable! The packaging is made from 75 % paper, is recyclable and the paper is printed with mineral oil free inks!
We're pretty proud of our packaging, but at the same time know that in the wide, wide world of packaging, there's a lot of room for improvement. Which is why the search for environmentally friendly alternatives continues!
Available at
shop.veganz.com

Puroshop | CZ

Rohlik | CZ

Lidl | CH

REWE | DE

AEZ / HIT | DE

kokku-online.de | DE

EDEKA | DE

coop | CH

Spar | AT

Spar | SI

Amazon Fresh

Vekoop | DE

Lidl | DE

Netto | IS

Hagkaup | IS
Don't miss out!
Have you been searching for yet another newsletter to land regularly in your email box? No problem at all. Simply register for ours! Trust us: It will make your collection complete!