Colourful and strong as a bear: In this little bag yo­­­­­u'll discover vegan gummy bears in five fun and fruity flavours. Whether strawberry, orange, black currant, apple or lemon – our Veganz Gummy Bears will leave you begging for more! Which one do you reckon will be your favourite bear?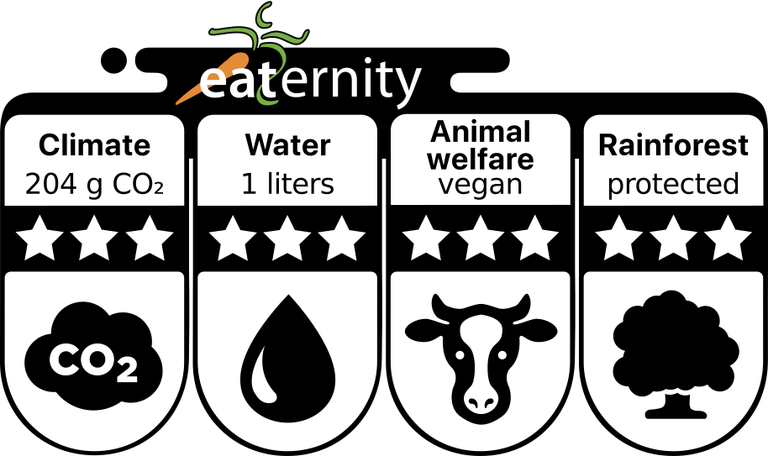 🛈
What do Vegan Gummy Bears and S­ustainability have in common?
Our Veganz Gummy Bears have a whole lot to do with sustainability! The Sustainability Score to be exact – their eco-balance that we've printed right on the bag. As you can see from the image above, we've broken the score down into four categories: CO2 emissions, water footprint, animal welfare and rain forest preservation. Through the four categories, you can swiftly and easily see just how environmentally friendly our vegan gummy bears are. In this way, we make it super easy to choose a snack that's not only gummy-yummy, but good for the environment as well.
Why are we doing this? Transparency and environmental protection are very close to our hearts: You get all the facts and we get the chance to make our products more sustainable.
Our Veganz Gummy Bears are not only strong as a bear in taste, but good for the environment and animal welfare as well. And, as you can see from their Sustainability Score, the vegan gummy bears get full marks in all four categories, which means three stars each.
Here's how the fruit gums get their result: Our gummy bears contain no animal products. And that is something really special! Fun fact: Most chewy candies contain either animal gelatine or beeswax – but for us, these ingredients are out of question.
And there's nothing to complain about when it comes to their CO2 footprint, since the contents have a good climate balance. That's because the bulk of the raw materials come from Germany or Austria. In addition, only small amounts of CO2 emissions are released from the packaging during production or manufacture.
Water footprint? We got this! All the ingredients are very well balanced. Green light for our beautiful rainforest, too, since the recipe is palm oil and soy free. Accordingly, we guarantee optimal protection against deforestation and thus support the preservation of green forest areas.
Ingredients
Glucose syrup, beet sugar, gelling agent: pectins; acid: citric acid; acidity regulators: sodium tartrates, potassium tartrates; natural flavourings, natural lemon flavouring, natural orange flavouring with other natural flavourings, colouring foods: concentrated elderberry juice, turmeric extract, spirulina extract; glazing agent: carnauba wax.
Nutrition information
Nutrition Information per

100

g
Energy
1381
kJ
325
kcal
Fat
<
0.5
g
– of which saturates
0.1
g
Carbohydrate
79
g
– of which sugars
59
g
Protein
<
0.5
g
Salt
0.22
g
Packaging
We use these materials in this product.
Available at
shop.veganz.com

Puroshop | CZ

Rohlik | CZ

REWE | DE

kokku-online.de | DE

Globus | DE

EDEKA | DE

Müller | DE

coop | CH

Spar | AT

real | DE

famila | DE

Spar | SI

Combi | DE

Vekoop | DE

Vegasme | BE

Carrefour | BH

Lidl | DE

Amazon

MPREIS | IT