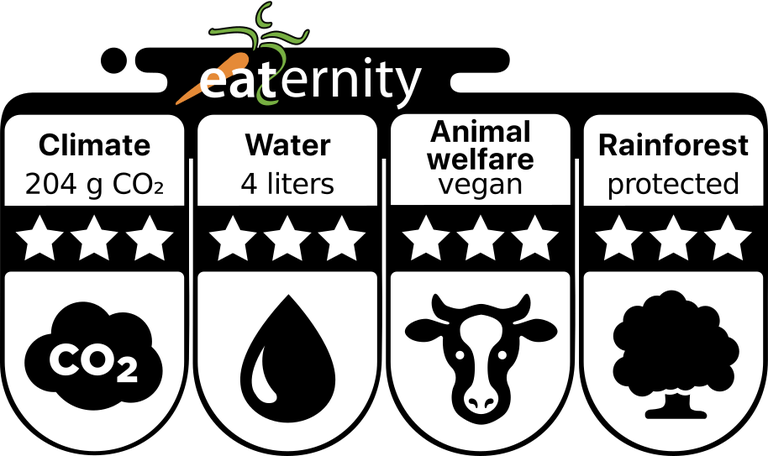 🛈
A Sustainability Score to Fall in Love With
With our irresistible Veganz Fruity Peaches you can keep wearing the rose-coloured glasses! Maybe you will recognise the Sustainability Score on your all-time favourite fruit gums – the one we've printed right on the bag. Sustainability Score? Huh? Simple! As you can see from the image above, we've broken it down into four categories: CO2 emissions, water footprint, animal welfare and rainforest preservation. Thanks to these divisions, it's child play when trying to figure out how sustainable our little hearts are, and you can easily choose a snack at the supermarket that is not only delicious but also environmentally friendly.
Why are we doing this? Transparency and environmental protection are close to our hearts: You get all the facts and we have the chance to make our products more sustainable.
There's a whole lotta love in a bag of our Veganz Fruity Peaches: Love for you, love for animals and love for the environment. As you can see from the Sustainability Score, our fruit gummies get best marks in all four categories.  
How does it get so many crushes at once? Since we have a heart for all living beings, we don't put any animal products in our fruit gummies – neither gelatine nor beeswax.
What about CO2? Sensational! After all, the ingredients have a good carbon footprint since all of them come mainly from France or Germany. In addition, only small amounts of CO2 emissions are released from the packaging during production or manufacture. Water footprint? Not an issue! All the ingredients have a very good balance. Even the rainforest can breathe a sigh of relief as no palm oil or soy is used in the recipe.
This way, we guarantee optimal protection against deforestation and therefore support the preservation of green forest areas.
Ingredients
Glucose syrup, beet sugar, modified starch, gelling agent: carrageenan; acid: citric acid; acidity regulator: sodium citrates; natural flavouring, colouring vegetable and fruit concentrates (carrot, blackcurrant), colour: paprika extract; glazing agent: carnauba wax.
May contain traces of wheat.
Nutrition information
Nutrition Information per

100

g
Energy
1440
kJ
339
kcal
Fat
<
0.5
g
– of which saturates
<
0.1
g
Carbohydrate
84
g
– of which sugars
72
g
Protein
<
0.5
g
Salt
0.59
g
Packaging
We use these materials in this product.
Available at
shop.veganz.com

Puroshop | CZ

Rohlik | CZ

REWE | DE

kokku-online.de | DE

Globus | DE

Müller | DE

coop | CH

Spar | AT

Budni | DE

real | DE

famila | DE

Spar | SI

Combi | DE

Vekoop | DE

Vegasme | BE

tegut | DE

Amazon

Carrefour | BH

Spar Gran Canaria | ES

The Vegan Kind | GB

EDEKA | DE

Netto | IS

Hagkaup | IS

Foodland | AU

IGA | AU

Drakes | AU

Tony & Mark's | AU

Vegan Perfection | AU

Vegan Grocery Store | AU

Woolworths | AU

MPREIS | IT
Don't miss out!
Have you been searching for yet another newsletter to land regularly in your email box? No problem at all. Simply register for ours! Trust us: It will make your collection complete!