Organic Veganz White Roasted Almond
80 g
Nut, nut, knockin' on heaven's door: With the Organic Veganz White Roasted Almond, you'll drift right up to heaven. Allow yourself to float on a delicate, melt-in-your-mouth cocoa butter-almond cloud and let the added roasted almonds lead you to the gates of heaven. Combined with a subtle touch of vanilla, our vegan white chocolate will ignite all your senses.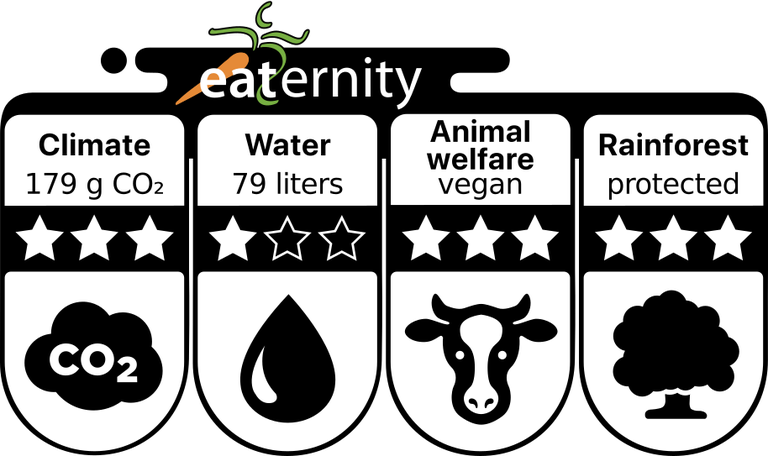 🛈
With our Organic Veganz White Roasted Almond, nothing can stand in the way of your celestial pleasure cruise. However, taste isn't everything! Our vegan white chocolate can also show you what it's doing to protect the earth – with the Sustainability Score, printed conveniently right on the package! The score tells you what the CO2 footprint and water consumption are and whether animals and the rainforest have been protected. Origin of raw materials, production, packaging, transportation -– everything has been calculated and compared to 110,000 other foods. The results of this comparison are given in stars. From two stars upwards, the product is already more sustainable than the average of comparable products.
Why are we doing this? Transparency and environmental protection are very close to our hearts: You get all of the facts, while at the same time we have the chance to make our products more sustainable.
The taste of white chocolate, roasted almonds and a delicate touch of vanilla – can the White Roasted Almond become even more divine? Oh yes, it can! Its organic, plant-based ingredients not only make it celestially delicious, but they also bless the bar with a sustainable eco-balance. Because in the categories of climate, animal welfare and rainforest, the almond chocolate shines with the top marks – 3 stars. How did it achieve these results? Read below to find out:
Climate
With a CO2 footprint of 179 g per package (80 g) there's really nothing to complain about with our White Roasted Almond! Whereas white chocolate made with cow's milk looks quite a bit different. Its emission value is 328 g CO2 – that's almost double!
Why is conventional chocolate more detrimental to the environment? There are a few reasons for that: Direct greenhouse gas emissions from factory farming are caused by methane and nitrous oxide. Methanes are endogenous greenhouse gases produced by dairy cows themselves – and with 4.3 million dairy cows in Germany, that's quite a lot. Nitrous oxide is released primarily when fertilising with liquid manure. Indirect emissions are caused by the fact that more and more land is needed for grazing and feed cultivation. For this purpose, forests and grasslands have to give way or wetlands need to be drained. This is neither beneficial for us nor the environment, since forests absorb carbon from the atmosphere. It is also not uncommon for the food to have to be imported. This further worsens the ecological balance of chocolate.
Animal Welfare
Our White Roasted Almond is made with cocoa butter and almonds – making it incredibly animal-loving (there's no better way to make it that way). On the other hand, with conventional white chocolate, instead of almonds, milk derivatives are used.
Why is vegan chocolate the more animal-friendly alternative? Dairy cows are artificially inseminated on a continuous basis and separated from their calves after birth while humans process the (mother's) milk into food. In addition, dairy cows spend their whole life in a shelter that is not species appropriate. These strains leave marks and damage the animals. As a comparison: A cow in the wild can live to be 30 years old, while a dairy cow has a life expectancy of just 5 years. That's not fair! So, you're better off going for our vegan organic chocolate, don't you think?
Rainforest
The recipe of our white almond chocolate is soy-free and without palm oil. Thus, we guarantee an optimal protection against deforestation and therefore support the preservation of green forest areas.
Why is the rainforest so important? It's the green lung of our earth and has a huge influence on our climate. Plants, bushes and trees take the CO2 from the air and use the carbon contained therein to grow. This produces oxygen. And who needs that to survive? You got it… we humans do!
If we destroy our rainforests, large amounts of CO2 are released – which promotes the greenhouse effect and contributes to global warming. Rainforest protection means climate protection! Therefore, it is paramount for all of us that tropical rainforests are preserved.
While we don't have to worry about the climate, animal welfare and rainforest protection with the Organic Veganz White Roasted Almond, the water consumption is unfortunately different – there is still room for improvement. Why is that? This is due to the cocoa butter and almonds it contains: They need so much precious wetness for their growth and the water supply infrastructure in the growing areas is not yet sufficiently developed.
But how can we improve the water balance of our vegan white chocolate? On the one hand, we could source our ingredients from other countries, but on the other, we could help directly on site – however, that sounds easier than it actually is and unfortunately does not always work overnight.
However, we are tireless, full of energy and always open to change. Because at the end of the day, we only want one thing: to develop the best products for you and our environment.
Ingredients
Cane sugar*, cocoa butter* (28%), inulin*, ground roasted almonds* (11%), roasted  almond pieces* (10%), sea salt, ground vanilla*.
*from organic agriculture
May contain traces of hazelnut and milk.
Nutrition information
Nutrition Information per

100

g
Energy
2300
kJ
556
kcal
Fat
40
g
– of which saturates
18
g
Carbohydrate
35
g
– of which sugars
35
g
Protein
5
g
Salt
0.25
g
Celestial Pleasure through Conching
With the White Roasted Almond we rely mainly on three things – high-quality organic ingredients, no artificial additives and a careful production process. The composition of cane sugar, cocoa butter, ground almonds and vanilla form the basis of the vegan white chocolate. For a crunchy surprise, we have also magically added roasted, chopped almonds to the bar. Once all the ingredients are combined, they are conched for up to 40 hours. During conching, the temperature is raised gradually and gently to extract moisture from the mass. In addition, cocoa butter and cane sugar should be mixed together for a prolonged period. This unfolds the most heavenly aromas, and the texture becomes particularly delicate, smooth and melt-in-your-mouth.
Packaging
We use these materials in this product.
Synthetic materials
1.1 g
Paper/cardboard/carton
3.9 g
For the packaging of our White Roasted Almond, we really moved heaven and earth so we could make it particularly sustainable. In our mind, we had our vegan white chocolate already wrapped in a Natureflex foil made from wood fibres, but it bothered the chopped almonds. Almonds are extremely sensitive ingredients and unfortunately lose their freshness and crispness in combination with the natural foil. Such a shame, because it worked just fine with our other chocolates!
After a much back and forth, and with a heavy heart, we had to decide on a plastic foil – because this was the only way we could solve the almond problem.
But we still have an ace up our sleeve: Our paper wrapper! It is FSC certified and printed with mineral oil free colours. Paper wrapper and inner foil are an unbeatable team when it comes to product protection. Thanks to this combination, the chocolate mass remains celestially delicious, the almonds nice and crunchy and external influences don't stand a chance!
As you can see, there are a few issues that make it hard to avoid plastic packaging and why it's difficult to find the best solution. But yes, as a vegan and sustainable brand, we see it as our duty to look for more environmentally friendly alternatives – after all, ingredients and packaging go hand-in-hand. We may not be perfect, but we continually keep our eyes and ears open.
Available at
shop.veganz.com

Puroshop | CZ

Rohlik | CZ

Lidl | CH

Kaufland | SK

REWE | DE

kokku-online.de | DE

Globus | DE

EDEKA | DE

Markant | DE

Müller | DE

dm | AT

coop | CH

Spar | AT

Rossmann | DE

Budni | DE

real | DE

Jumbo | NL

Vegan Mission | NL

Albert Heijn | NL

famila | DE

Kaufland | DE

Spar | SI

Combi | DE

Amazon Fresh

Vekoop | DE

coop | DK

Vegasme | BE

Kaufland | CZ

tegut | DE

Amazon

The Vegan Kind | GB

dm | CZ

OS World of Sweets | DE

Netto | IS

Hagkaup | IS

Albert | CZ

MPREIS | IT
More Sweets from Veganz
Can't get enough of vegan sweets? Excellent! Because you have come to the right place. Look on the bright side of your chocolate-life with our tablets and bars, try our fibre-rich hemp bars, or go for a bag of gummy bears for a change. Trust us – there's something here for everyone!
Don't miss out!
Have you been searching for yet another newsletter to land regularly in your email box? No problem at all. Simply register for ours! Trust us: It will make your collection complete!