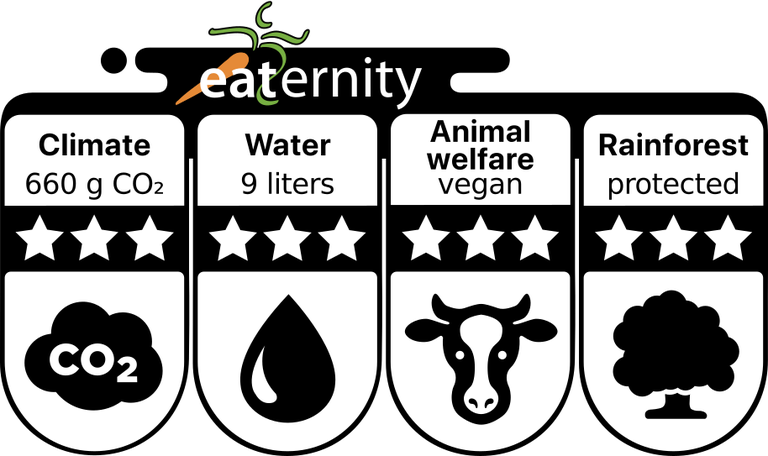 🛈
LET'S PUT THE FACTS ON THE TABLE
We've teamed up with the Swiss institute Eaternity to show how sustainable our products are. The institute takes a close look at each product and compares it with 100k other foods in four different categories. First of all, they check how climate-friendly the product is – i.e. how much CO2 is created to make it. Our Swiss friends also take a close look at how much water is used in production – and how it fares in terms of animal welfare and rainforest protection.
Average? Not our Seitan Powder! That's because it takes first place in every one of the Eaternity scores. Three out of three stars for its carbon footprint (thanks to wheat grown in Europe), for its low water consumption, for rainforest protection, and for 100% animal welfare. If that's not a reason to celebrate, we don't know what is!
Ingredients
Wheat gluten.
May also contain traces of celery, soy, egg, milk and sulfite.
Nutrition information
Nutrition Information per

100

g
Energy
1685
kJ
399
kcal
Fat
5.8
g
– of which saturates
1.2
g
Carbohydrate
4.7
g
– of which sugars
2.2
g
Protein
80
g
Salt
0.13
g
HOW TO MAKE WHATEVER YOU FANCY OUT OF SEITAN POWDER: Cooking with Seitan Powder is a bit like doing magic: simply mix 100 g of seitan with 110 ml of liquid and shape it into whatever you want to cook. A festive seitan roast? A vegan steak? An edible Statue of Liberty? Just let your creativity run wild. Once your creation is ready, all you need to do is cook it for 20 minutes and then prepare it however you like.
VEGAN AND PROTEIN DEFICIENT? YEAH, WHATEVER! There's no reason to lack protein on a vegan diet. Nice try, though! After all, our Seitan Powder contains a whopping 80% plant protein. The next time somebody tries to pull the protein card on you, simply create and fry them a good old 'ha ha ha' out of our protein-rich seitan.
NOT FAR TO TRAVEL: It's certainly from a good neighborhood! The wheat that we use for the Veganz Seitan Powder is grown right here in Europe – and that's the only ingredient in the packet. That makes Seitan Powder particularly sustainable. Oh, and the wheat it's made from isn't genetically modified either. What more could you want?!
Packaging
We use these materials in this product.
Synthetic materials
6.1 g
At Veganz, sustainability doesn't stop at the ingredients – we also try to make our product packaging as sustainable as possible. And we've managed it for our Seitan Powder as well! The bag may look like plastic, but it's actually a foil made from sugar cane, starch, plant oils, and cellulose. In other words: it's 100% compostable, too! Another thing we totally avoid is mineral oil, so we use water-based colours for printing.
Available at
shop.veganz.com

Puroshop | CZ

Rohlik | CZ

Kaufland | SK

REWE | DE

kokku-online.de | DE

Globus | DE

EDEKA | DE

Müller | DE

dm | AT

Budni | DE

Kaufland | DE

Vekoop | DE

Kaufland | CZ

tegut | DE

Spar Gran Canaria | ES

Amazon

MPREIS | IT