Vegan Crusted Roast made with Veganz Seitan PowderWith Veganz Seitan Powder
Is it even possible for a crusted roast to be vegan? Of course! Even vegans can still enjoy hearty, 'meaty' meals! This 100% plant-based roast is made from our Veganz Seitan Powder. By the way: you'll also find this recipe on the back of our product packaging!
Please note: this article has been written in cooperation with the vegan chef behind 'Hier kocht Alex'.
Good to know about Seitan
Did you know? Seitan is pure wheat gluten and definitely not some newfangled product on the market. Its origins can be traced back to the 1960s. Once you've worked out the right blend of liquid, seitan, and seasoning, you can look forward to the perfect reward: a truly authentic result that not only resembles meat but also tastes really similar to it. Nice to know: Our Seitan Powder contains a whopping 80 g of protein per 100 g. That's not bad at all.
Super easy: how to make a vegan crusted roast
The one thing you really need to achieve the amazingly crispy crust full of delicious roasted flavour is this: the patience to roast it. 55 minutes of roasting – made up of 40 minutes in the braising pan and another 15 minutes in the oven. But we promise it'll be worth it. In the end, you'll be rewarded with a tender yet spicy roast that you're guaranteed to love! Use the time it takes to roast to make the sides. For tips, take a look at the following section.
The perfect side for your vegan seitan roast
The most popular traditional thing to have with a pot roast is, of course, gravy and you can use the braising stock directly as the base. Other excellent sides for your crusty roast are potatoes – made however you most enjoy eating them. Maybe baked, boiled, or roasted with rosemary? Or how about a delicious potato bake?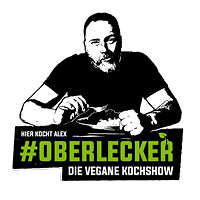 250

g

Veganz Seitan Powder

1

tsp

salt

1

tsp

black pepper

2

tsp

paprika powder

½

tsp

allspice

130

ml

red wine

200

ml

water

110

ml

olive oil

2

red onions

3

garlic gloves

3

springs

rosemary

3

tbsp

mustard

400

ml

vegetable stock for roasting
Portions
Combine the Veganz Seitan Powder with the salt, pepper, paprika powder, and allspice.

In a separate bowl, combine the red wine with the water, and 40 ml of olive oil, before quickly stirring them into the dry ingredients. Shape the mixture into an oval roast and leave it to rest for 10 minutes.

Brush the roast with mustard, place it in the braising pan with the remaining olive oil and roast it from all sides.

Cut the onion into quarters and the garlic into strips, and add them to the roast together with the rosemary sprigs.

Finally, pour the vegetable stock into the pan, put the lid on, and simmer for about 40 minutes at medium heat.

Remove the lid and place the roast in the oven (preheated to 200 °C top and bottom heat) for approx. 15 minutes until crispy.

From time to time, pour a little stock over the roast to prevent it from drying out.

Serve with your choice of sides and enjoy – bon appetit!
Copyright: Hier kocht Alex
Don't miss out!
Have you been searching for yet another newsletter to land regularly in your email box? No problem at all. Simply register for ours! Trust us: It will make your collection complete!