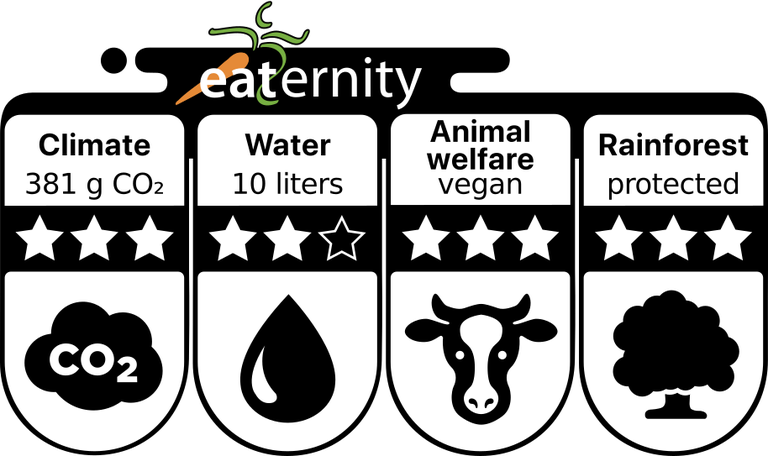 🛈
For the Ecos Out There: We Now Have A Sustainability Score!
Young or old, big or small, part-time veggie or climate protector – our Veganz Vegan Cold Cuts Bell Pepper are for everyone's taste! And do you know how we make those people who are not only vegan but also environmentally conscious shoppers especially happy? On our Veganz Vegan Cold Cuts, we print a Sustainability Score right on the package! The score is broken down into four categories: CO2 emissions, water footprint, animal welfare and rainforest preservation. That way, you can see at the supermarket right off the bat what the vegan cold cuts can do for humans, animals and the environment while giving you a good feeling when you put another packet into your shopping cart. Why are we telling you the ecological balance of our products? Transparency and environmental protection are very close to our hearts: You get all the fact and we have the chance to make our products more sustainable.
Good news for animal rights advocates, climate activists and those who want to protect our rainforest with their actions: You can officially fill up on our Veganz Vegan Cold Cuts Bell Pepper! After all, our vegan cold cuts get the best marks in three categories, which means three stars.
How do we get such positive results? Well, as you can imagine, conventional bologna doesn't just fall from the sky since it's actually made with animals. Even vegetarian sausages often have eggs in the recipe. Not with our bell pepper vegan cold cuts! There's nothing to complain about since they're purely plant based. Thanks to this recipe, we don't bend a single hair or feather of any living soul, and less CO2 emissions are released into the atmosphere. Even our green rainforest can continue to breathe since the soy protein isolate comes from either Belgium or China. That means no rainforest has to give way for soybean cultivation. Accordingly, we guarantee optimal protection against deforestation and thus support the preservation of green forest areas.
Don't worry, dear water savers. You don't have to do without washing your clothes for two days in order to enjoy one or two slices of our Veganz Vegan Cold Cuts Bell Pepper. Finally, the two stars in water consumption mean that you are well within the target of a water-saving diet and that by buying our vegan cold cuts you are contributing to a reduction of the global water footprint.
Nevertheless, we would like to explain how we arrive at this result: Soy and pea proteins are the two ingredients that dominate the water footprint. Because pea protein and soy protein are concentrated products (several kilograms of peas are needed for 1 kilogram of protein), their origin is all the more important.
So, what can we do? Soy and peas come from China. There are several countries where the cultivation of these raw materials would be even more water-efficient: for example, various European countries, Canada, Argentina, Paraguay or Vietnam. If we bought soy and peas from one of these countries, we would get 3 stars for water consumption. But unfortunately, changing the supplier country doesn't always work overnight. Therefore, we all have to be a little patient. However, we are tireless, full of energy and always open to change. Because in the end, we only want one thing: to develop the best products for our environment.
Ingredients
Water, bell pepper (17 %), protein isolates (11 %) (soya (73 %), pea (27 %)), rapeseed oil, thickeners: carrageenan, konjac, guar gum, locust bean gum; modified starch, spice extracts, colouring: concentrated beetroot juice, concentrated currant juice; salt, antioxidant: ascorbic acid; sugar, flavouring, spices, onion spice extract.
More than half of the raw materials come from either Germany, Switzerland, Italy or Belgium. The main ingredients of our vegan cold cuts, soy and pea protein, come from China or Belgium. And for a proper bologna you need the finest bell pepper, which we get from either Germany or Spain. For the spicy aroma, we've imported one or two spices from India – it' s not called the Land of Spices for nothing.
Nutrition information
Nutrition Information per

100

g
Energy
594
kJ
143
kcal
Fat
11
g
– of which saturates
0.8
g
Carbohydrate
4.9
g
– of which sugars
3.1
g
Protein
6.5
g
Salt
1.9
g
Attention Gluten-Free Fans!
Whether gluten-free grain bread, gluten-free rolls or whatever you want to eat our Veganz Vegan Cold Cuts Paprika with – do it! Ultimately, our vegan cold cuts are perfectly suited for a gluten-free diet, since the slices are made with soy and peas.
Packaging
We use these materials in this product.
Synthetic materials
2.9 g
Paper/cardboard/carton
9.6 g
Sadly, we can't actually offer our vegan cold cuts without a wrapper. But hey, for the packaging of our Veganz Vegan Cold Cuts Bell Pepper, we still came up with something good for Mother Nature. We love eco: The package consists of 75% paper and is recyclable. In addition, the paper is printed with mineral oil-free inks.
We're just a little proud of our package. We also know that there's a lot of room for improvement in the wide, wide world of packaging. Which is why the search for environmentally friendly packaging continues!
Available at
shop.veganz.com

Puroshop | CZ

Rohlik | CZ

Lidl | CH

AEZ / HIT | DE

REWE | DE

kokku-online.de | DE

EDEKA | DE

Spar | AT

Spar | SI

Vekoop | DE

Netto | IS

Hagkaup | IS

MPREIS | IT
Don't miss out!
Have you been searching for yet another newsletter to land regularly in your email box? No problem at all. Simply register for ours! Trust us: It will make your collection complete!