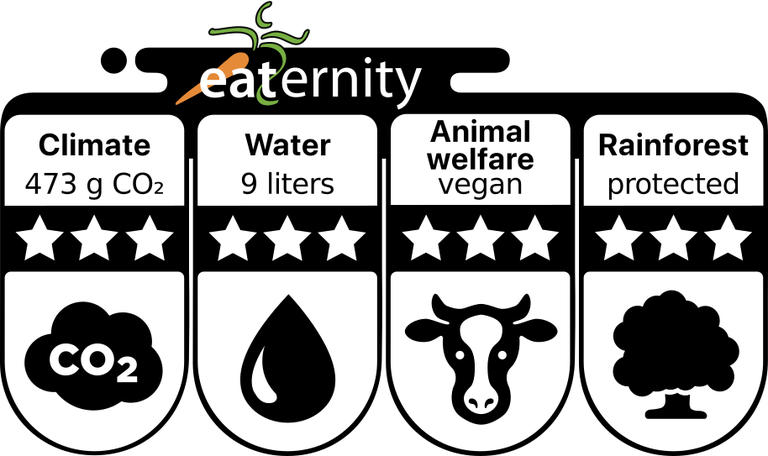 🛈
We've Decorated our Gourmet Piece

with a Sustainability Score
To us cheesy delight is not only expressed by just a vegan recipe, the authentic taste or an environmentally friendly packaging. We even take it a step further by making the sustainability of the Veganz Gourmet Piece visible. Our Sustainability Score shows you its CO2 footprint, water use and protection of animals and rainforest. Origin of raw materials, production, packaging, transport – everything has been calculated and compared with 110,000 other foods. The result is shown in stars. From two stars on, the product is already considered sustainable.
Why are we doing this? Transparency and environmental protection are very close to our hearts: you get all the facts and at the same time we have the chance to make our products more sustainable.
An unwritten cheese law states: "Cheese makes you happy!" Nothing against that – As long as its vegan! After all, animal cheese often means anything but happiness – at least as far as the cow, calf and our planet are concerned. However, with the Veganz Gourmet Piece it's different. Because, as you can see from the Sustainability Score, our alternative to block of cheese scores three stars in all four categories. We'd be happy to explain why this is so:
Climate
With a CO2 footprint of 473 g per package (200 g) the Veganz Gourmet Piece shows what climate protection can look like. By contrast, its "animal" counterpart has an emissions value of 1,942 g CO2 for the same grammage – that's four times as much! Why is that? Because CO2 is "produced via detours", which means, before cheese and curd etc. are even made, the cows must first be properly fed and like this, their food doesn't migrate directly to us humans but is processed into animal feed – and that's a real CO2 machine! In addition, cows produce endogenous greenhouse gases on a continuous basis, which unfortunately damage the climate.
Water
Water usage? We got this! You won't find any ingredients in our lactose free cheese that consume a lot of water in their cultivation or production. Thus, the Veganz Gourmet Piece contributes to the reduction of the global water footprint in a sustainable way.
Animal Welfare
Traditional Gouda is made from cow's milk. That doesn't mean anything very nice for the cows: the separation from their calves (for whom the milk is actually meant) and life inside dwelling unfit for them. Yet, with the Veganz Gourmet Piece, we literally leave the cow alone, using very few vegan ingredients with water and coconut oil as a basis.
Rainforest
Neither soy nor palm oil, or any other ingredients that could harm the rainforest, find their way into our vegan cheese recipe. This way, we ensure optimal protection against deforestation and therefore support the preservation of green forest areas.
Ingredients
Water, refined coconut oil (24 %), modified potato starch, tapioca starch, sea salt, flavorings, colour: beta-carotene.
Nutrition information
Nutrition Information per

100

g
Energy
1155
kJ
279
kcal
Fat
24
g
– of which saturates
21
g
Carbohydrate
16
g
Salt
2.1
g
Hungry for Happiness? Look no Further!
Delicately buttery and mildly aromatic in taste, wonderfully soft in texture, without gluten, soy or palm oil – thanks to our Gouda alternative, nothing really stands in the way of your personal cheese delight. In practical block format, the Veganz Gourmet Piece is also versatile, so there are no limits to your creativity!
Tops just about everything off: Whether grated on pizza and pasta or cut into strips for your salad 
Melting away: For vegan raclette or sprucing up your favourite hot dish  
It's in your hands: For snacking, or classically with grapes on skewers  
Just cut yourself off a piece on or between some bread 
When developing our products, we try as best we can to use as few and as natural organic ingredients as possible. Unfortunately, however, the technological state of the art is not yet sufficiently advanced, for vegan cheese or meat alternatives in particular, to be able to dispense with additives completely. After all, the primary aim here is to create an authentic taste in order to encourage even die-hard omnivores to switch to vegan substitute products. We're happy to explain how the list of ingredients for our Veganz Gourmet Piece is created and what technological implications lie behind it:
Modified potato and tapioca starch: These additives hold all the ingredients together and are therefore responsible for the creamy, soft consistency. 
Aromas: To make sure that a vegan Gouda comes close to its original taste, we take a few flavours from our bag of tricks. These make the Veganz Gourmet Piece beautifully buttery and at the same time mildly aromatic. 
Beta-Carotin: The plant-based alternative to hard cheese gets its authentic colour from the dye beta-carotene, which occurs naturally in fruit and vegetables (e.g. carrots).
Packaging
We use these materials in this product.
Biogenic packaging materials
4 g
Paper/cardboard/carton
1 g
Did you know that you can make film from cellulose and starch? Both are renewable and can be composted. When the foil lands in your compost, it takes 90 days to decay. And ta-daaaa – that's how we've covered the Veganz Gourmet Piece with this sustainable packaging. In addition, the packaging is equipped with an FSC certified sticker and mineral oil free ink.
We're pretty proud of our packaging, although we're well aware that there's room for improvement in the wide world of packaging. Which is why the search for a more environmentally friendly packaging continues.
Available at
shop.veganz.com

Puroshop | CZ

Rohlik | CZ

Lidl | CH

AEZ / HIT | DE

REWE | DE

kokku-online.de | DE

EDEKA | DE

Spar | AT

Kaufland | DE

Amazon Fresh

Vekoop | DE

Lidl | DE

Netto | IS

Hagkaup | IS

MPREIS | IT
More Classic Cheese Alternatives from Veganz
"I could never, ever give up cheese!" And you don't have to – at least not taste-wise – since we have some fantastically authentic cheese alternatives up our sleeve: whether sliced, grated or in a block in three exciting varieties. Well, which one will you try first?