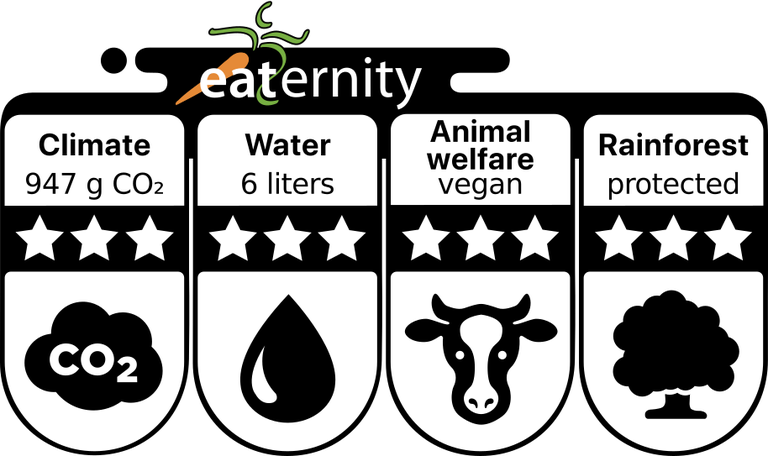 🛈
TRANSPARENCY?

ABSOLUTELY!
Another trick that'll help you make your life a bit more sustainable: our Eaternity score. We've teamed up with the Swiss institute Eaternity to make the sustainability score that our products manage to achieve as visible as possible. One of the products that the institute has taken a close look at – along with 100k others – is this Soy Mince. Each time they check out a product, they focus on how much CO2 it causes and how much water is needed during production and transport. Other factors the Swiss institute takes into consideration are how products fare in terms of animal welfare and the protection of the rainforest.
Would you have even dreamt of it? Your new favorite mince managed to get top marks in every area! The 3 stars in the categories climate, water, animal welfare, and rainforest protection mean that the Soy Mince is significantly more sustainable in those areas than comparable products. The 500 g packet causes just 1207 g of CO2 emissions and uses 7 liters of water. Take a look at this comparison: the same amount of minced beef requires a whopping 8000 (!) liters of water, while also creating just shy of 5 kilos of CO2. Grown on the Danube in Serbia, there's no way it can negatively impact the rainforest; and since the vegan mince is 100 % plant-based, it obviously gets an A* for animal welfare as well. What do you think? Your new sustainability hero in the kitchen is really something to celebrate, right?! Maybe as a chili sin carne with vegan nachos?
Ingredients
De-oiled soy flour, water.
May contain traces of celery, cereals containing gluten, egg, milk and sulfite.
Nutrition information
Nutrition Information per

100

g
Energy
1365
kJ
323
kcal
Fat
1.5
g
– of which saturates
0.5
g
Carbohydrate
17
g
– of which sugars
6.9
g
Protein
53
g
Salt
10
mg
A REAL ALL-ROUNDER: Are you already on the vegan train? The Veganz Soy Mince is sure to provide some variety in your kitchen. Whether you prefer it in vegan bolognese, lasagne, chili, or as a bit of an extra in your leek soup – why not just get creative? And if you fancy sharing your culinary magic and hacks with us, just tag us on Instagram, TikTok, or Facebook.
AND WHAT ABOUT PROTEIN? Oh dear, what is it with people being worried that they won't get enough protein on a vegan diet…? Well, there's no need to worry anyway, but even less if our soya protein forms part of your diet. After all, it's packed with protein. 100 g of Veganz soya contain a whopping 50 g of protein. That's over 30 g more protein than in minced beef!
NOT FAR TO TRAVEL: It's certainly from a good neighborhood! Unlike the soya grown in other places, our Serbian soya doesn't clock up many food miles. And that makes the Soy Mince particularly sustainable. Oh, and the soya beans it's made from aren't genetically modified either. What more could you want?!
Packaging
We use these materials in this product.
At Veganz, sustainability doesn't stop at the ingredients – we also try to make our product packaging as sustainable as possible. And we've managed it for our Veganz Soy Mince as well! The bag may look like plastic, but it's actually a foil made from sugar cane, starch, plant oils, and cellulose. In other words: it's 100% compostable! Another thing we totally avoid is mineral oil, so we use water-based colours for printing.
Available at
shop.veganz.com

Puroshop | CZ

Rohlik | CZ

Lidl | CH

REWE | DE

Rossmann | DE

kokku-online.de | DE

EDEKA | DE

Müller | DE

dm | AT

Spar | AT

Budni | DE

real | DE

Amazon Fresh

Vekoop | DE

tegut | DE

Spar Gran Canaria | ES

Amazon

MPREIS | IT